Dr. Elizabeth White
Harriman Hall Building Room 212A
(845) 341-4434
elizabeth.white@sunyorange.edu
Ph.D. New York University
Post Masters Certificate Iona College
MBA Fordham University
BBA Pace University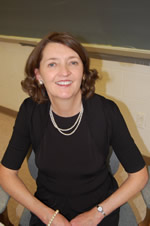 Experience in business includes Sales Manager at AT&T, Product Manager at Chemical Bank, and Assistant Product Manager at Citibank.
Dr. White has been at Orange County Community College for several years and has taught many business courses. At this time, she teaches Introduction to Business and Entrepreneurship courses in traditional in-class, web enhanced, hybrid, and online (distance learning) environments. Additional teaching includes Business and Society in-class and web enhanced.
Dr. White was the faculty advisor to the Business Club from its start in 2001 to 2012. Although she no longer is an advisor she stongly supports the mission of the club. Please see the club's web site for details. All students are welcome to join. New members are welcome at Tuesdays meeting in Harriman Hall, room 200 at 11 AM or on the Newburgh campus.
Travel has encompassed over 60 different countries. In the last few years the most notable trips have been to South Africa, Botswana, Zambia, Australia, Thailand, Vietnam, Cambodia, New Zealand, mainland China as well as Hong Kong, Russia, Poland, Palau, Ecuador's Galapagos Islands, Norway, Denmark, and Sweden.
Dr. White received the SUNY Orange Excellence in Teaching award in 2011 and was the commencement speaker at the college's May 2011 graduation.
Business
(845) 341-4411
Suzanne Krissler, Chair
SUNY Orange
115 South Street
Middletown, NY 10940