Commencement Checklist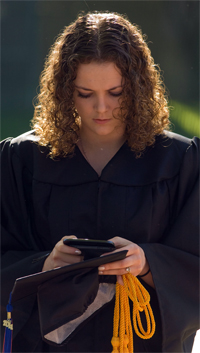 Orange County Community College Commencement Exercises will be held on Thursday, May 18, 2017 at 5:00 p.m. on the College's Alumni Green. All graduates who are participating in the Commencement Exercises are required to attend rehearsal on Wednesday, May 17, 2017 at 9:00 am in the Physical Education Building. On the day of Commencement all graduates participating should be in line by 4:25 p.m.
Complete and return the Graduation Application to Student Services Central at Middletown or Newburgh campuses. For information on application due dates please go to the Registrar's page.
Pay the required $55 graduation fee for each degree for which you are applying regardless of whether or not you participate in Commencement. This fee must be paid at Student Services Central at the Middletown or Newburgh campuses.

If you pay the fee, but don't complete graduation requirements, the fee will be applied when you do graduate at a later date. You must reapply for graduation if you do not graduate at this time. Deadline dates for applying for graduation for May, August and December are listed on the Registrar's page.

Commencement information from the Office of the Vice President for Student Services will be mailed to you. These letters are stamped "Important Graduation Information". Save these letters as they contain important information you need concerning the Commencement Exercises. Also, please be sure to check your SUNY Orange email account regularly. We will be sending periodic emails with information and important dates regarding Commencement.
Complete the Electronic Response Card located on the left side of this page no later than May 5th indicating whether or not you plan to participate in the Commencement ceremony. Responding by May 5th will allow us to place you in the proper order in the student line-up.
Announcements and Tickets for Commencement may be picked up on the 2nd floor, George F. Shepard Student Center at a table across from the Bookstore on the following dates: Tuesday, May 2, Thursday, May 4, Wednesday, May 10 and Friday, May 12 from 10:00 a.m. to 12:00 p.m. and 3:00 p.m. to 4:00 p.m. ONLY. If you are not available on the dates and times listed, tickets will be distributed at rehearsal. You will need to present a picture ID when picking up your announcements and tickets. If you have taken out student loans you must complete an "Exit Interview" with the Financial Aid Office before you pick up your announcements and tickets.  Each graduate is entitled to four announcements and four admission tickets (at no charge). In the event of inclement weather, the ceremony will be held in the Physical Education Building. Due to limited space, there will be no extra tickets given. Guests without tickets will be directed to other locations on campus where the ceremony will be streamed live.
Pick up your cap and gown immediately following the mandatory commencement rehearsal on May 17, 2017. Be prepared to tell us your height (with shoes) when picking up your regalia. There is no need to sign up for regalia in advance because we are now using "Keeper" regalia. Following Commencement you may keep the cap, gown and tassel as a memento of your achievement.
For Questions Regarding:
Graduation Fair
The College Bookstore will host its 11th annual Graduation Fair on Thursday, February 23, 2017 form 11-2pm in the George F. Shepard Student Center Fireplace Lounge.