Important Graduation Information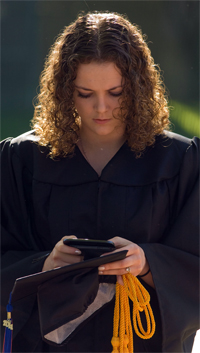 SUNY Orange's 68th Commencement Ceremony will be held on Thursday, May 17, 2018 at 5:00 p.m. on the College Alumni Green.
All graduates who are participating in the Commencement Ceremony are required to attend a mandatory Commencement Information Session on Wednesday, May 16, 2018 at 9:00 a.m. in the Physical Education Building.
On the day of Commencement all graduates participating should be in line by 4:25 p.m.
Applying for Graduation
Complete the Graduation Application and submit, along with the required $55 fee, to Student Services Central at the Middletown or Newburgh campuses.
A $55 graduation fee is required for each degree for which you are applying regardless of whether or not you participate in Commencement.
To complete your graduation application and for information on application due dates please go to the Registrar's page.
Commencement Instructions
Commencement information from the Office of the Vice President for Student Services will be mailed to you as well. These letters are stamped "Important Graduation Information".
Save these letters as they contain important details you will need to know regarding the Commencement Ceremony.
Also, please be sure to check your SUNY Orange email account regularly. We will be sending periodic emails with information, deadlines, and important dates regarding Commencement.
Participating in the Ceremony
Complete the Electronic Response Card located on the left side of this page no later than May 1st indicating whether or not you plan to participate in the Commencement Ceremony. Responding by May 1st will allow us to place you in the proper order in the student line-up. YOU MUST RESPOND BY THE MAY 1ST DEADLINE TO BE INCLUDED IN THE CEREMONY.
Cap and Gown & Graduation Tickets
Go to the heading located on the left side of this page for information on caps and gowns, and picking up your graduation tickets.
For Questions Regarding: