Board of Activities Events
"FALL 2017 SCHEDULE OF EVENTS TO BE POSTED SOON!"
Date
Event
Campus
Building
Wednesday, September 13
Student Life Day
MDTN
Alumni Green
Thursday, September 14
Newburgh Involvement Fair w Jace-Illusionist and Airbrushed Towels
NBG
Kaplan Hall, Great Room/Oval
Tuesday, September 19
Spidey the Mentalist
NBG
Kaplan Hall, Great Room
Wednesday, September 20
Mindful Day w DIY Aromatherapy and DIY Candles
NBG
Kaplan Hall, Great Room
Tuesday, September 26
Solo Circus
NBG
Tower Building, Cafeteria
Thursday, September 28
Alex Clark-Comedian and MORE
NBG
Tower Building, Cafeteria
Wednesday, October 11
Virtual Reality-GAME DAY
NBG
Kaplan Hall, Great Room
Tuesday, October 17
Nelly's Echo-Musician
NBG
Tower Building, Cafeteria
Thursday, October 19
Crystal 3D Imaging
NBG
Tower Building, Cafeteria
Tuesday, October 24
Henna Art and Fall Food
NBG
Kaplan Hall, Main Entrance Lobby
Wednesday, October 25
BOO! Bingo
NBG
Tower Building, Cafeteria
Tuesday, October 31
Escape Rooms and
Costume Contest
NBG
Kaplan Hall, Great Room
Tuesday, November 7
Rootberry-Comedians and MORE!
NBG
Kaplan Hall, Great Room
Tuesday, November 14
Open Talent Night Hosted by JoVan O'Neil-Spoken Word Poet
NBG
Kaplan Hall, Great Room
Thursday, November 16
Grateful Bingo
NBG
Kaplan Hall, Great Room
Thursday, November 30
Porsha O-Spoken Word Poet
NBG
Tower Building, Cafeteria
Tuesday, December 5
Christmahanakwanzika and
Ugly Sweater Contest
NBG
Tower Building, Cafeteria
Thursday, December 7
Stress Free Zone w
Massage on the Go
NBG
Kaplan Hall, Great Room
Currently registered SUNY Orange students can attend events on both campuses. For shuttle schedule click here.

---

STUDENT LIFE DAY
Wednesday, September 13
Alumni Green (rain location: Physical Education Building) (MDTN)
11 a.m. - 3 p.m.

There will be food, refreshments, entertainment and opportunity to join or form a new club on Student Life Day. Whether your interests are purely recreational, educational, social or cultural,there is a club for you. Join us and enjoy interactive inflatables free for SUNY Orange Students.
[ to top ]
---
NEWBURGH INVOLVEMENT FAIR w JACE-ILLUSIONIST & AIRBRUSH TOWELS
Thursday, September 14
Kaplan Hall, Great Room/Oval
(NBG)
11AM-2PM
For
Jace
magic is an art form. He does not use wands or
deal with rabbits though. He presents his magic effects elegantly and in the most powerful way. Even more impressive he performs it all right in front of your face!
He's been practicing and performing everyday for over 3 years. In that short amount of time he has performed at Corporate events, Restaurants, Festivals, Weddings, Birthdays, Sweet Sixteens, Bar/Bat Mitzvah's, themed events such as, but not limited to Halloween, Fourth of July and New Year's parties as well as getting booked at restaurants performing table magic. No venue is too big or small.
Most recently Jace has performed at Webster Hall in NYC.
​Jace fell in love with close up magic in particular due to the lack of a stage and the ability to perform seeming miracles in front of peoples faces.He got his start in restaurant magic; performing for people at tables while they waited for their food to arrive.
Never lose your beach towel when it has your name on it. Using white terry cloth, these towels are airbrushed and personalized with name and color. Why not have the colors match your bathing suit! Let the towel be the canvas as we create your customized art. These are perfect for beach themed events, college spring break and corporate outings.
[ to top ]
---
SPIDEY THE MENTALIST-ILLUSIONIST
Tuesday, September 19
Kaplan Hall, Great Room
(NBG)
11AM-12PM
Spidey is an international hypnotist/mentalist/magician whose career began 10 years ago and has flourished to unprecedented heights. Beyond the scope of performance, he is an international creator of magic and mentalism as well as a persuasion, influence and covert hypnosis specialist. He continues to perform across Canada and the US and wows audiences internationally from all over the Caribbean to Europe.

[ to top ]

---
MINDFUL DAY W DIY AROMATHERAPY AND DIY CANDLES
Wednesday, September 20
Kaplan Hall, Great Room
(NBG)
10AM-1PM
Mindfulness is the state of being tuned into one's current and often internal experience. This state of awareness can be accomplished by practicing various techniques that can assist you in becoming a calmer individual. Our very own, Juan-Carlos Piñeiro has spent more than 15 years researching, training in, practicing and teaching various techniques to help others become happier and healthier. He'll be teaching various techniques to de-stress, de-compress and live a fuller life.
While learning mindfulness techniqes from Juan-Carlos you'll also have the opportunity to make your own DIY Aromatherapy Inhalers and DIY Candles!
Aromatherapy is the ancient practice of using natural essential oils from plants for their aromatic benefits. These essential ols are known to enahnce one's health and well-being. Essential oils are known to alter one's mood, increase cognitive abilities, potentially relieve pain and induce energy and vitality. Enjoying essential oils are a treat not ontly to your sense of smell but to your entire sense of well-being.
[ to top ]
---
SOLO CIRCUS
-COMEDIAN AND MORE
Tuesday, September 26
Tower Building, Cafeteria
(NBG)
11AM-12PM
The Solo Circus is a fast paced, audience interactive and technical skills variety show featuring an all-original presentation of Magic, Juggling, Circus & Sideshow Stunts all wrapped in a blanket of Comedy! Michael DuBois has been performing for over 8 years and already has national television appearances including NBC's "Tonight Show" & The Jay Leno Show, as well as the Late Show with David Letterman. DuBois has also been featured in several magazines including Campus Activities Magazine and Young Money, heard as a guest on Sirius Satellite Radio, performed at over 500 Colleges and Universities across the United States as well as headlines multiple major cruise lines all over the world. Viktoria Grimmy has been performing since age three. Grimmy is a fifth generation circus performer. Credits include principle Contortionist in Burlesque, Specialty Artist on Britney Spears World Circus Tour and Ringling Brothers Barnum and Bailey. She placed in the International Circus Competition in Monte Carlo.





[ to top ]


---
ALEX CLARK-COMEDIAN AND MORE
Thursday, September 28th
Tower Building, Cafeteria
(NBG)
11AM-12PM
"Alex has a gut-busting mind-blowing act."
-Hank Stephenson, Williston Herald
Audience favorite, Alex Clark has been the honored recipient of 2 People's Choice Awards and was an official selection of The Los Angeles Comedy Festival. He is a return performer to The San Diego Buskers Fest, The Wisconsin State Fair, & The Canadian Fringe Circuit. You're guaranteed to love his show again and again.
With training from The Groundlings Theater Company, Cirque Du Soleil, & a hippie-run
arts high school, Alex Clark creates a show that is entertaining on every level. Jaw-dropping tricks, quick-witted comedy, & mile a minute improv are all part of the show.
It's unlike anything you've ever seen!
[ to top ]
---
VIRTUAL REALITY - GAME DAY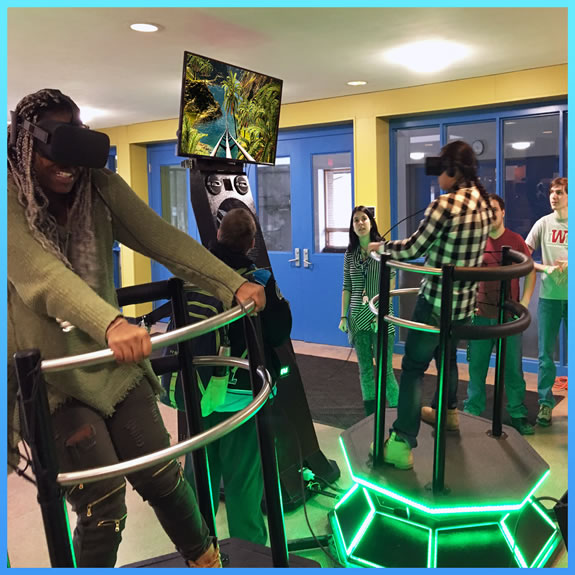 Wednesday, October 11
Kaplan Hall, Great Room
(NBG)
10AM-2PM
Experience a thrill unlike anything else in the world! Emotion Matrix is the exclusive touring
virtual reality 360 experience that includes a motion platform and sensory / emotion enhancements brought onsite to your location! Emotion Matrix is engineered with the highest technology to deliver a full 4D virtual reality!

We'll also have video and board games tournaments available!

Student ID required to participate!

[ to top ]

---
NELLY'S ECHO
Tuesday, October 17
Tower Building, Cafeteria
(NBG)
11AM-12PM

Relying on lessons learned from his childhood in Africa and his everyday experiences, Nelly's Echo storytelling style has led to some comparing their musicality & storytelling to that of Jason Mraz and John Mayer. In the end, the goal of Nelly's Echo is to use music to reach the four corners of the earth, while sharing the message of positivity, life, hope, and love to everyone that it comes in contact.

Since 2009, Nelly's Echo has performed at over 500 colleges across the United States in addition to countless performances in the Mid-Atlantic region at tradition clubs and casinos. Nelly's Echo has also been requested to showcase their talents for personal/private events for clients such as Andretti Autosports, The Democratic National Convention after-party, The Baltimore Grand Prix, Boordy Vineyards, and Maryhill Winery, to name a few. In the summer of 2016, Nelly's Echo delivered their first TedTalk at TedX Wilmington.
Nelly's Echo has had the privilege of not only entertaining soldiers stationed in Guantanamo Bay, Cuba but also participated in Season 3 of The Voice as a member of Team Christina. Nelly's Echo has taken great pride in sharing the stage with the likes of
Trombone Shorty, Travis McCoy, Sean Kingston, & Boyz II Men.

[ to top ]

---
CRYSTAL 3D IMAGING
Thursday, October 19
Tower Building, Cafeteria
(NBG)
10AM-2PM
At a Clearly You Crystals Event, we scan & laser design a 3D image of you into a clear crystal cube or a light up key chain …All in Just Minutes!



Student ID required to participate!
[ to top ]
---
HENNA ART AND FALL FOOD
Tuesday, October 24
Kaplan Hall, Main Entrance Lobby
(NBG)
10AM-2PM
Started over a decade ago, The Tipsy Turtle has been honored to decorate the skin of thousands of clients throughout the Hudson Valley and beyond. The Tipsy Turtle Henna is focused on providing high-quality service and customer satisfaction. The Tipsy Turtle team
will be offering Henna Art made from high quality, natural and non-toxic materials. We'll have 2 Henna Artists this time but be sure to line up early as this event is always a student favorite.
Fall Foods will be offered while you wait!
Student ID required to participate!
[ to top ]
---
BOO BINGO
Wednesday, October 25
Tower Building, Cafeteria
(NBG)
11AM-2PM
BOOO!!! AAAHHHA HAHAHAHA! Didn't scare ya? That's cool!
We'll get you at this semester's first NBOA Bingo event.
This is one of our most popular events as you can win FREE prizes,
chill with friends, make new friends and even grab yourself some FREE Food.
We'll see you BOO! Nothing? Really?
Student ID required to participate!
[ to top ]
---
ESCAPE ROOM AND COSTUME CONTEST
Tuesday, October 31
Kaplan Hall, Great Room
(NBG)
10AM-2PM
Test your puzzle solving and detective skills! You and your team are tasked with finding clues, solving puzzles, and completing your mission to escape the room in just 15 minutes!
Make sure you wear a costume for the Costume Contest!
$50 Gift Card to the winner!
Student ID required to participate!
[ to top ]
---
ROOTBERRY-COMEDIANS AND MORE
Tuesday, November 7
Kaplan Hall, Great Room
(NBG)
11AM-12PM
Rootberry has devoted all of their time, effort, and creative energy into building the best comedy variety show around. Prepare for an action-packed hour that has a little juggling, a little sword swallowing, and a lot of surprises.
[ to top ]
---
OPEN TALENT NIGHT-HOSTED BY JOVAN O'NEIL
Tuesday, November 14
(NBG)
Kaplan Hall, Great Room
6PM-8PM
Got a talent you want to practice and or share with the world? Do impressions? Make people laugh by telling wild stories? Rap? Sing? Dance? Play guitar or another instrument? We all have a gift to share and THIS IS YOUR CHANCE TO DO SO!
Hosted by Jo'Van O'Neal!
The 24 year old Newburg, NY native is an enigmatic spirit who channels trauma into art. Whether it be poetry or other mediums, Jo'Van O'Neal capitalizes on the disparaging
nature of his home city and uses it as a catalyst to build his work. His poetry covers
numerous intersectional andsociopolitical topics that provoke both thought and emotion.
Jo'Van loves his community! He's been featured on
numerous local artist musical works,
at the world renowned Falcon on multiple occasions and for a period time hosted an open mic series at local hip restaurant 
The Wherehouse
. Jo'Van is currently working on further developing his artistic identity while intersecting art and activism.

Check out his latest visual work highlighting suicide awareness and subscribe to
his page at 
https://youtube/4nHd_ pMbta4
Come out to this incredibly popular event to listen, laugh, share, and experience what Students, Staff, Faculty and the community of SUNY Orange has to share!
[ to top ]
---
GRATEFUL BINGO
Thursday, November 16
Kaplan Hall, Great Room
(NBG)
11AM-2PM
We're grateful (see what I did there?) to be offering this semester's second
NBOA Bingo event! As you know this is one of our most popular events! Stop by to win FREE prizes, chill with friends, make
new
friends and even grab yourself some FREE Food.
We have a lot to be grateful for (including your SUPPORT) and looking forward to
sharing some prixes and good food with you.
Student ID required to participate!
[ to top ]
---
PORSHA O-SPOKEN WORD POET
Thursday, November 30
Tower Building, Cafeteria
(NBG)
11AM-12PM
Porsha Olayiwola is a performance artist who believes in pixie dust and second chances. A resident of Boston, by way of Chicago, Porsha O is the reigning Individual World Poetry Slam Champion. Her intention is to speak, love, praise, and maintain a cypher that is undocumented, uncontrollable and just plain ole dope.
[ to top ]
---
CHRISTMAHANAKWANZIKA AND UGLY SWEATER CONTEST
Tuesday, December 5
Tower Building, Cafeteria
(NBG)
11AM-2PM
It's that time of the year again! It's chilly, the semester is winding down, family is coming to visit and gifts are being shared. Join us in the Tower Building, Cafeteria as we celebrate everyone's seasonal celebration with some knowledge sharing,
FREE FOOD and an Ugly Sweater Competition!
$50 Gift Card to the winner!
Student ID required to participate!
[ to top ]
---
STRESS FREE ZONE W MASSAGE ON THE GO
Thursday, December 7
Kaplan Hall, Great Room
(NBG)
10AM-2PM
The semester is almost over! Come play games, chill, get a FREE and FAST massage and
most importanty de-stress with us!
A massage provided in a mobile massage chair has incredible physical, emotional and spiritual advantages.
Chair massage gives you the opportunity to get a massage virtually anywhere. With no need to disrobe you can have your massage in the office, at a campus student center, outside or in any public setting...There's no need to carve out a lot of time.
Besides convenience, the specially designed massage chairs allows the person receiving a massage to completely relax. The special massage chair was made to hold every muscle of your body without you having to do a thing but enjoy.
You will be amazed at the effect a massage can have when given in a massage chair. But obviously it is not all about the chair!

[ to top ]

---
Contact:
Middletown:
Shepard Student Center
(845) 341-4065

Newburgh:
Tower Building
Cafeteria
(845) 341-9544

Director:
Steve Harpst