Students take a break and enjoy their free time in the Game Room!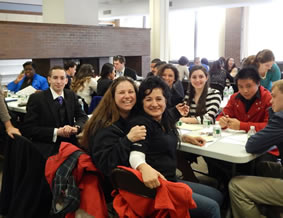 Student leaders participate in COLT Night (leadership training program), which is sponsored by the Student Senate.
Center for Student Involvement Office Publications
Student Handbook
Club Resource Manual
NB: The Club Resource Manual is being updated and will be available soon.  In the meantime, please direct any questions to the Center for Studnet Involvement.
Academic Policy Manual
The Academic Policy Manual can be found on the Academic Affairs website.
Travel Forms:
Travel forms and instructions can be found on the Administration and Finance website.
Promoting your Club:
You may promote your club through the college Grapevine and also through the TV monitor displays around campus.
PowerPoint Slide Template - please use this template when create a TV slide. Make sure the ribbon logo is always uncovered, un-stretched, positioned at the botton of the slide, and "on-top" of any other background or graphic. Please email your slide to the Center for Student Involvement.
Contact:
Middletown:
Shepard Student Center
(845) 341-4065

Newburgh:
Tower Building
Cafeteria
(845) 341-9544

Director:
Steve Harpst