Student & Alumni Testimonials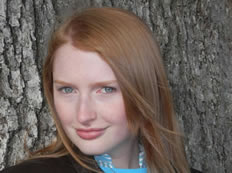 Katie Miller
(Alumni)
Earned: A.A. Degree
Graduated: Spring 2010
Transferred to Ithaca College & earned a Bachelors and Masters in Secondary Education
"My name is Katie Miller and I graduated from the Honors Program at SUNY Orange in 2010. Following my graduation from SUNY Orange, I went on to earn my Bachelors and Masters degrees from Ithaca College. I am currently employed as a high school English teacher in upstate New York.

My experiences in the Honors Program at SUNY Orange helped to bolster my confidence and develop my skills as a student. My experiences collaborating with my peers in my Honors classes prepared me for the expectations for cross-disciplinary collaborations in my graduate program in education. My experiences in the Capstone course also afforded me the opportunity to stretch my thesis and my research across content areas; this liberal arts approach in the Honors Program provided me with a research and presentation background that made me a competitive candidate in the transfer process and a successful student at my four-year school. After graduating from SUNY Orange, I went on to earn "Best in Category" at the Beacon Conference and also presented research on adolescent identity exploration across cultures in the National Conference for Undergraduate Research.

My involvement in the Honors Program served as a substratum on which many of my subsequent academic accomplishments are founded. Moreover, the Program gave me an opportunity to meet new people and develop close friendships with professors and peers alike. Several of the people I met for the first time at the Honors Program Orientation are some of my very closest friends today. In the Honors Program, I found the academic support I needed to successfully move forward in my academic career and, more importantly, discovered a group of friends that supports each other as we move forward in our lives."
---
Dennis Carolan
Earned: A.A. Degree
Graduated: Spring 2012
Transferred to SUNY Buffalo
"The SUNY Orange Honor's Program has provided me with the most rewarding experience I have felt thus far in my life.  The program takes college ready students and molds them with a unique blend of enriching, challenging, and fulfilling experiences in order to make them life-ready people.  Upon acceptance to the Program, I had felt anxious as someone who did not know what to fully expect out of the classes, fellow students, and faculty involved.

The classes are not surrounded by a bombardment of extra assignments in order to challenge the students; rather, it provides extra coverage of various materials which in the end provide a much more thorough understanding of the topics at hand.  Smaller class sizes allow for a more intimate learning experience.  Also, the comradery formed with the fellow Honor's Program students allows any uncertainties in course work or expectations to be cleared up.

Finally, the friendship gained with Elaine and Roxanne has yielded for me a true understanding of where I see myself beyond SUNY Orange.  Anybody with the opportunity to join the SUNY Orange Honor's Program can expect support, friendship, and a learning experience that is aimed solely on the enrichment of the student."
---
Barbara Force
Earned: A.S. Degree
Graduated: Spring 2012
Transferred to Cornell University
"The Honors Program gave me the library research experience I needed to succeed in Cornell's undergraduate research programs. I also made lasting connections with dedicated instructors that helped me pursue my lifelong goals and more. I made friendships with people who were dedicated to academics and service."
---
Brandon Klein
Earned: A.S. degree
Graduated: Spring 2012
Transferred to SUNY Cortland
"My experience in the Honors Program at SUNY Orange was unforgettable. Never before have I witnessed such a close-knit family of students and professors so dedicated to each other's success and well-being. The thoughtful and dedicated professors truly care about students' achievement and are always willing to lend help where it is needed.

As a requirement for the program, the Capstone project was one of the most challenging—and rewarding—tasks I have ever taken on in my educational career. As one of the few students who were chosen to present at the Beacon Conference, I must say that it is an opportunity worth aiming to achieve. The Honors Program at SUNY Orange is unlike anything I have ever been a part of and I am glad to have experienced what the program has to offer—it was worth every second."
---
Britney Schoomaker
Earned: A.A. & A.S. Degree
Graduated: Fall 2012
Transferred to Dominican College
"The Honors Program provides an enriching learning environment with classes that focus on conversation rather than listening to lectures.  It provides great learning experiences with a close-knit group of students dedicated to their education and that of other students.  They are willing to help one another succeed, as are the professors who participate in this wonderful program.  All in all, I have no regrets about accepting my invitation into the SUNY Orange Honors Program and would do it again, if given the opportunity."
Contact Us:
Elaine Torda
Honors Program Coordinator
SUNY Orange
845-341-4004
honors@sunyorange.edu