Events and Activities
Date
Event
Campus
Building

Thursday, September 6th (12-2

)
TRiO Weenie Roast

MDTN

Shepard Center, Room 202
Tuesday, November 20th (12-2)
TRiO Friendsgiving

MDTN

Shepard Center, Room 202
Friday, January 25th (11-1)
The Cocoa Comeback

MDTN

Shepard Center, Room 202
TRiO Weenie Roast
Thursday, 9/6/18
12-1PM

Shepard Center, Room 202 (MDTN)
YYYYYYYYYYYYYY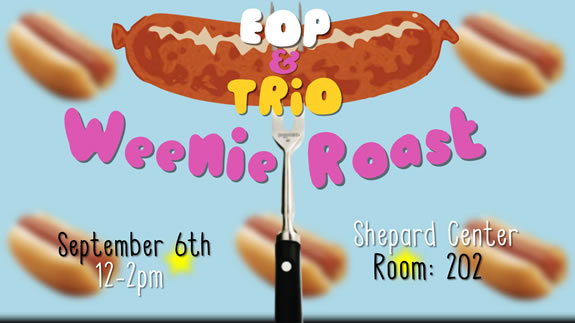 The TRiO Weenie Roast, is an event where members of TRiO have the opportunity to build relationships with other students and staff members in the program, all while enjoying delicious hot dogs with all the fix-in's!
TRiO Friendsgiving
Tuesday, 11/20/18
11AM-1PM
Shepard Center, Room 202 (MDTN)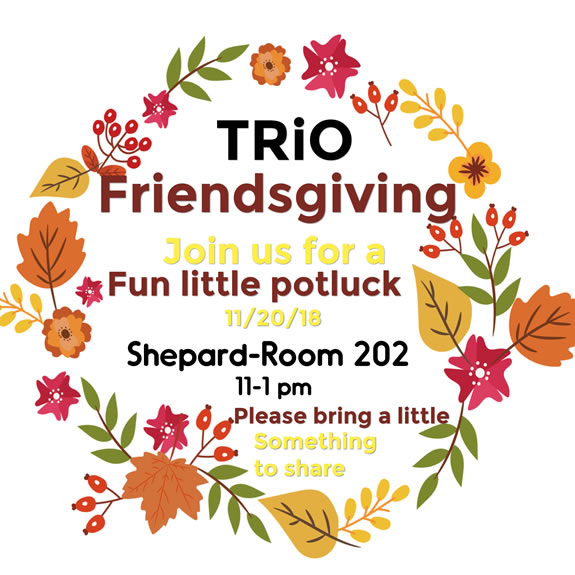 A few hours of fun where students and TRiO staff bring different types of food, be it homemade, or store bought, and exchange a bit of conversation over tasty treats.
The Cocoa Comeback
Friday, 1/25/18
11AM-1PM
Shepard Center, Room 202 (MDTN)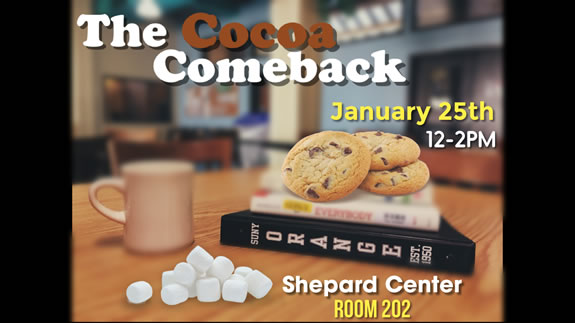 An event that warmly welcomes TRiO students back, with cups of delicious hot cocoa. Hot chocolate bar ready and available for students and staff to create their desired cup of fun, while providing a relaxing environment with quiet background music and a small selection of board games.
Contact:
Eric Hardwick
Director
Email