TRiO Student Support Services Benefits
Student Support Services is a program for current or incoming college students who need academic assistance and other services to be successful at SUNY Orange. Funded by a federal grant, the project provides advising, accelerated developmental courses, resource referrals, informational workshops and orientation for eligible students.
Academic Assistance
The TRiO-SSS offers regular advising on a large array of topicsincluding course selection and enrollment, freshman mandatory advising, navigation of student databases, information on career and majors, financial aid and financial literacy, graduate school planning and campusresources. 
Accelerated Developmental Courses
TRiO students placed into developmental courses will enjoy the benefit of completing specific courses in 2 or 4 weeks during both winter and summer intersessions.
Resource Referrals
TRiO provides a comprehensive listing of internal and external resources assisting students with overcoming barriers such as child care, services for homeless youths/students, physical/mental health and many more.
Workshops
TRiO provides workshops throughout the year on topics such as adjusting to college, study skills, time management, campus resources, information on financial aid and literacy, resume writing, graduate school planning and many more.
Orientation
Each TRiO student will participate in a SSS orientation designed to familiarize the students with SSS staff, developmental course faculty, other SSS participants, and campus resources.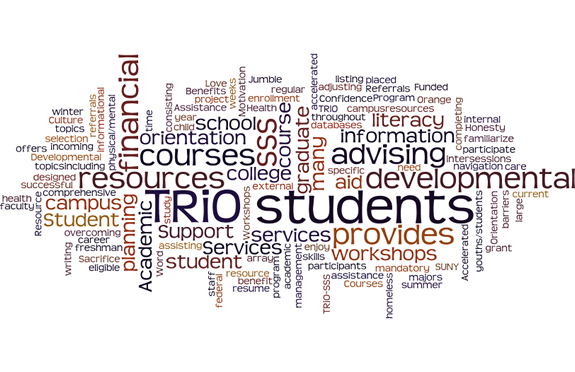 Contact:
Eric Hardwick
Director
Email