Veterans' Club
Veterans' Club Meetings
We are looking for new members! The club is open to students who are Veterans, Reservists, National Guard Members, and dependents and spouses of veterans as well as interested non-Veteran students. Please join us for one of our upcoming meetings!
Meetings
Time: 11:00AM - 12:00PM
Location: Veterans' Resource Room, First Floor Shepard Student Center, adjacent to cafeteria dining area.
Dates: Every Thursday
We are discussing linking campuses via video chat technology. Please contact mary.mantilla@sunyorange.edu if you are a Newburgh student interested in this.
We look forward to meeting you! 
Veterans' club Meeting Minutes:
Veterans' Club Minutes August 31,2017
Club Events
Food Giveaway March 2017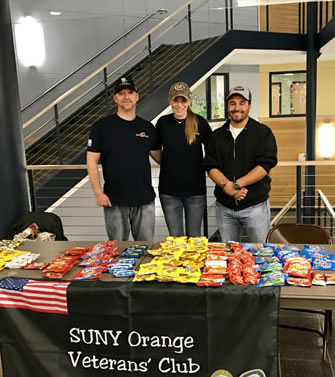 2nd annual Memorial Day Wreath Laying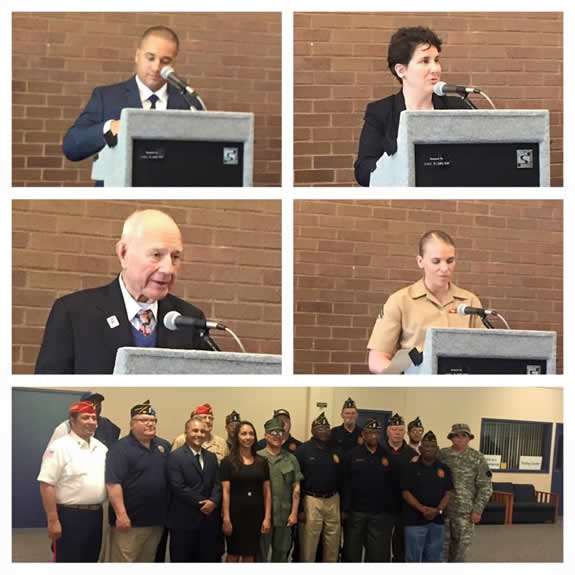 Clockwise from top left: Club President, Ricky Maldonado; SUNY Orange President, Dr. Young; Club Vice President, Katelyn Scott, local Americal Legion Post, with club Secretary Adriana Rodriguez; Retired Lt. Colonel and Senator Bill Larkin.
Club Trip to Army game at West Point
Club Club Casino Night Fundraiser for the Wounded Warrior Project