Events
Memorial day wreath laying ceremony
The Office of Veterans and Military Services will be hosting a Memorial Day Wreath Laying Ceremony on Friday, May 26 at 12 pm. The ceremony will be held on the front lawn of Morrison Hall. All are welcome!
ANNUAL VETERANS DAY LUNCHEON
Each year the Office of Veterans and Military Services hosts a Veterans Day Luncheon in honor of all SUNY Orange faculty, staff, and student veterans.
Veterans Day Luncheon November 2016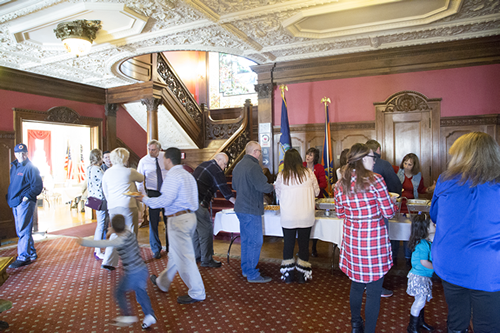 "stand up for veterans" Event
On May 2, 2015, SUNY Orange hosted a "Stand Up for Veterans" event. This was a collaborative, community-based effort that provided access to employment, education and community resources to address the needs of veterans and their families. The event included a veterans-only hiring fair, health screenings (physical wellness, vision and more), assistance for veterans to register their DD-214 with the Orange County Clerk's Office, benefits assistance, access to social and community resources, college admissions and family activities.