Welcome to The Wellness Center!

Ask Listen Refer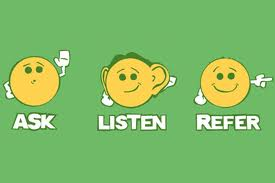 The Wellness Center is pleased to announce its affiliation with Ask Listen Refer, an initiative by the the SUNY Orange Suicide Prevention Training Program.
Given that suicide prevention work involves the entire campus community, this program offers information for both students and campus professionals.
Ask Listen Refer is an online tool that teaches campus community members about the risk factors and warning signs of suicide. It guides faculty, staff and students through the process of talking to people who are at risk and finding them resources for help. Training is free and takes approximately 20 minutes to complete. It is intended to be educational rather than therapeutic, and is NOT a substitute for professional intervention in the event of a mental health emergency.
To access the program go to Ask Listen Refer
For more information please call the Wellness Center at (845) 341-4870.
________________________________________________________________________
Locations and Hours

Middletown Campus:
Location: George F. Shepard Student Center
Hours: Monday to Friday - 8:30 A.M. to 4:30 P.M.
Phone: 845-341-4870
Fax: 845-341-4872
Email: wellnesscenter@sunyorange.edu
Newburgh Campus:
Location:Kaplan Hall - Room 322
Hours: Mondays, Tuesdays, alternating Fridays 9:00 A.M. - 5:00 P.M.
Phone: 845-341-4870
Fax: 845-341-4872