Online Tutoring
What is NetTutor?
NetTutor is an online service that SUNY Orange has available to currently enrolled students at no extra charge. This service connects students to professional tutors for certain courses. Tutors are available evenings and weekends, with math tutoring available 24/7. The service is a great supplement to traditional campus resources.
How do I get started?
Online tutoring is available through the MySUNYOrange Student Services/Resources tab. Simply click NetTutor in the Academic Support Center box. Follow the steps to our NetTutor site.
Log in to your MySUNYOrange
Go to the Student Services/Resources tab
Click NetTutor located in the Academic Support Center box. Refer to the picture below to see where to find the link.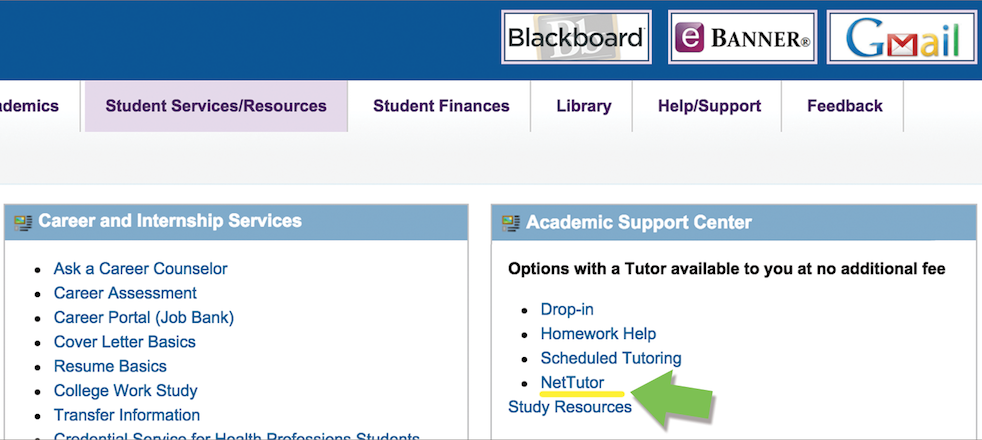 Online tutoring is available for the following courses:
Live Writing Tutor and Paper Center

Accounting

Anthropology

Astronomy

Biology

Business

Chemistry

Communication

Computer Science

Criminal Justice

Economics

English and Reading

French

Geology

Health

History

Italian

Math (Algebra, Pre-Calculus, and Basic Math)

Math (Calculus, Diff Equations, and Lin Alg)

Math (in Spanish)

Math (Statistics)

Nursing

Philosophy

Physics and Physical Sciences

Political Science

Psychology

Sociology

Spanish
If you need assistance, please call 341-4171 in Middletown or 341-9504 in Newburgh.
Once connected to NetTutor you will select the course. You will then have the choice of live 1-to-1 Help , Q&A Center or Paper Center.
Read these documents to see how NetTutor works:
Watch these videos for more information:
NetTutor Modes: Details the different ways to receive tutoring including Ask a NetTutor, Q&A Center and the Paper Center.
How to Ask NetTutor a Question: This video shows how to submit a question to a live tutor while using NetTutor.
Using the NetTutor Paper Center: This video demonstrates how to submit a paper to the NetTutor Paper Center, retrieve it once the paper has been reviewed and even upload it to the NetTutor whiteboard for a live session if you have any questions about the paper review.
Are you ready to write your story?