The BATCAVERN
(Biology and Allied Technologies Center for Audio-Visual Education/Registered Nurse)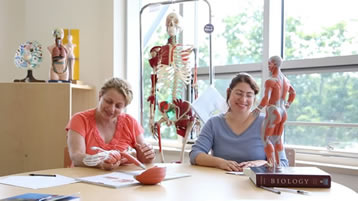 Anxious about Anatomy and Physiology?
Intimidated by Introduction to Biology?
Jittery over General Biology?
In the Batcavern, we understand. The Batcavern staff members have been through it. The students in the Batcavern have been through it or are going through it now: but through comprehensive preparation and support, you can conquer your fears and even have fun. Students meet in a quiet, congenial atmosphere.
The Batcavern is part lab, part library, part tutoring center, and part support group for students in Biology, Chemistry, and the Health Professions. You can work individually or in a group in a friendly setting. Knowledgeable staff members can help you to find the answers to your questions and give you encouragement. Our Practice Practical Exams are particularly popular. Individual and group tutoring are available by appointment and without charge.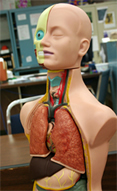 Our resources include:
models
microscopes and slides
textbooks and lab manuals
computers with Internet
videos
customized learning materials
Middletown Campus: (BATCAVERN)
We are located in Room 306 of the Rowley Center (Top floor, full-length windows, greater than 180o view guaranteed to be an enlightening experience!)
Fall and Spring Hours: (845) 341-4293

Days

Times

Monday

9 a.m. - 2 p.m.

Tuesday-Thursday*

9 a.m. - 5 p.m.

Friday

9 a.m. - 12 p.m.

& 1

p.m. - 5 p.m.

Saturday

Closed

*Closed during lunch break from 12-1 p.m. on Tues, Wed, and Thurs
Newburgh Campus: (BATCAVERN II) Kaplan Hall, Room 230, Learning Center
In the Batcavern on the Newburgh Campus, students study independently, support each other, and receive help from tutors surrounded by models, microscopes, and custom learning materials in a dedicated room in The Learning Center on the second floor of Kaplan, above the library. Please see the Learning Center page for hours.