Diana Center Vaccination Site Information
The Edward A.Diana Physical Education Center on the SUNY Orange Middletown campus has been selected as a vaccination site by New York State. PLEASE NOTE: The College cannot provide any information regarding appointments, or any other vaccination information related to the vaccination site.
First-come, first-served walk-in appointments are now available for first dose recipients only. Second doses will be scheduled automatically after administration of the initial shot. You can still make an appointment through the New York State "Am I Eligible?" Vaccination website. You can also call the New York State COVID-19 Vaccination Hotline at 1-833-NYS-4-VAX (1-833-697-4829).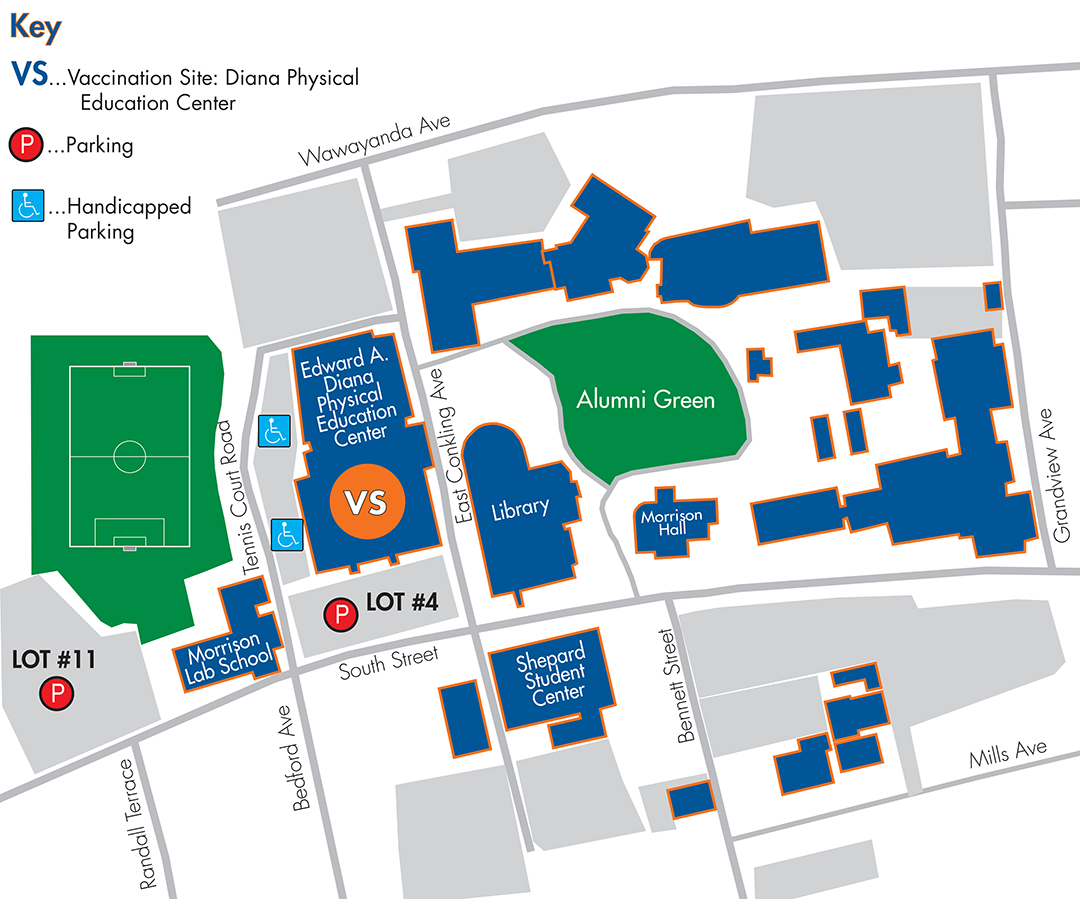 Location
Edward A. Diana Physical Education Center
9 East Conkling Avenue
Middletown, NY 10940
Parking
Parking is available for those with vaccination appointments in LOT #4 on South Street (entrance opposite Bedford Avenue) and in LOT #11 on South Street (opposite Randall Terrace). Visitors parking in these lots are required to use the main entrance at the front of the Diana Center on East Conkling Avenue. Vaccination site staff ONLY will park in the Middletown Campus Parking Garage ... all others will use surface parking in Lot #4 or Lot #11
Handicapped Parking
Handicapped Parking is available along the rear of the Diana Center, along Tennis Court Road (as indicated on the map above). Visitors using handicapped parking may enter through the rear of the Diana Center. This entrance is for handicapped parking visitors only.
Times Available
The Diana Center and Parkting Lots #4 and #11 will be available to those holding appointments only during the vaccination site hours of operation. The site will operate from 8 a.m. to 6 p.m., seven days per week.
Middletown Campus
PLEASE NOTE: The rest of the SUNY Orange Middletown Campus is CLOSED to the public. Please keep to the two parking lots and the Diana Center. In order to limit the community spread of the coronavirus, we ask that you do not attempt to enter any other buildings on campus, or enter the other parts of the campus grounds.
Google Map Directions