Insights from Professor Alex Jakubowski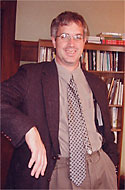 Professor MA (English) SUNY Binghamton; BA (English/American History) SUNY Oswego. Teaches Developmental Writing, Freshman English I & II, Technical Writing (Electrical Technology), Science Fiction, Journalism: Mass Media and online courses, American Literature I & II.
I am Alex Jakubowski, an assistant professor here at SUNY Orange, and I have taught both 11209 (American Literature to the Civil War) and 11210 (American Literature Since the Civil War) online. Each class has been rewarding to me and the students in many ways. For myself, I have enjoyed the insightful discussions on literature the students and myself have had via the online Discussion Board.
This feature allows for more thorough and thoughtful responses from the entire class since each person must type up comments for all to see. For the students there are also rewards. Since the course in entirely online, students can take advantage of the convenience of taking the class at home while having access to the entire course (lectures, discussion comments, assignments) for the whole semester. This allows for thorough review and aids in clarifying complex issues.
In addition, since the entire class must participate, a wider range of views and opinions become available which helps make for a more interesting and wide-ranging classroom experience. In the end, students are left with a greater feeling of accomplishment for having participated so actively. All in all, taking a class online can be beneficial and rewarding.
But . . . is an online course for you? This is an important question you will have to answer honestly. This medium for learning is not always for everyone.
For instance, you must first and foremost be self-motivated. Since these types of classes do not meet at a specific time each week like a regular class, you must set up your own schedule for getting all the work done and sticking to that schedule throughout the semester. If you do not, you will fall behind quickly and not be able to catch up.
Also, are you comfortable with computers? Even though the platforms in which the classes are taught are user friendly, you must still have a level of comfort with using a computer since you will be working on it several hours a week. In addition, can you type pretty well?
Although it seems obvious, typing is important since you will be doing a lot of it for the class since it is the main method of communication.
Yes, these are all concerns and things to think about. However, if you are somewhat comfortable with computers and are willing to put in the time and work, taking a class online can be extremely beneficial both academically and professionally. And as always, if you have questions about taking a class online, feel free to ask one of the instructors or counselors here on campus.
Are you ready to write your story?