Insights from Professor Anne Sandor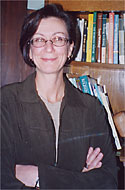 Associate Professor; Writing Consultancy Coordinator, MFA (Creative Writing) Vermont; BA (English) Vassar; AA, SUNY Orange. Teaches Developmental Writing, Freshman English, Contemporary Novel, Creative Writing, Technical Writing, and teaches a number of online courses.
As part of its ongoing distance learning initiative, SUNY Orange is now offering Freshman English I and II online. The online versions of Freshman English I and II present a unique and challenging experience for students.
What can Freshman English I and II online offer students?
Flexibility. The courses are ideal for students who work full-time or are at home with small children. For students on campus, an online course can help them devise a more convenient class schedule. Class instruction is presented in weekly units. Students open up the weekly unit, usually on Friday, to find out what needs to be read for the upcoming week. Then it's up to them and their schedule to decide when to begin working their way through the lessons and related assignments. They can begin their school week on Saturday morning, if that's convenient, or Monday night. When they access the course on any given day is up to them, so long as they participate in class discussion on the Discussion Board three times a week by Friday, which is when the week ends and complete assignments by their due dates.
Intensive Writing Experience: Writing is the primary means of communication in an online course. For a class that is further developing the student's writing skills, this is an ideal situation. Students become more articulate and confident in a variety of formats: the essay, discussion boards, and e-mails. The latter two formats parallel the advances in online communications that most work environments now rely on. In Freshman English I and II online, however, you must still use college-level writing—not emailese—when you are on the discussion boards and in e-mails.
What about the classroom experience?
Classes always develop their own "personalities," and an online course is no different. Students interact with each other and the instructor via the discussion board and one-on-one with the instructor via e-mail—and the occasional telephone conversation—all of which contributes to an active classroom environment.
Is an online course for everyone?
Distance learning does require students to be self-motivated and organized. The work produced for these courses are the same as for a traditional Freshman English I and II course. Students can access the Freshman English I any time during the course of a twenty-four hour day; however, the traditional school week still stands, which means students have to be organized and keep track of deadlines.
If you're considering taking Freshman English I or II online, feel free to contact me with any questions at 341-4009 or e-mail me at anne.sandor@sunyorange.edu.
---
Anne Sandor, Assistant Professor, is a graduate of Orange County Community College (AA), Vassar College (BA: English Literature), and Vermont College (MFA: Creative Writing)
Are you ready to write your story?