Writing Centers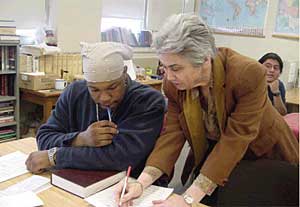 Middletown: BT 360
Newburgh: Kaplan Hall 225
If you need work on your writing skills, this is the place to come! Here full-time English faculty and professional tutors will provide you with writing practice and supplemental skills instruction. They do not help students with assigned papers; however they do provide parallel writing experiences and practice. In addition, they can provide assistance with writing assignments and questions with permission from a student's instructor. Students in WRT 020, WRT 030, and ENG 098 are required to attend per instructors' syllabi.
All current students may (a) sign up to attend one or more sessions, (b) be referred by their instructors, or (c) be required to use Writing Center services because they are enrolled in WRT 030 Basic Writing Skills I or WRT 020 English as a Second Language. Many WRT 040 Basic Writing Skills II instructors also require several visits to the centers.
Day and evening Writing Center hours are posted each semester. Please check the door or the Grapevine for posted hours. For more information on support services, please visit the Center for Student Success website.
Middletown Writing Center Hours - Spring 2019 - BT 360 - Phone: 341-4134
Monday: 10-2, 4:30-7:30
Tuesday:11-2
Wednesday - 10-2, 3-4
Thursday: 11-2
Friday: 12-3
ESL Tutor available in Middletown:
Tuesday 12-2, Wednesday 1-2,
Thursday 12-2
Newburgh Writing Center Hours -
Spring 2019- KAP 225
Monday: 10:00-10:50, 12:00-12:50
Tuesday: 10:00-10:50, 11:00-11:50
Wednesday: 11:00-11:50, 12:00-12:50,
3:00-3:50, 4:00-4:50, 5:00-5:50
Thursday: 10:00-10:50, 11:00-11:50, 12:00-12:50, 1:00-1:50
Friday: 10:00--10:50, 12:00-12:50
Are you ready to write your story?