Self Study 2013-2014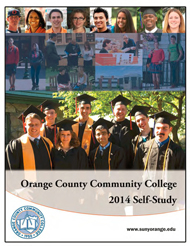 Orange County Community College completed its most recent accreditation process when it prepared its 2013-2014 Self-Study for reaccreditation by the Middle States Association of Colleges and Secondary Schools.
This webpage was created at that time to provide the faculty, staff and students of Orange County Community College with a central location to obtain information about the College's Self Study.
WHO was Involved in the Self-Study Process?
Orange County Community College assembled a strong team of faculty and staff who were committed to the self-evaluation of the College's programs and services in order to identify ways to improve so that the College could better serve students and the community.
Self-Study Steering Committee Members
The Self-Study Steering Committee was comprised of 13 total members representing faculty, staff and students; the Committee was led by 2 co-chairs. Additionally, the Colleges's President Dr. William Richards, the Chairman of the Board of Trustees and the Vice Presidents provided leadership through their roles as ex-officio members.
Self-Study Working Groups and Members
There were 8 Working Groups with nearly 60 members representing faculty, administration, support staff and students that determined the extent to which the College complied with the 14 Standards of Excellence.
Self-Study Design
Orange County Community College's Self-Study Design was approved by Dr. Ellie Fogarty, MSCHE liaison, in April 2012. The Self-Study Design served as the College's "blueprint for the self-study process and for the final self-study report. It guided the Steering Committee and Working Groups in their discussion, research and writing."
For more information please contact, Christine Work, Institutional Planning, Assessment and Research Officer.
Recent SUNY Orange Middle States Activity
Substantive Change Proposal - Newburgh Branch Campus (September 2010)
The College submitted its Substantive Change Proposal to the Middle States Commission on Higher Education in September 2010 for review and recognition of Newburgh as a branch campus.
Periodice Review Report (June 2009)
Monitoring Report (March 2006)
Self-Study 2004 and Middle States Team Report (April 2004)