SUNY Orange Announces May 2020 Graduates
June 24, 2020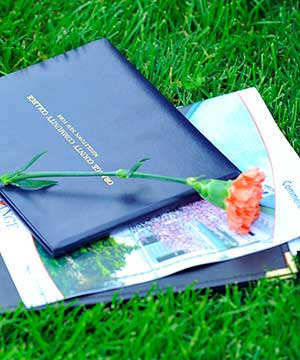 MIDDLETOWN, N.Y. -- Dr. Kristine Young, president of SUNY Orange, has announced that the College awarded a total of 475 associate's degrees and academic certificates to 463 students who completed their courses of study during the recently concluded Spring semester.
The College's May 2020 graduates hailed from seven counties in New York (Orange, Bronx, Dutchess, Rockland, Sullivan, Ulster and Westchester) as well as New Jersey and Pennsylvania.
SUNY Orange Graduates List (May 2020)
NEW YORK STATE
ORANGE COUNTY
Campbell Hall: Ryan C. Kennedy, Diana Yetsie Meza Breton
Chester: Briannalise Bermudez, Frank G. Cuccuru, Derek R. Dieterle, Mikayla Marie Dieterle, Cristian B. Espada, Marianny Fernandez, Austin R. Galarza, Giancarlo Garcia, Seth Jones, Michael E. Linarello, Carolin Mardikian, Christian Michael Munoz, Alexander D. Narvaez, Amalia Racanelli, Bryana Lee Santos
Circleville: Joseph Theodore Fox, Kelly Marie McGee
Cornwall: Elizabeth Nadine Conley, Kazuhiko Okasaki, Matthew Joseph Polimeni, Kaitlyn Joyce Pritchard, Erica Nicole Reidy, Michael David Reidy, Kimberly Rivera, Brendan Joseph Rose
Cornwall-on-Hudson: Joshua Hey, Christopher M. Welsh
Cuddebackville: Alexus Ghislaine Jean-Francois
Florida: Theresa Marie Bailey, Paul J. Emanuele, Deanna Rose Gaglio, Joshua L. Reyes, Alexis Selena Rodriguez, Nathanael Roy Ruppert, Alexander C. Rykowski
Goshen: Lauren Alexandra Biel, Giorgos Constanti, Karen Cruz Daza, Conor James Donovan, Haylee Rose Farrell, Nicholas J. Grundig, Sabrina Rose Innamorato, Aramis Trevis Maldonado, Kevin D. Negrón, Dylan James O'Sullivan, Deanna G. Pacini, Nicholas Hunter Root, Samantha Marie Swingle, Evan F. Wildfoerster
Greenwood Lake: Cameron A. Laroche, Patrick Brendon Sweeney
Harriman: Robert John Knight, Yaritza Guadalupe Pareja-Torres
Highland Mills: Nicole Gambino, Ari Nazar, Maria Rrapi, John Davis Schron, Shanika O. Simpson, Erika Lynn Steinhauer, Bridget A. Vasquez, Jack Brady Wyman
Huguenot: Jared Ritchie
Johnson: Miguel Zapata Lopez
Maybrook: Jenna Brooke Becker, Alex D. Carroll, Jahayra Jasmin Guerra, Tristan Knochen, Kevin James Lacina, Rozanna Balqis Sasa
Middletown: Arly Acevedo Alvarez, Anthony Ricci Aguirre, Ashley Marie Allen, Stephanie DiLauren Alvarez, Akua Andoh, Meliza Milette Antonio Ocampo, Rajendra Arjune, Gregory Arne, Boubacar Bah, Demetrius X. Barnes, Mariah D. Bittman-Azzone, Eric Boateng, Brooke A. Bogert, Andrea Marie Borrero, Atish Remone Brown, Sabrina Ethel Brown, Carmine P. Calabro, Ana C. Cancel, Sierra A. Catletti, Megan Julia Cesca, Nicholas Cesca, Eric Chun Wei Chuang, Christopher S. Clark, Jada-Marie Conde, Martha Alicia Contreras, Xavier James Cora, Alan Coria, Jemini Scott Davis, Angel R. Del Valle Rizzo, Clare M. DeMarco, Patrick Desrivieres, Brianna Rosaria Einhorn, Camilla Maria Fermanian-Mejia, Camerin Figueroa, Thomas Patrick Gildea, Nicolas Gomez Gonzalez, Abigail Gonzalez, Jose A. Gonzalez III, Aquasia Dann Griffin, Naryah Andrea Harrison, Janeen Nicole Hasbrouck, Rebecca Hauburger, Natalia Arielle Hernandez, Thomas Ezekiel Hernandez, Kayla Elizabeth Howard, John Pablo Hower, Michael Anthony Imbrogno, Andrea Marie Ircha, Sofia Isaza, Tomislav Marko Jagnjic Jr., Ke'Mara Johnson, Akim R. Kargbo, Timothy M. Krupinski, Kerry-Ann Kuhn, Mya S. Labbay, Alexandra Ellener Lawrence, Sarah Elizabeth LeConey, Gretchen A. Leitner, Shaquille Shemar Lewis, Justin Paul LoCascio, Shanaé Jonell Luces, Alexandra C. Mangieri, Wesley Pascal Mathieu, Briana Marie Mauro, Emily May, Kyle A. McCarey, Alexis N. Mendez, Lisa Marie Mirakaj, Juan D. Romero Monroy, Daijah Marie Montes, Carlos Joshua Morales, Katherine M. Moreno Segovia, Itzel Amayrani Navarro Gutierrez, Maria Del Carmen Nevarez, Ashley Marie O'Heir, Karina Olier-Castillo, Daniela Orozco, Yolanda Perez, Ryan Joseph Resta, Kaitlyn Jewels Rivera, Olivia N. Robinson, Kristian Miguel Rodrigues, Brian Rodriguez, Lucas Julian Rodriguez, Alberto Rodriguez III, Lorenzo A. Rojas, Ethan W. Roman, Samantha Marie Rosario, Christina Maria Saladino, Melisa Santana, Randall Paul Schwartz, Elisa A. Spadafora, Justine Ann Stachurski, Kayley-Telisa J. Stevens, Jonathan D. Timmons, Aida Luz Torres-Cruz, Jose Antonio Torres-Gonzalez, Ernest Ehizonome Uduehi, Jasmine J. Vazquez, Dylan Anthony Velasquez, Ethan Robert Walters, Devyn P. Windle
Monroe: Cara Anne Aubry-Shea, Brianna A. Chimento, John Paul Coady, Ariana Crespo, Alexis Marie Cupo, Pedro Matthew Gonzalez, Rosemary Gonzalez, Kendall M. Hammonds, Pauline Jean Healy, Britney Leigh Klippel, Jeffrey David Manapat, Desiree Martin, Steven Michael Massoth, Rori Kaytlin Matthews, Justin M. Mellion Solomon, Jesse J. Roman, Jenna Lynn Sorrentino, Garrett Thomas Wolfenhaut
Montgomery: Raymond Allende Aponte II, Alyssa Mae Cooper, Patricia Rose Dunne, Natalie Margaret Gatto, Dasquasha Monique Graham, Kelsey Lyne Gulotta, Jeanmarie Honrado, Tasha M. Juracek, Christopher M. Knight, Kevin Patrick Matthews, Evan C. McGowan, Aaliaya Shaimell Patterson, Elyannah Rose Quinones
New Hampton: Dominick John Attolino, Lauren Ann Boland, Alondra Farias, Ashley Nicole Kerstanski, Erin Lynn Paris
New Windsor: Dennis Cadena, Joseph Kenneth D'Alo, Matthew Bernard Davey, John Kyle Dizon, Markee T. Glover, Jailene Guerrero, James Darren Hicks, Christine Constance Iraci, Lauren Jones, Kieran M. Kirk, Danielle Kathleen Anne Laiso, James Lima, Ishmael Michel, Dana M. Mott, Nicole Sandra Nasonov, Eric J. Noll, Catherine M. Pedrosa, Valarie Nichole Pimentel, Lauren A. Price, Kimberly Nicole Rapisarda, Kirsten Marie Reid, Natasha Ricks, Mariah Kaitlyn Rivera, Chelsea Rothstein, Singh Gursharn, Kimberly Ann Usis, Brian Edward Vanderee Jr., Amanda Von Hahsel, Noor Zeidieh, Nina Zylberberg
Newburgh: Joseph Dume, Jose Giddel Alvarado, Andres E. Arestin, Bryanna Odalys Arroyo, Fermon Banks, Shinelle Shenice Bernard, Zachary Brian Blauvelt, Owen K. Bramble, Ryan Kenneth Brunet, Daniel J.A. Carbone, Melanie Rosario Carrillo, Leanne Marie Casey, Kathleen L. Castaldo, Colline Ruth Chambers-Dias, Francisco Javier Colon Jr., Alyssa Marie Weber, Ruben Cotto, Teresa Julia Critton, Garrett T. Curry, Nicholas Brendon DeCara, Jefferson Mike De La Rosa Sara, Claribel Diaz-Amaya, Emely Espinosa, Chantal Felicia Fairclough, Shawn Michael Ferguson, Morgan E. Fracasse, Nicholas J. Fuentes, Morgan Gaetano, Kenneth Ryan González, Kristoff T. Goulbourne, Michael P. Holder, Chinyere C. Johnson, Robert Earl Jones, Amberrose Elisabeth Lamoureux, Harrison Leal, Eileen Ivette Lino, Lizsandra M. Lopez, Maria F. Lopez, Wendy Lisbeth Lopez Maldonado, Jennifer Lyn MacGregor, Evan J. Malitz, Brandon Xavier Martinez, Jay C. McCray, Aldo Rodrigo Medina Ruiz, Sandra J. Morales, Kenyon Alphonso Nolcox II, Charlie Anthony Paden, Sussy Paulino, Arley J. Quilambaqui, Emily Jade Ramos, Sidney Jerie Ramos, Gabreille Mercedes Reid, Esael M. Rivera, Joie B. Salazar, Aliandra Heidi Sanchez, Alyssa Sanchez, Erik Ian Sickler Jr., Andrea Lily Sunquillpa, Thomas Anthony Sylcox, Nancy Marie Valentin, Alex Vaquero, Jessica Lee Vargetto, Bridget Grisel Vasquez, Tanya Alejandra Zhunio
Otisville: Jessica Lea Botens, Kyle Paul Hahne, Anthony Scott Hall, Colin J. Kavanagh, Kaitey Michelle McGuire, Zachary D. Perry, Nicholas James Schofield, Danielle M. Venter
Pine Bush: Darius Beckford, Jacob Hoadley, Rosa I. Hoffman, Evan Jeselson, Carissa Ann Levison, Ryan C. Maloy, Avery R. McCausland, Maranda E. Parr, Hannah Nicole Pinckney, Ellen Lois Quimby, Scott T. Reynolds, Marco Antonio Salazar, Nancy Sears, Andreanna Helene Short
Port Jervis: Courtney Renee Biggs, Matthew Justin Carr, Jolene T. Dolshun, Joseph J. Dowling, Katelin E. Fitzpatrick, Cynthia Gutierrez-Tome, Michelle Levant, Christianna Tian Chi McGuinness, Caysi Ann McKenzie, Jessica M. Melnick, Tahaliah M. Michel, Derek John Nawrocki, Samantha Y. Perry, Edward Thomas Schymanski, Albert J. Terwilliger Jr., Casey M. Trone, Jenna E. Trone, Brooke Sierra VanTuyl, Noah Patrick Webb, Catherine M. White
Rock Tavern: Ivy Nicole Lester, Stephen Richert
Salisbury Mills: Katherine A. Monroe
Slate Hill: Bruce Milton Miller, Rick C. Sanchez, Jason Dean Traverse
Sparrow Bush: Dalton Thomas Doolittle, Kaitlyn Ann Yennie
Sugar Loaf: Briana Leigh Esposito, Basimah Mallkah Harrison-Ramsey
Walden: Alejandra Verenice Avila Torres, Aryn Rachel Bates, Kelsey Catherine Buyl, Olivia Johanna Demeter, Daniel M. DiPierro, Skyla Denise Fabiano, Tiffany Hernandez, Gretchen Raná Murphy, Jonathan Matthew Noel, James Michael Reilly, Casey Georgia Russell, Kristina A. Van Dalen, Adelaide Roebuck Williams, Jennifer Margrit Zimmerman
Warwick: Erin Elizabeth Ackerly, Adrian Ali Badillo, Elizabeth Kelsey Brooks, Paul Caiafa, Sara H. Eichelberger, Jessica Lynn Gurda, Matthew Guy, Sarina Paige Hamling, Anna M. Hennelly, Daniel E. Lilly, Danielle C. Muller, Julianna Gabrielle Noone, Sydney Ellen Parkin, Dylan Michael Parkinson, Jason C. Pedone, Kaelyn Pennings, Hannah Autumn Procak, Michael Joseph Randazzo, Edward F. Reda Jr., Alexandra Emma Rogers, Alexander Wisner Ronne, Noel Anthony Staine, Emma Helene Stuart, James Vincent Tiedemann
Washingtonville: Angela N. Arpa, Elizabeth Guzman, Wyatt Jersey, Mallory Knoll, Gianna Z. Medora, James A. Radoncic, Ellen Shea
Westtown: Joseph Augostino Calabro, Jessica Estelle O'Connor, Jessica Marie Spears
BRONX COUNTY
Bronx: Osvaldo Manuel Valerio
DUTCHESS COUNTY
Beacon: Megan M. Enson, Olga Ivette Garcia
Fishkill: Briana Lynn Dini, Lauren Kellerman-Ferrara, Michael Peter Kohler, Katyrina Wuersching
Hopewell Junction: Matthew G. Montalvan
Poughkeepsie: Debralee Ann Cevallos, Abraham Pérez, Fady Twal
ROCKLAND COUNTY
Pomona: Jacqueline Michelle Trujillo
SULLIVAN COUNTY
Bloomingburg: Kaitlyn Marie Colon, Jessica A. DeRosa, Kelliann Hoey, Tavish N. Laidlaw, Tanner Rodvansky, Taylor Danielle Schulz, Mari-Ann E. Smith, Marley Tice, Tyler Wagner
Cochecton: Anthony Molinaro
Fallsburg: Joseph Ralph Conway Jr.
Glen Spey: Jessica Nicole King
Liberty: Ted-Elijah Quitan Torres
Monticello: Ashley Marie Campbell, John-Paul T. Mauer
Rock Hill: Sara Tuek-Ran Hanson, Joseph King
Westbrookville: Jessica Mae Rosas
Wurtsboro: Rebecca L. Doherty, Lauren H. Salerno, Catherine Marie Vickery
ULSTER COUNTY
Ellenville: Kevin Garcia-Salas, Oleksandr V. Parfentsov, Alyssa M. Volpini
Gardiner: Jeffrey R. Martin
Greenfield Park: Wendy Elizabeth Mendez
Highland: Jesse Coberly, David P. Shields
Kingston: Chastity Kharisma McLean
Marlboro: Jaydon R. Mianti
Milton: Christian Antonio-Rae Cardona, Sina T. Hedden
New Paltz: Katherine Blaustein
Walker Valley: Sierra Walker
Wallkill: Paige L. Brown, Rachel Marie Caron, Erin L. Fanning, Elizabeth Viola Klingensmith, Nigel L. Lyons, Dorinda L. Moran, Vanessa Lynn Rosado, Zariah Alexis Seunarine, Kelvin S. Solis
WESTCHSTER COUNTY
Yonkers: Thalia Faridhe Majdalawieh
OUT OF STATE
NEW JERSEY
Little Egg Harbor: Christopher R. Nilsen
Wantage: Paige McKenzie Heller
PENNSYLVANIA
Matamoras: Isabella M. Bucher
Total Graduates: 463 (earned 475 degrees and certificates)
Are you ready to write your story?