Fall 2020 Graduates Announced
March 5, 2021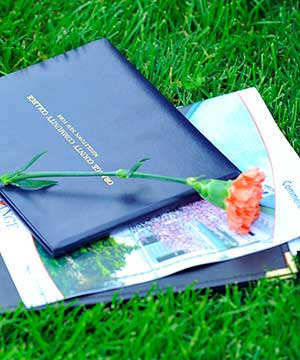 MIDDLETOWN, N.Y. -- Dr. Kristine Young, president of SUNY Orange, has announced that the College awarded associate's degrees and academic certificates to 196 students who completed their courses of study during the recently concluded Fall semester.
If they choose, the College's newest graduates are eligible to participate in SUNY Orange's 71st Commencement ceremony that is tentatively set for May 20, 2021.
The College's Fall 2020 graduates hailed from seven counties in New York (Orange, Dutchess, New York, Rockland, Sullivan, Ulster and Warren) and Connecticut.
SUNY Orange Graduates List (Fall 2020)
NEW YORK STATE
ORANGE COUNTY
Blooming Grove: Tamara K. Foley
Campbell Hall: Meralis Dilone
Central Valley: Giuliana Fedele
Chester: Ciarrah N. Garofalo, Marissa O'Keefe, Nayara Ferraro Marques, Zoë Ula Quinn, Alexander Kane Upeslacis
Circleville: Annalise Isola, Trena Elise Outlaw, Thomas Weinert
Cornwall: Alayna N. Baiocco
Cornwall-on-Hudson: Ann Kelly
Florida: Ryan M. Mooney, Yoel Alquezada Ballinas
Godeffroy: Jerry M. Hendershot Jr.
Goshen: Anna Bosco, Samantha L. Gomes, Kayla Marie Kastner
Greenwood Lake: Heather Christine Burakowski, Jessica M. Hannoushe, Skyler Kaye Rohlfs
Highland Falls: Matthew David Jr. Lynch, Achnee Yvane Thomas
Highland Mills: Sydney N. Dorestant, Heather Nicole Lowry, Elizabeth Ann Scioletti, Madeline V. White
Maybrook: Timothy A. Jenkins, Caitlin Padilla, Kayci L. Winnie
Middletown: Devin Arriola, Victor Santiago Barriel, Alyssa Marie Blackburn, Kristy L. Blume, Alimah Burgos, Haide Cabrera, Connor J. Coffey, Heather Colon-Serrano, Justin Wayne Delgado , Brianna Emily Escarpeta, Peter Gene Estep, Alexander Fermanian, Destiny Yazmin Ford, Layla T. Frasier, Hanna Marie Gallagher, Jules Garcia, Aileen Stelle Garcia, Candice L. Graham, Nathaniel James Griffin, Katherine Hendrickson, Adam Heter, Shannon Johnson, Kelly Marie Kistner, Keyla Marie Lawrence, Kahae I. Ndu, Christopher Brandon Perez, Jamie S. Rivas, Julio Rivera Jr., Sana Sarwar , Jessica J. Sherlock, Carley Rose Smith, Danielle Stephens, Jarim Virgen-Rivera, Xavier Walton
Monroe: Felecia Marina Dillon, Gerardo Flores, Aichata Iya Konate, Gina Marie Morello, Kathryn Mae Noble, Thomas N. Speziale, Dylan J. Villano
Montgomery: Logan Besser, McKenzie Paige Brown, Frank C. Iovino, Taylor McKnight, Corinne Leigh Motter, Christopher Michael Seah, Brittany Jada White
New Hampton: Brooke Taylor Kerstanski, Philip Richard Valluzzi III
New Windsor: Brandon Bevier, Cassandra R. McKoy, Darius J. Melvin, Shermore O. Norman, Brianna Carol Ritch, Sade Smalls, Nathan A. Vermillion
Newburgh: Edna Ohemaa Aboagye, Adrian Manuel Adorno, Beatriz Aguilar, Diana Aguilar, Shellsy S. Ayala, Randy Christian Bauernfeind, Lisbeth A. Beco, Charles Ryan Betcher, Brittany E. Bordeaux, Courtney Marie Buckingham-Jones, Kelly M. Conklin, Kristin Ashley Field, Richard Garabito, Briana Linda Gotay, Wayne C. Grant, Melissa Guevara, Eduardo Maceda, Andreina Machuca, Molly S. McKnight, Jason Joseph McLaren, Amber Mae McQuiston, Marquis Parker, Elimar Pérez Ramos , Erika Piqueras, Genie Aline Polycarpe , Leon Lavern Priester, Tia N. Robinson, Nilda I Rodriguez, Ta'Shae Diamonté Rodriguez, Nieko Jose Rodriguez, Scott Sammarco, David Angle Silva, Breyalyn Spinning, Rebecca Lee Stillman, Daniel L. Torres, Jeannette Alejandra Troncoso, Johana Vlashi
Pine Bush: Laura Lee Blaney, Anthony E. Hernandez, Desiree Angelica Higuera , Taylor M. Kloczkowski, Sara Lindsay Morrow, Hannah Batsheva Strangways, Alexis Nicole Vanoyan
Port Jervis: Melody Catherine Delgado, Joy Noelle Miladinovich, Lillianna Renée Pinnock, Erin Rose Stritmater, Bradley Martin Doller, Daniela Josephine Garcia, Aidan Michael Hohl, Nicholas Raymond Torrado
Rock Tavern: Dylan W. Leghorn-McCracken
Salisbury Mills: Rylan M. Oquendo
Slate Hill: Jolanny Bisonó-Reyes, Alissa-Marie K. Rafferty
Sparrowbush: Cory Patricia Aumick, Anthony Richard DeGraw
Sugarloaf: Troy J. Mednikoff
Walden: Courtney Rose Fisher, Anna Georgiou, Elizabeth Joan Kimber, Chasity E. Kortright, Jariannie Rodiriguez Villa, Adriana Maria Torres, Trisha Iris Vazquez
Warwick: Trevor Leo Arnold, Tom Blau-Maor, Cassandra Dixon, Justin Joel Giannino, Graham Glasse, Christopher Robert Listwon, Zoe R. Maxfield, Dana T. Schmidt
Washingtonville: Shanice Najeé Heard, Reagan Justiniano, Catherine Renee Ramirez, Maria M. Zeoli
Westtown: Janine Ashley Black, Giuseppina Luisa Curto, Oneica N.V. Denny
DUTCHESS COUNTY
Beacon: Katherine Jeanne Fiske, Hope J. Horan
Fishkill: Lauren Victoria Cannizzo
Hopewell Junction: Daniel Dominick Galage, Yasmin A. Rivera, Sherene Kristina Williams
Stormville: Sara Rattigan
Wappingers Falls: Jasmine A. Pagan, Julian David Diaz, Jennifer L. Martinez
NEW YORK COUNTY
New York: Kerrie E. Keegan
ROCKLAND COUNTY
Garnerville: Chelsea Feliciano
SULLIVAN COUNTY
Bloomingburg: Nicole Beatrice Montimurro
Burlingham: Gonzalo Gavan Uribe
Parksville: Erin Elizabeth Fortin
Thompsonville: Danielle Marie Nolan
Wurtsboro: Tammie Jean Fredell, Victoria Rose Sherman
ULSTER COUNTY
Highland: Jasmine K. Mirrow
Saugerties: Nicholas R. Parr
Wallkill: Meredith Kate Brown, Ryan M. Collins, Alyssa J. Kane, Jonathan A. Klepeis, Jenna M. Lloyd, Dustin Scheibling
OUT OF STATE
CONNECTICUT
Bolton: Kristen S. Quigley
Total Fall Graduates: 196
Are you ready to write your story?