Fall Admissions Events Planned
September 8, 2021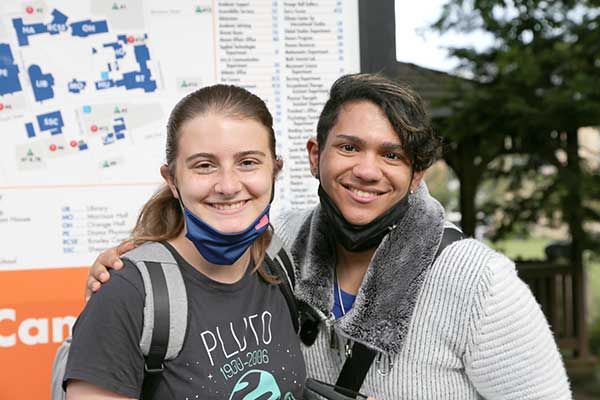 MIDDLETOWN, N.Y. – Prospective students are invited to learn more about SUNY Orange this Fall by participating in general information sessions and in-person campus tours, as well as additional presentations that will be held both virtually and in-person as COVID restrictions allow.
Campus tours, paired with general information sessions, are planned for 3:30 p.m. on the following dates and campuses: Middletown campus on Sept. 22, Oct. 6 and 20, Nov. 3 and 17, and Dec. 8; and Newburgh campus on Sept. 30, Oct. 14, and Nov. 5 and 18. These events will begin with the info session and conclude with a student-led tour. Admissions counselors will be available to answer prospective students' questions about the enrollment process, available financial aid, academic degree programs, and more.
Evening general information sessions are scheduled virtually via Zoom for 6 p.m., Wednesday, Sept. 29 and Wednesday, Oct. 27. The Oct. 27 session will be presented in both English and Spanish.
For students considering applying to the College's competitive health professions degree programs, the Admissions team announces upcoming virtual health professions information sessions (via Zoom) for 6 p.m. on the following dates: Wednesday, Sept. 15; Wednesday, Nov. 3; and Tuesday, Dec. 7.
A virtual Veterans Day Student Panel presentation, which will highlight the College's broad array of support services for veterans as well as the academic and campus life opportunities for active-duty and retired military personnel, will be held from 6 to 8 p.m., Thursday, Nov. 11 via Zoom.
Throughout the Fall, prospective students can arrange appointments with an admissions counselor on Tuesdays and Thursdays. These meetings can be held in-person, virtually via Zoom or on the phone.
To register for any of the available sessions, visit https://sunyorange.edu/admissions/visit.html. High school students can also speak with their guidance offices to see when SUNY Orange representatives may be making virtual connections with their school.
For more information, contact the Admissions Office at (845) 341-4030, online at www.sunyorange.edu or via email at apply@sunyorange.edu.
SAVE THE DATE: SUNY Orange's annual Admissions Open House will be held via Zoom from 10 a.m. to Noon on Saturday, Nov. 13.