A Life Together Begins at SUNY Orange
December 21, 2021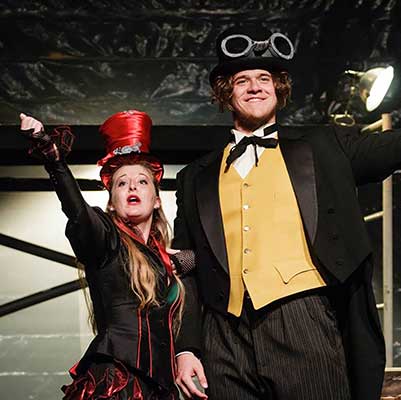 He asked. She said yes.
On Saturday, Nov. 20, a pair of SUNY Orange graduates wove a celebratory thread into the Apprentice Players' production of "Tragic Yarn: Tales of String and Shadow" when Tyler Farnell returned to the Richards Theatre stage, dropped to one knee and proposed to girlfriend Marcella Martinez. She happily accepted.
Farnell, of Middletown, and Martinez, of Chester, met for the first time as students during auditions for the Fall 2015 Apprentice Players' production of "Tennessee & Jones: American Originals," a collection of five one-act plays.
"They got to know each other working together in our theatre workshop and on stage during the Fall 2015 Tennessee Williams showcase," said theatre professor and director David Cohen, who worked with Farnell to arrange the on-stage proposal. "They said that they started going out for late night grub every night at the Americana after rehearsals and subsequently started dating during the week between the two performance weekends in 2015. Then in 2016, they finished out their last semester on stage together in our production of Brecht's 'Lux in Tenebris.'"
Both graduated from SUNY Orange with liberal arts degrees and transferred to the University of Buffalo, where Farnell went on to complete a bachelor's degree in exercise science and a master's degree in athletic training. He currently works as an early intervention/injury prevention specialist. Martinez earned her bachelor's degree in business administration, with a concentration in human resources, and she currently works as a human resources generalist.
A wedding date has not yet been set, but SUNY Orange is happy to have provided a stage for Tyler and Marcella to meet, grow closer, showcase their acting chops and then to cement their relationship with a successful proposal. Best wishes for a happy engagement and a wonderful life together.