Professor Gives Back to College and Community that Helped Her
January 21, 2022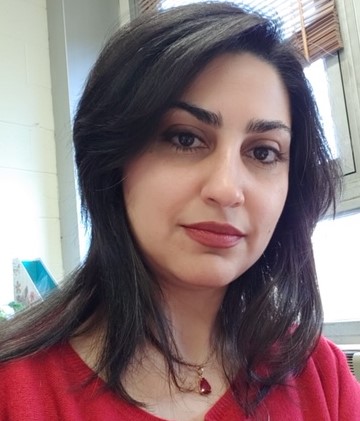 MIDDLETOWN, N.Y. – Professor Shahrzad Latefi has been teaching mathematics courses at SUNY Orange since 2014 but in 2011, just three years earlier, she had emigrated from Iran to the United States and could only speak a small amount of English.
In Iran, Latefi's parents and her future husband's parents were old friends, even living in the same building at the start of their married lives. After her husband's family emigrated to the United States, the families stayed in touch, and visited when her husband's family often returned to Iran. Eventually this connection led to Latefi developing the relationship with her future husband, who had begun working toward a medical residency in the United States.
Meanwhile, Latefi had graduated with a master's degree in Pure Mathematics and was the youngest instructor at her hometown university. But, she made the difficult decision to emigrate to the United States so she could help support her future husband, while he continued to take the steps towards his residency. After they were married, Latefi worked hard to find a good job, but she still struggled with speaking English fluently.
One of her friends told her that the local community college (SUNY Orange) was offering evening ESL (English as a Second Language) classes for only $10, so she signed up for the class.
"It was the best thing I have done in my life," she says today.
Latefi credits her instructor, who knew she had been a mathematics professor in Iran, for not only improving her spoken English during the class but also for recommending she visit the Library and Tutoring Center (now the Center for Student Success). "I could not speak very well, but it was a very encouraging and positive environment, and seeing the Library, and people coming to the Tutoring Center, it gave me confidence to start new things.
"My mother-in-law knew Professor Flo Hannes, who introduced me to Mathematics Department Chair Anne Prial, who suggested I sit in on some classes, as well as the mathematics lab, and listen to how the students asked questions. I knew how to teach the concepts, but I didn't know how to explain them in English.
"Jon Rion, the Math Lab Coordinator, also gave me great advice to start watching tutorial videos so I could learn the correct terminology. I sat in the Library taking notes from those videos. When I felt my English had improved enough, I applied for a part-time position in the Tutoring Center as a Math Tutor. I was given the opportunity to tutor a couple of students, and continued to improve my English. After one year, I was able to work full-time in the Tutoring Center, where I was helping more students from a variety of different classes and abilities."
In 2014, Latefi successfully applied for a full-time mathematics instructor position, and has recently become the Chair of the Scholarship Committee. She sees her work at SUNY Orange as a way of giving back to the community and the college that helped her succeed when she first entered the country.
"I am very committed to this community college, it is my second home. I see many scholarship applications from students who are coming from families that cannot afford a high-cost, four-year college or university. But SUNY Orange is not just for young people, I know an 80 year old woman who's taking many classes at SUNY Orange in a variety of subjects such as art, history, and politics! We are serving all age ranges in the community, and the hope is that all students come here, get the help they need, and find their own way."
Latefi now holds the rank of assistant professor in the College's Mathematics Department. Her family still lives in Iran, and she hopes to be able to visit them again, as soon as the COVID-19 pandemic travel restrictions are lifted. Meanwhile, she is fully immersed in contributing to her "SUNY Orange family" and helping students succeed because she understands the worries and challenges they face on their way to a college education.