SUNY Orange Selected for Amazon Career Choice Program
September 20, 2022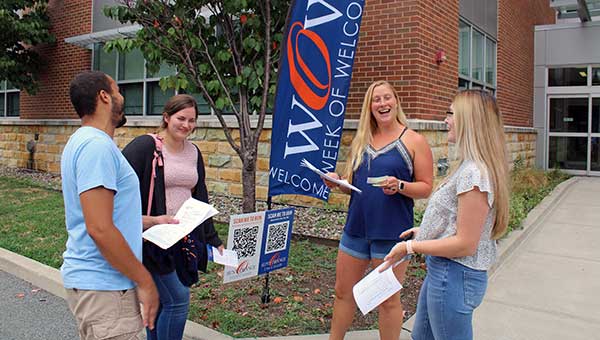 MIDDLETOWN, N.Y. – SUNY Orange has become the latest community college within the State University of New York (SUNY) to be selected as an education partner for Amazon's Career Choice program, providing Amazon's hourly employees access to the College's full array of degree and certificate programs.
Amazon's Career Choice program is an education benefit that empowers employees to learn new skills for career success at Amazon or elsewhere. The program meets individual learners where they are on their education journey through a variety of education and upskilling opportunities, including pre-paid college tuition, industry certifications designed to lead to in-demand jobs, and foundational skills such as English language proficiency, high school diplomas, and GEDs. In the U.S., Amazon is investing $1.2 billion to upskill more than 300,000 employees by the year 2025 to help move them into higher-paying, in-demand jobs.
SUNY Orange offers more than 40 degree and certificate programs housed within seven academic communities: Arts and Media; Business; Culture, Society and the Mind; Education and Human Services; Health Sciences and Wellness; Justice and Community Engagement; and Science, Technology, Engineering and Math (STEM).
Visit the College's Amazon Career Choice web site to learn more or request information.
"Many residents in Orange County and beyond are looking for convenient ways to access to high-quality, affordable higher education without incurring significant debt, and Amazon's Career Choice program is an excellent opportunity for Amazon employees to take college credits while they are working," said Dr. Kristine Young, SUNY Orange president. "I appreciate that Amazon recognizes the value of a SUNY Orange degree to its employees in the Hudson Valley, and that we've been selected in New York State for the Career Choice College Track. Amazon is supporting its employees with pre-paid tuition and so this partnership makes great sense for all involved. I look forward to the College and Amazon collaborating closely on other training, certification and educational programming that will mesh with the Pathways and Foundations tracks within the broader Career Choice program."
SUNY Orange is working to reshape the student experience through strategic approaches to improving support services, successful acquisition of transformational federal and state grants, and blending the best elements of Guided Pathways principles with the College's strengths. Being selected for Amazon's Career Choice program is yet another step in the College's innovative implementation of its Strategic Plan that is designed for the College to empower student success, strengthen the region's economic future, and sustain and invigorate its own future.
Additionally, Young and her team are identifying ways SUNY Orange can create new and targeted workforce training partnerships across a variety of business sectors that are generating pipelines of talented and skilled employees while also sparking economic development within Orange County.
"
I appreciate that Amazon recognizes the value of a SUNY Orange degree to its employees in the Hudson Valley, and that we've been selected in New York State for the Career Choice College Track. "
Dr. Kristine Young
"SUNY Orange, its students, and Amazon will all benefit from this collaboration. I thank Amazon for selecting the College as an educational partner for the innovative Career Choice Program. I also commend SUNY Orange President Dr. Kristine Young and her staff for seeking meaningful partnerships such as this that benefit the College and the community," added Orange County Executive Steven M. Neuhaus.
"I applaud SUNY Orange's dedication to providing its students and the broader Orange County community with creative opportunities to learn new skills and advance in their careers," said New York State Senator James Skoufis. "Companies in this area are only as strong as their workforce, and SUNY Orange's commitment to developing new pathways to employment is something we can all celebrate."

Amazon's Career Choice program has a rigorous selection process for third-party partner educators, choosing partners that are focused on helping employees through their education programs, assisting them with job placements, and overall offering education that leads to career success.
"We are thrilled to have SUNY Orange join us as an education partner for Career Choice, adding to the hundreds of best-in-class offerings available to our employees in the Hudson Valley," said Carley Graham Garcia, Amazon's head of community affairs for Amazon in New York. "We believe in empowering our employees by providing them access to the education and training they need to grow their careers, whether that's with us or elsewhere. We have intentionally created a partner network of third-party educators and employers who are committed to providing excellent education, job placement resources, and continuous improvements to the experience. To date, over 80,000 Amazon employees around the world have already participated in Career Choice and we've seen first-hand how it can transform their lives."
For more information on Amazon's Career Choice, visit: https://www.aboutamazon.com/news/workplace/career-choice or https://sunyorange.edu/amazon. To learn more about how to apply to SUNY Orange, please visit: sunyorange.edu/getstarted, email: apply@sunyorange.edu, or call 845-341-4030.
About SUNY Orange
Orange County Community College (SUNY Orange) enrolls approximately 4,000 full- and part-time students across 40 degree and certificate programs. With campuses in Middletown and Newburgh, the College has grown to meet the needs of its students, while also addressing the demands of a growing and diverse population in the Hudson Valley. Consistent with its mission to provide high-quality and accessible educational and enrichment opportunities, the College is noted for its commitment to ensuring student success. Since its founding in 1950, the College has earned its reputation as a pioneer and innovator in meeting the needs of its students and contributing to a vibrant and thriving community. Learn more about SUNY Orange at www.sunyorange.edu.