Congressman Ryan Celebrates Federal Funds for FoodTEC
January 13, 2023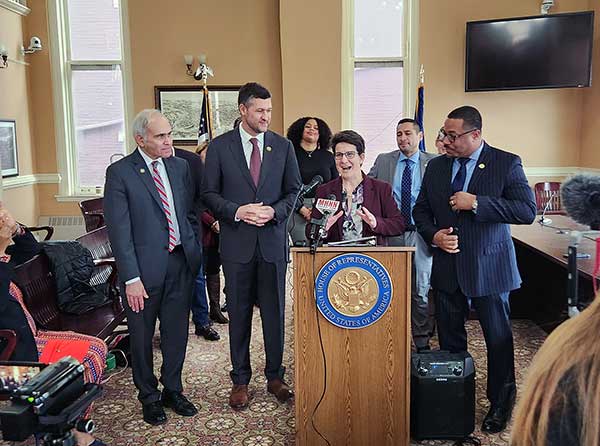 NEWBURGH -- For his first official in-district event as newly elected Congressman for the 18th District of New York, Pat Ryan came to Newburgh City Hall Friday (Jan. 13) to celebrate recently approved federal funding for Orange County FoodTEC and renovations to the Newburgh Landing and pier.
The monies were appropriated through the Community Projects Funding process that allows members of Congress to request direct funding for projects that benefit the communities they represent. CPF is separate from federal grants and funding apportioned by formula to states or awarded by federal agencies. The two projects Ryan applauded on Friday were submitted to former Congressman Sean Patrick Maloney for review and support.
"We are delivering help, resources and dollars to help build on the momentum, energy and positivity that is happening in Newburgh," Ryan said. "We are talking about more than $5 million in direct federal funding to projects in the City of Newburgh. These two projects are complementary and synergistic. The pier will build upon the revitalization and momentum happening at the waterfront, and FoodTEC will provide skills training for people right here in Newburgh and Orange County."
Ryan, SUNY Orange President Dr. Kristine Young, Newburgh Mayor Torrence Harvey and Orange County Chamber of Commerce President Heather Bell-Meyer were joined by an array of elected officials for the announcement, including State Senator Robert Rolison; State Assemblyman Jonathan Jacobson; Orange County legislators Kevindaryan Lujan and Genesis Ramos; and Newburgh City Council members Giselle Martinez and Omari Shakur.
"Our beautiful branch campus, only a block away from us today, has long been described to me as an anchor. Increasingly, it is an anchor in a neighborhood of craft food and craft beverage, and soon, it will be in the middle of an urban resort," Young said. "So it should anchor economic and workforce development in food, beverage, and hospitality, and Representative Ryan today has made it possible now.
"A significant portion of the funding will be invested into direct student support, for free or nearly free workforce readiness training so that individuals may receive meaningful instruction, go to work, earn a meaningful wage, and return to FoodTEC or SUNY Orange for additional advanced instruction to grow in the job," she added. "Another portion of the funds will be devoted to daycare and/or childcare, so those often unable to access meaningful training or instruction will be able to do so.
A newly created not-for-profit aligned with SUNY Orange, Orange County FoodTEC will use the funds to accelerate the work it has recently begun to provide workforce training and related skills programming in support of the region's food, beverage and hospitality sectors. Orange County FoodTEC is a workforce and skills development training and education center at SUNY Orange that ultimately will combine a commercial kitchen, classroom space and training event space into a flagship hub for the College's food, beverage and hospitality workforce program.
Under the direction of Executive Director Jhack Sepulveda, FoodTEC is preparing to open a modest offering of food safety training courses this Spring. Longer-term planning calls for food industry certificate training, general workforce readiness training, mid- and upper-level management training, apprenticeships, entrepreneurial support and resources, and food-based community development.
In addition to Sepulveda, FoodTEC is guided by a five-member Board of Directors and supported by an advisory board of industry and sector leaders including representatives from Amy's Kitchen, Council of Industry, Love Your Neighbor Community (LYNC), Legoland New York Resort, Foster Supply and Hospitality, Levy Restaurants, Pepsico, and Resorts World Catskills.
For more information, contact Sepulveda at (845) 341-9518 or at jhack.sepulveda@sunyorange.edu.
About SUNY Orange
Orange County Community College (SUNY Orange) enrolls approximately 4,000 full- and part-time students across 40 degree and certificate programs. With campuses in Middletown and Newburgh, the College has grown to meet the needs of its students, while also addressing the demands of a growing and diverse population in the Hudson Valley. Consistent with its mission to provide high-quality and accessible educational and enrichment opportunities, the College is noted for its commitment to ensuring student success. Since its founding in 1950, the College has earned its reputation as a pioneer and innovator in meeting the needs of its students and contributing to a vibrant and thriving community. Learn more about SUNY Orange at www.sunyorange.edu.