SUNY Orange Announces December 2022 Graduates
January 26, 2023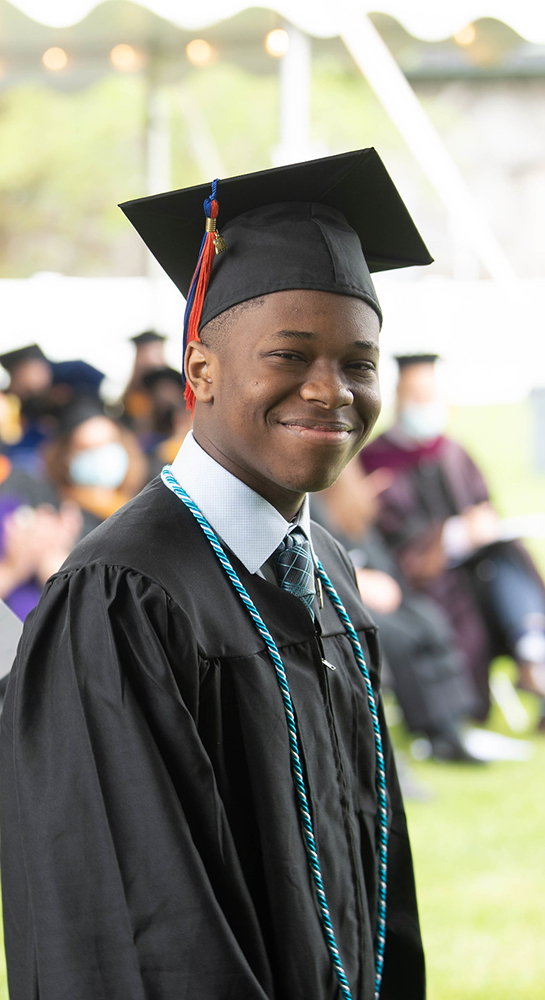 MIDDLETOWN, N.Y. -- Dr. Kristine Young, president of SUNY Orange, has announced that the College awarded associate's degrees and academic certificates to 170 students who completed their courses of study during the recently concluded Fall semester.
If they choose, the College's newest graduates are eligible to participate in SUNY Orange's 72nd Commencement ceremony scheduled for May 18, 2023.
The College's December 2022 graduates hailed from six counties in New York (Orange, Dutchess, Putnam, Sullivan, Ulster and Westchester) as well as Illinois, New Jersey and Pennsylvania.
SUNY Orange Graduates List (December 2022)
NEW YORK STATE
ORANGE COUNTY
Beacon: Robert William Limitone, Kira Lynne McDermott, Jana Medley
Bullville: Beth Makela
Campbell Hall: Jeanné Charlene Berube, John Michael Mazzani
Central Valley: Daniel Rosendo
Chester: Christopher Sean Flynn Jr., Anthony S. Lukan, Michael T Pungello, Victoria Vicari
Cornwall: Christian James Cicalo, Gillian Gaboff, Egzona Gjonbalaj
Cornwall on Hudson: Glynis Anne Halliday
Florida: Edward Jesus Celiz, Antonina Oliveri, Casedy Michelle Perez, Alyssa M. Viggiani
Goshen: Charles W. Crover, Jessica Rose Hendricks, Noah R. LaBarge
Greenwood Lake: Melissa S. Grant
Highland Mills: Ashley M. Bauscher, Erik K. Nelson, Kira Janae Pedicini, Madison Wyman
Maybrook: Meredith Rose Beebe, Camron Dale Davidson, John J. Detoro III
Middletown: Sarah A. Ablordey, Andrea Avalos Godinez, Angelina Baxter, Regina Lynn Burns, Christopher Matthew Carberry, John Maximus Chiriguaya, Tiana S. Colon Desir, Orande Daring, Delicia L. Dorsey, Alexandra Jo'Nicole Farrait, Dharryl Gateau, Austin Gray, Lidia Isabel Guzman Cortes, Christian Julian Harris, Scott Hedderton, Jeremy N. Johnson, Thomas R. Leo, Steven R. Lopez, Cheyenne J. Lovinsky, Emily McLean, Colin B. Nugent, Shaun Patrick Nugent, Mayra Palma, Maria Picil, Anthony Michael Potts, Denis A. Ramirez, Kenneth O. Ramirez, Luis Angel Ramirez, Nevaeh Alicia Ramirez, Alexis Eduardo Rivera, Kevin Rodriguez, Ruilian Song, Devorah Shira Strangways, Mary Abla Tossoukpe, Tracy L. Vance, Yurianny Vargas, Sara Marie Westphal, Rae M. Winship, Fatimatul Zahra
Monroe: Sean Patrick Armstrong, Jacob Andrew Colon, Samantha L. Ferrari, Alexandrea S. Inniss, Tetiana Meshcheriakova, Kaitlin Pantazopoulos, Kristine Ulmschneider
Montgomery: Lucca Dobson, Brianna L. Flood, Emily Morgan Lyons, Logan M. O'Brien, Erica Elizabeth Rose, Giulia Satriano
New Hampton: Gabriela Michelle Bogran-Palma, Jared V. Goins, Giuseppina Nicola Rotundo
New Windsor: Rachel Ann Cerchiara, Samantha Danielle D'Souza, Abigail Duran, Courtney Faye Eichner, George Figueroa, Viviana Arely Garcia, David C. Jonza, Alexis King, Casey Ann Lee, Kim Mendez, Joseph Angelo Merced, Nicholas Alejo Merced, Derryn-Ryan Rodriguez, Ruben Jesus Rodriguez, Brooke Taylor Schaum,
Newburgh: Nycole J. Almodovar, Stephanie A. Alvarado, Justen Daniel Betcher, Jennifer Aracely Castillo, Evin J. Galarza, Kamina Grant, Rachel Maria Kirk, Stacey Luna, Elizabeth Mejia, Pedro Quilez, Kevon D. Richards, Yamileth Ariam Ruiz, Deanna N. Schwendig, Jada Elise Sutton, Kiana Marie Warren, Stephane Watson
Otisville: Matthew A. Jarski, Hope Emily Malocsay
Pine Bush: Joseph Luis Almodovar, Natalie Ann Gradowski, Grace Manoy, Branden Jacob Rivera, Caroline Melanie Schmitt
Port Jervis: Esther Amuda, Kelsey Nicole Talmadge
Rock Tavern: Aniyah Chantalé Moore
Salisbury Mills: Jahkima E. Davis
Slate Hill: Michael Joseph Ortiz
Sparrow Bush: Cheyenne Schaare
Sugar Loaf: Dallas Edward Andrew Pevny
Walden: Catherine Canfield, Cynthia Marie Nestor, Anthony Pagan
Wallkill: Kelly Hoell
Warwick: Sofia I Correa, Brianna Kristine Fodera, Kiera Hyland, Bridget Kristina Lennon, Sarah Elizabeth Myruski
Washingtonville: Jonathan George Bowes, Andrea J. D'Orazio, Gabriella C. Noisin, Liam Oswald Wilson
Westtown: Heather Lynn Molander, Erik Lino Ortiz, Meaghan Elizabeth Ryan
DUTCHESS COUNTY
LaGrangeville: Allyson M. Genck
Poughkeepsie: Raina LeBron
Poughquag: Ashley Marie Nehrebecki
PUTNAM COUNTY
Mahopac: Keri Lyn Trace
SULLIVAN COUNTY
Bloomingburg: Sheila Briannah Finn, Zachariah N. Heinen, Makenna Karen Lesinski, Joseph Baron Roe
Glen Spey: Jaylin R. Ocasio, Akata Y. Patel, Roderick James Stymacks
Neversink: Austin Michael Congelosi
Rock Hill: Nina Mota
Wurtsboro: Jahzareli A. DeMore
ULSTER COUNTY
Highland: Talia Rose Field, Gary Robert Inkell Jr., Adriana D. Vasquez, Nina Zimmermann
WESTCHESTER COUNTY
White Plains: Isaiah Banks
OUT OF STATE
ILLINOIS
Chicago: Dwight Stoltz Webber
NEW JERSEY
Hawthorne: Janna Mouchtakova
Succasunna: Brianne T. Pontus
PENNSYLVANIA
Dingmans Ferry: Stephen Hughson Jr.
Matamoras: Kelly Ann Flaherty
Total Graduates: 170