College Unveils Newly Wrapped Shuttle Bus
February 22, 2023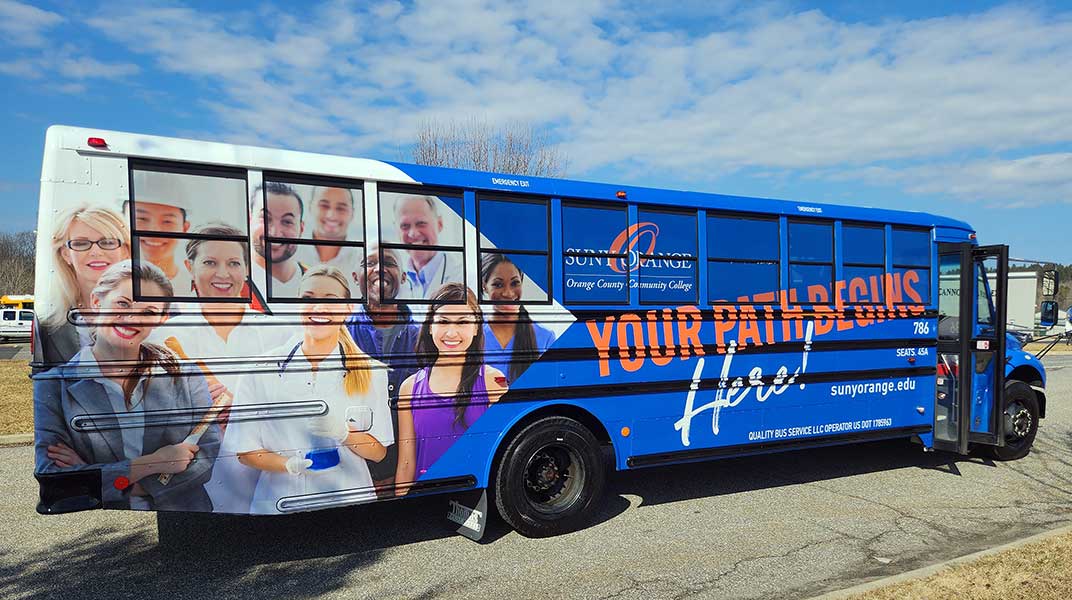 MIDDLETOWN, N.Y. – SUNY Orange is taking its message on the road … literally … to deliver the message that "Your Path Begins Here" to more prospective students, families and members of the community.
In a branding and marketing partnership with 23 Marketing Group of Middletown, Absolute Airbrush Designs LLC of Schenectady and Quality Bus, the College has turned the rather anonymous white shuttle bus that has been carrying students and staff between the Middletown and Newburgh campuses into a vibrant rolling billboard that now showcases the blue and orange colors of SUNY Orange.
Each side of the bus is adorned with the College's "Your Path Begins Here" slogan, along with a large colorful photo and the College's logo and website address. The rear of the bus includes the Admissions Office phone number as well as a QR code that links to the College's "Get Started" web page (www.sunyorange.edu/getstarted). Additionally, all mandated New York State Department of Transportation requirements were met regarding information that is to be displayed on the exterior of the bus.
SUNY Orange's Communications staff collaborated with 23 Marketing Group, the College's agency of record, on the bus design, while the vinyl wrap was applied by Nabi Syed, owner of Absolute Airbrush Designs, a veteran-owned digital and graphics design company serving the Capitol region of Albany. The bus is owned and operated by Quality Bus, who is contracted by SUNY Orange for transportation services between its campuses.
"SUNY Orange has been around for nearly 75 years. Many folks in Orange County and the surrounding region are aware of our academic programing and workforce training. But in these challenging times, it is more important than ever for us to find creative ways to build greater awareness of who we are and what we offer," said Dr. Kristine Young, SUNY Orange president. "By wrapping our shuttle bus, we are taking the opportunity to splash our name and our message to countless motorists and pedestrians traversing Interstate 84, as well as those along the streets of Newburgh and Middletown as our bus shuttles students and staff between campuses."
"For many years, students have enjoyed free, environmentally conscious transportation between our campuses as part of their student fees," Young added. "This has been a service especially important to those without their own reliable transportation. More than ever we can say to students, and prospective students as well, 'Your Path Begins Here.' with our beautifully wrapped bus that can shuttle them from campus to campus."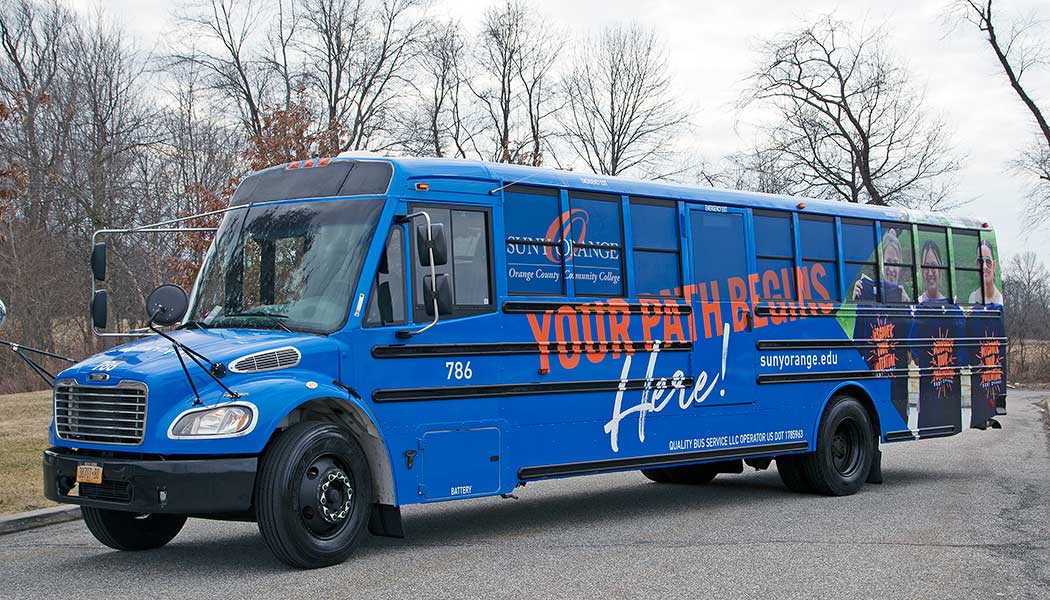 The shuttle bus runs between the Middletown and Newburgh campuses 12 times daily, Monday through Friday, during the academic year. The new bus is expected to debut on its route on Monday, March 6.
For more information, contact Mike Albright, executive director for communications, at (845) 41-4728 or at mike.albriht@sunyorange.edu. For information on the College's academic programming and workforce training, visit www.sunyorange.edu.
Mike Albright, SUNY Orange Executive Director for Communications: "With the support of the Board of Trustees and administration, we have elevated and expanded the College's marketing efforts in many areas over the past 18-24 months, and we saw this as an opportunity to do something bold and different. Wrapped buses are not unusual. You see them in cities and on college campuses across the country. But for us, we felt that a rolling billboard covering the 26-mile journey between campuses at least 60 times each week would create tremendous value and awareness for the College. I also want to express my appreciation to partners 23 Marketing Group, Absolute Airbrush Designs and Quality Bus for sharing our vision and contributing to the success of this project."
Tony Morino, 23 Marketing Group President and Chief Executive Officer: "This project signifies SUNY Orange's commitment to enhance its marketing efforts and deliver key messages to its target audience. Ultimately, the goal is to increase awareness of the College's offerings and increase enrollment. This bus wrap will support those efforts. The project is also a result of great teamwork between 23 Marketing Group, SUNY Orange, Absolute Airbrush Designs LLC and Quality Bus. We are excited to see the creative wrap on the streets and roads of Orange County."
Nabi Syed, Absolute Airbrush Designs Owner: "We appreciate that SUNY Orange chose Absolute Airbrush Designs to wrap its shuttle bus. This is an honor and it is incredibly rewarding for us to have contributed to the College's and community's growth in this way. This project is now solidified in our company's portfolio as one of the most significant testaments to our skills, knowledge and hard work. Knowing how much of an impact this will have on the students and community makes it that much better."
Ervin Chance, Global Studies student: "I think it is pretty cool. It looks very recognizable. It's great because we have the two campuses and they are on opposite sides of the county, so this (bus design) works perfectly."
Liam McElduff, Communications student: "This is great. I know a lot of larger schools have shuttle buses to get to different campuses, so this is a great improvement for the College."
About SUNY Orange
Orange County Community College (SUNY Orange) enrolls approximately 4,000 full- and part-time students across 40 degree and certificate programs. With campuses in Middletown and Newburgh, the College has grown to meet the needs of its students, while also addressing the demands of a growing and diverse population in the Hudson Valley. Consistent with its mission to provide high-quality and accessible educational and enrichment opportunities, the College is noted for its commitment to ensuring student success. Since its founding in 1950, the College has earned its reputation as a pioneer and innovator in meeting the needs of its students and contributing to a vibrant and thriving community. Learn more about SUNY Orange at www.sunyorange.edu.