SUNY Orange to Offer New Healthcare Administration Degree
April 13, 2023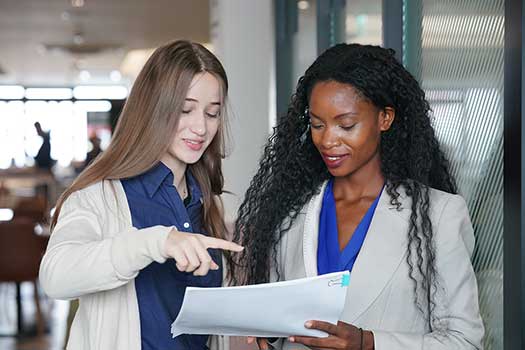 MIDDLETOWN, N.Y. – For those who wish to work in the growing healthcare industry but don't want to work in a clinical or patient care setting, SUNY Orange's new Healthcare Administration degree can offer a foundation for access to a variety of potential careers.
Available for the first time for new or current students enrolling in the Fall 2023 semester (classes begin in August), the Healthcare Administration degree is primarily designed for students who plan on continuing their education at a four-year college or university. After transferring, graduates may pursue a bachelor's degree in a variety of areas, including management, marketing, finance, or human resource management. SUNY Orange's new degree will provide a high-quality education for those committed to understanding and learning the healthcare industry as a whole. Some coursework in this program can be completed virtually while most classes can be taken in person at either the Middletown or Newburgh campuses.
For current and future SUNY Orange students who are not immediately accepted into the competitive degrees within the College's Health Sciences and Wellness academic community (Nursing, Dental Hygiene, Radiologic Technology, etc.), the Healthcare Administration degree can be an exciting option that, when coupled with a Health Sciences and Wellness degree acquired later, provides graduates with a diversified foundation when seeking employment. Such students will be equipped with the skills of a healthcare practitioner and the knowledge of management of health delivery systems, both of which are highly valued career skill sets.
"Over decades, SUNY Orange has built a strong reputation for training and educating competent and skilled graduates in the health sciences," said Dr. Erika Hackman, SUNY Orange vice president for academic affairs. "But as the healthcare sector grows, there are becoming more ways for people to serve their community. SUNY Orange is attempting to meet those emerging needs, and our Healthcare Administration degree will provide a different pathway into healthcare employment. We expect that our graduates will have a competitive advantage when transferring to four-year institutions."
This degree will prepare Orange County students for future job opportunities in a field where a bachelor's degree is required for most administrative employment opportunities. Students will learn about the general nature, structure, resources and operations of healthcare organizations. Graduates will be able to explain the fundamental accounting, finance, management, marketing and legal functions of an organization. In addition, students will be able to effectively express business ideas and information both orally and literately.
According to the U.S. Bureau of Labor Statistics, careers in healthcare management are expected to grow at 10 times the rate of the national average with an average income of over $100,000. The anticipated growth rate for healthcare managers by 2024 is 12.5 percent in New York State, and 17 percent nationally. Hospital administrators in the state earn an average yearly salary of $128,470.
For more information, contact the SUNY Orange Admissions Office at (845) 341-4030 or via email at apply@sunyorange.edu. Information is also available at https://catalog.sunyorange.edu/current/healthcare-administration/index.html.