Four Students Accept PTK Awards
April 25, 2023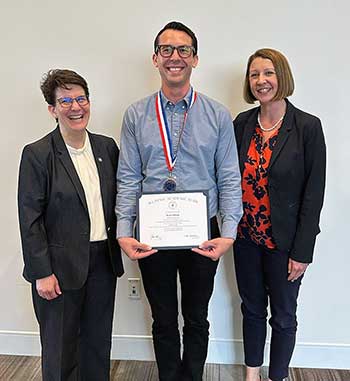 MIDDLETOWN, N.Y. – Four SUNY Orange students— Stephen Davis, Ashley Pomeroy, Michael Pungello and Scott Sablan—were among those celebrated yesterday (Monday, April 24) during the USA Today Phi Theta Kappa All-New York Academic Awards in Albany, N.Y.
Presented by PTK, the national honor society for students at two-year colleges, the awards highlight the outstanding academic achievements by SUNY and CUNY students from throughout the state.
Sablan (center in photo, with Dr. Kristine Young, left, and Dr. Erika Hackman, right), originally from Dixon, Calif., and now residing in Newburgh, had previously focused solely on his career for 15 years before returning to college. Despite being a full-time virtual student and manager, he has excelled in his Business Administration program at SUNY Orange. In early March, he presented a research paper at the SUNY Orange Achievements in Research and Scholarship Conference.
In addition, he plays the French horn in the SUNY Orange Orchestra and plans to pursue a bachelor's degree at the University of Pennsylvania after graduation, followed by a Master of Business Administration degree.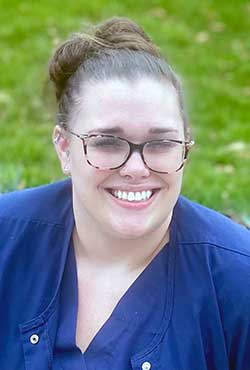 Pomeroy (left), who moved from Selbyville, Del. to Kerhonkson, N.Y. after graduating from Indian River High School, is pursuing a career in the Dental Hygiene program at SUNY Orange. Pomeroy is also a member of the Honors Program and is passionate about advocating for others who may feel unheard.
Pungello is pursuing a biology degree while Davis resides in New Windsor and is pursuing a cyber security degree.
About Phi Theta Kappa
Phi Theta Kappa is the premier honor society recognizing the academic achievement of students at associate degree-granting colleges and helping them to grow as scholars and leaders. The Society is made up of more than 3.8 million members and nearly 1,300 chapters in 11 countries, with approximately 240,000 active members in the nation's colleges. Learn more at ptk.org.