Moore Sisters Share in Commencement Celebration
June 5, 2023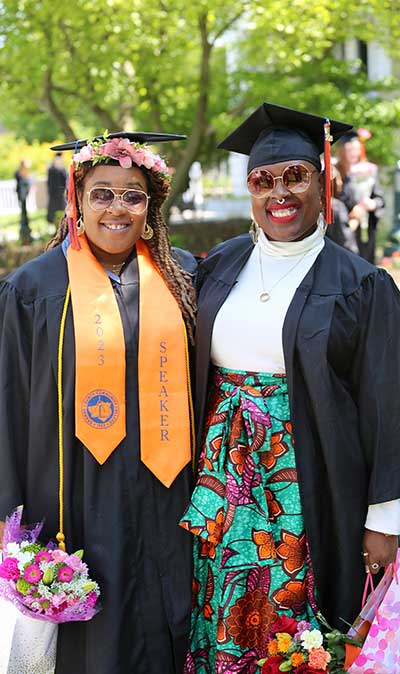 MIDDLETOWN, N.Y. - Sisters Eve and Faith Moore, siblings with a common passion - a career in healthcare - graduated from SUNY Orange together this Spring (May 18) when the College hosted its 73rd Commencement ceremony to celebrate not only the Class of 2023, but those graduates who were unable to have in-person graduations due to the pandemic in 2020 and 2021.
Although the two never shared time on campus together because of very different schedules, the memories and dedication to sitting down at the kitchen table with chips and salsa in hand, studying or getting their homework done, will stay with them for the rest of their lives.
Faith (at left in photo), a 16-year preschool teacher, decided to change careers because of her hands-on experience working with children with disabilities. Her passion grew quickly because of those frequent encounters, and she realized she had to take the leap into her next role.
"We had different reasons for entering the healthcare field" says Faith, who earned an Associate of Applied Science (A.A.S.) degree in the Occupational Therapy Assistant Program. "Watching countless occupational therapists provide top notch treatment to the children I worked with pushed me to move forward."
The Moore sisters, Orange County natives who reside in Middletown, said choosing SUNY Orange was an easy decision. The College offered them a myriad of course options. Eve has been the primary caretaker to her mother for more than 20 years. The SUNY Orange Evening Nursing Program was the academic direction she chose.
"While tending to my mom's needs, I discovered my passion for taking care of others," Eve adds.
Careers in healthcare run in their family. Their nursing aunt Joyce Cooper, who recently retired, worked in the neighborhood, and the sisters' success has been influenced by several people who are close to them, in addition to their instinct for taking care of others.
Faith says, "we have several friends who have always been driven by education. Spending time with people who are going places, you eventually catch the bug for yourself. Erika Thomas, LeeAnn Crispino, Anita Gracie, Vanessa and Albert Knowles, Amy Vaszquz and Rachael Rampersad are a few of our influences."
Both sisters are eager to begin their fields of study, but they must first pass their respective licensure examinations in order to formally enter their careers. While Faith prepares for her National Board for Certification in Occupational Therapy (NCBOT) exam to become an official occupational assistant and then head off for her master's degree, Eve is prepared to board the next flight for a well-deserved vacation before opening another textbook to prepare for her National Council Licensure Examination (NCLEX) for Registered Professional Nurses.