Middle States Reaffirms SUNY Orange Accreditation
July 18, 2023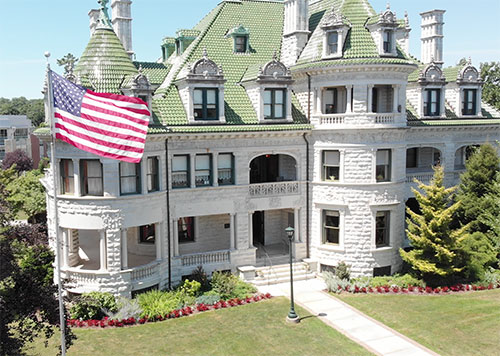 MIDDLETOWN, N.Y. – The Middle States Commission on Higher Education (MSCHE) fully reaffirmed its accreditation of Orange County Community College (SUNY Orange) on June 22, concluding an exceptional self-study by the College that spanned more than two years and wrapped up with a formal on-site review by Middle States evaluators.
At the conclusion of its site visit in April, the MSCHE visiting team provided a glowing verbal report of its findings. In the opinion of the visiting team, SUNY Orange appeared to meet each of MSCHE's seven accreditation standards, an outcome that was verified during each step of MSCHE's review of the visiting team report. The team was highly complementary of the College and offered only collegial advice and commendations, and did not issue any requirements (actions that MUST be taken to come into compliance) or recommendations (actions that must be taken to continue to stay in compliance).
The finding of no requirements or recommendations further cements SUNY Orange's position as an institution meeting the highest standards for academic delivery, student supports and operational efficiency with integrity and excellence.
"Our Self-Study involved many faculty and staff who represented all areas of the College on the Self-Study Steering Committee, participated in working groups investigating the standards, or provided materials and evidence supporting the self-study. Their efforts, whether serving in their regular roles or contributing directly to the self-study, led to this great outcome," said Dr. Kristine Young, SUNY Orange president. "I am deeply appreciative of our steering committee co-chairs Dr. Michele Iannuzzi-Sucich and Christine Work for adeptly shepherding the College through the process. Dr. Erika Hackman was instrumental as well. Her leadership and understanding of the interconnectedness of our various departments and divisions were invaluable.
"Special thanks also to our Board of Trustees, who were fully engaged throughout this more than two-year process. The College also benefits greatly from the support it receives and the partnerships it has created with the County of Orange and SUNY system.
"It is rare for a college to receive a report in which the visiting team outlines no requirements or recommendations" Young added. "That is a feather in the cap of the College, but more importantly it is a high-level affirmation of the extraordinary things happening at SUNY Orange. It should give our current and future students great confidence that the education we provide, and the services that support that education, are exceptional. But it also speaks to the professionalism of our College community and this institution's commitment to living its vision, mission and values."
The reaccreditation is valid for eight years, putting SUNY Orange on track for its next self-study during the 2030-2031 academic year. Since first accredited by Middle States in 1962, SUNY Orange has retained its accreditation intact.
The Middle States Commission on Higher Education (MSCHE) is an institutional accreditor recognized by the United States Department of Education (USDE) that serves as an independent voice in higher education. MSCHE establishes equitable standards for accreditation with member institutions that advance the impact of accreditation in the ever-changing landscape of higher education and promotes educational excellence through innovation across diverse institutions.
Following are highlights taken directly from the visiting team's April report:
The College is to be recognized for a campus culture solidly grounded in collaboration, communication, and civility. These three foundational elements have created a campus culture which is highly collegial. The entire college community should be proud of the work that makes SUNY Orange a highly engaged institution and should celebrate who they are as a community college.
The College efficiently aligns its academic planning and resource allocation to its mission, vision, goals and their 2020-2025 Strategic Plan.
SUNY Orange should be commended for their commitment to and integration of the mission, values, and goals of the institution into the operation of the College. While the self-study report provided a substantial amount of evidence to highlight how the College operationalized Standard I, the site visit overwhelming showed individual employee commitment to these goals and to the College's Strategic Plan.
SUNY Orange should be commended on the process by which they are engaging their College community in the development of their Strategic Plan 2025-2030. The College has already planned out how the vision, mission, values, and goals will be reviewed and revised across their Board of Trustees, the employee ranks, and externally. Establishing a well-developed planning process ensures that the College will continue to advance the mission and goals of the institution.
SUNY Orange should be commended on the many initiatives related to its commitment to diversity, equity, and inclusion, including an active college governance committee, the hiring of a Chief Diversity Officer, the development of its second Diversity Strategic Plan, and the effective implementation of its first federal Title V grant as a Hispanic-Serving Institution.
The College should be commended on the creation of the Division of Learning and Student Success to enhance collaborations between departments that provide academic support.
The College should be very proud of the high level of collaboration showing intentional decision-making that meets students at every point of their Academic experience, and of the work they did to ensure that a robust student experience continued despite a national pandemic. The staff was able to continue advising, provide financial aid and assistance, host cultural affairs, while also supporting student governance and clubs virtually.