SUNY Orange to Host Family & Student Orientation
August 8, 2023
MIDDLETOWN, N.Y.- New students from diverse backgrounds, along with their family members, will be introduced to SUNY Orange and oriented to the College's programs and services during one of four Family & Student Orientation sessions upcoming in August.
Orientation sessions will take place on the following dates at the specified campuses: Monday, Aug. 14, 1 to 5 p.m. (Middletown campus); Wednesday, Aug. 16, 1 to 5 p.m. (Middletown campus); Wednesday, Aug. 23, 4 to 8 p.m. (Middletown campus); and Saturday, Aug. 26, 11 a.m. to 3 p.m. (Newburgh campus).
Orientation events have been specifically curated for students and families in order to provide critical information on a variety of topics including academic programs, financial aid, academic resources, enrichment opportunities, and those support services that provide the necessary foundation for student success.
The event will go in-depth to explain SUNY Orange's seven academic communities and how students can connect their College experience to career goals in a meaningful way. Attendees will be among the first students able to register for a new First Year Experience course being offered this Fall. This new course is designed to help new students get acclimated to the College and access valuable student services resources so they can become acquainted with the College, the registration process, and the SUNY Orange experience.
Student & Family Orientation is a collaborative effort by the staffs of SUNY Orange's Student Services and Academic Affairs divisions, and was inspired by the College's PROSPERAR program.
"Orientation provides students and their families insight into each campus' culture, academic programs that are offered, and a way to familiarize themselves with the College community." said Gabriella Ammiano, PROSPERAR program director, "It is the first step in building their own community within SUNY Orange that will develop a network that they will carry for the duration of their academic journey."
To register for one of the four sessions, students can RSVP at the following LINK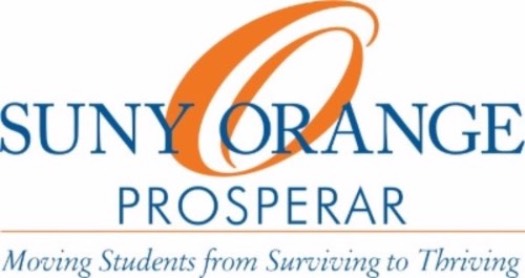 For more information, contact the PROSPERAR staff at pathwaycoach@sunyorange.edu or call (845)-341-9060