SUNY Orange Enjoys Enrollment Surge to Start Semester
August 29, 2023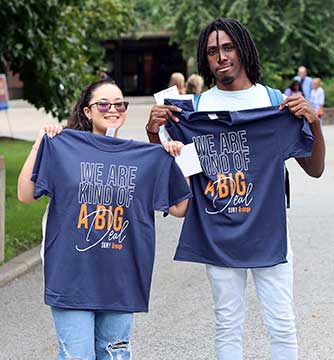 MIDDLETOWN, N.Y. -- Enjoying its largest credit enrollment increase in more than 30 years, SUNY Orange opened the Fall 2023 semester in spectacular fashion on Monday (Aug. 28) by also cutting the ribbon on a new student lounge, rolling out expanded food options and embracing students with initial "Week of Welcome" events designed to make them feel at home.
First-day, year-over-year enrollment was up 11.53 percent from last Fall as measured in total credit hours taken, known more widely as full-time equivalent (FTE). Using only data available since 1993, this year's surge surpasses the previous high-water mark in that span of 9.74 percent in 2002. Slightly more than 55 percent of this Fall's students are full-time. With 276 more students registered at the start of the semester for classes on the Middletown and Newburgh campuses, enrollment in terms of student headcount was up 7.51 percent, the largest fall-over-fall boost since the Fall of 2002 when SUNY Orange elevated its head-count by 9.38 percent.
"So many of the students I met were engaged and excited to join our College community, our faculty members were eager to kick off another semester of teaching and learning, and our staff members were energized to help students get the semester started on the right foot," said Dr. Kristine Young, SUNY Orange president. "I am so proud of everyone at the College who had a hand in our enrollment increase. The community college sector nationally has been experiencing enrollment declines for quite some time, and we've all been trying to rebound from the impact of the pandemic.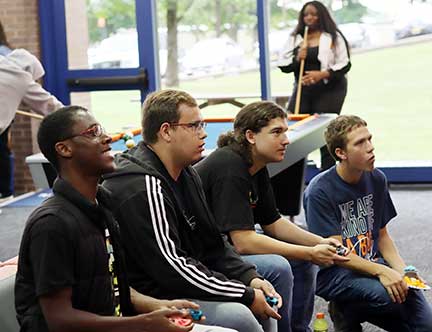 "Here at SUNY Orange, we've put an emphasis on retention of our current students through our work in implementing Guided Pathways, our federally funded Title V PROSPERAR program, and new approaches within our Center for Student Success and our Student Services departments," she added. "At the same time, we've elevated our recruitment efforts to broaden awareness of the College and to attract students who are seeking an affordable and challenging education close to home."
Part of the Fall enrollment surge is a 7.8 percent increase in continuing students (those who attended SUNY Orange during the 2022-23 academic year), reinforcing the success of the College's amplified retention efforts. New first-time students are arriving at the College in larger numbers as well (12.8 percent increase year over year). Young indicated she was pleased that the College, certified as a Hispanic Serving Institution (HSI), saw a 15.49 percent increase in Hispanic and Latino students, as well as a 13.75 percent rise in Black students. Black and Hispanic students were among those whose enrollment was most impacted by the pandemic.
Week of Welcome activities kicked off Monday with a "We are Kind of a Big Deal at SUNY Orange" T-shirt giveaway and the ongoing practice of having College employees stationed around both campuses to open doors, answer student questions and provide directions. Events later in the week included a free Cereal Bowl event, a Back-to-School Giveaway, and a Snack Attack event.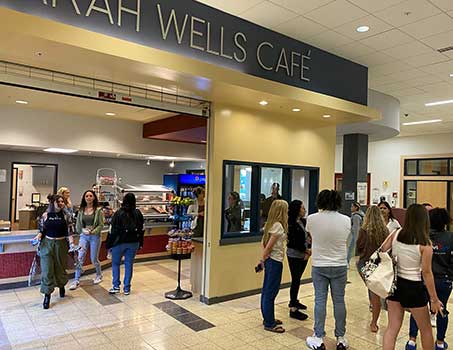 Powered by student input and partially funded by student fees committed by the Student Senate, the College cut the ribbon on a spacious new student lounge (above) located on the ground floor of the Shepard Student Center in Middletown. The area, previously occupied by a cafeteria but underutilized since prior to the pandemic, has been overhauled into a comfortable and inviting student space, with new furniture, tables, televisions, recreational and gaming spaces, and other amenities.
On Monday, the College reopened the Sarah Wells Café (right) on the ground floor of the Rowley Center for Science and Engineering on the Middletown campus. The Café will be operated by Fuel4Life and will provide a variety of hot and cold menu items on weekdays from 7:30 a.m. to 2 p.m. The enhanced food service replaces a micromarket "grab and go" that had been on the site. Fuel4Life will operate a smaller café in Kaplan Hall on the Newburgh campus as well.
For information on applying to the College for the Spring 2024 or Fall 2024 semesters, contact the Admissions Office at (845) 341-4030, email at apply@sunyorange.edu or visit www.sunyorange.edu/getstarted.