New Semester Means New Cafes
September 18, 2023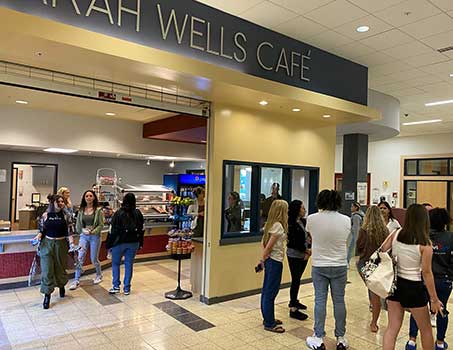 Food. For many of us, it is more than the substance needed for survival and nutritional support. And our needs change. Sometimes, we have the time to sit, use utensils and socialize. On other days, we rush off to class or meetings, making a smoothie or a hand-held sandwich the perfect choice. One aspect of the food discussion everyone can agree on at SUNY Orange is that fresh, on-site options are critical.
The Sarah Wells Café, once a hub of student activity on the ground floor of the Rowley Center for Science and Engineering on the Middletown campus, re-opened to enthusiastic fanfare on the first day of Fall classes. With Fuel4Life as the purveyor, a nutritional selection of foods packing a powerful and delicious punch is available. The enticing, familiar and widely appealing aroma of bacon wafted throughout the building and served as free advertising for the revitalized eatery. Hudson View Café opened in Kaplan Hall on the Newburgh campus on Sept. 5 with a customized menu from the same vendor.
Students and employees have made their way to the Sarah Wells Café space that once held self-service "grab-and-go" food options and were happy to find Fuel4Life offering a variety of menu items that includes Acai bowls, smoothies, grab-and-go salads and sandwiches, a selection of baked goods, daily specials and a mix of quick snacks. Lining the shelves were rainbow colors of seasonal fruits and vegetables, yogurt parfaits and peeled hardboiled eggs. Cold bottled drinks, fresh coffee and hot tea are also available.
Some new additions at the Sarah Wells Café include microwavable chef-prepared organic meals. The nutrition labels for each meal have a breakdown of calories, carbs and protein. A microwave is available within the café space, next to the new soup station! Online ordering is available for wraps, shakes, bagels and all regular menu items.
From the morning through the bustling lunch rush and into the afternoon, students and employees selected ready-made hot and cold foods or ordered from the menu. Many lounged in booths or at tables, alone or with friends, multitasking, but most importantly—eating.Here are a few of the early reviews:
"This is a big step up," said continuing student John Dubaldi. "I had a sausage, egg and cheese breakfast sandwich, and it is so much better than machine food. I will definitely be back."
"I liked ordering my turkey sandwich, and it was made fresh, without cheese," said Stephen Teye.
Security officer Rick Deacon said, "I have been smelling that bacon, so I had to try the bacon, egg and cheese. It was really tasty. I know I will continue to visit the Café."
Dr. Kristine Young, SUNY Orange president, said, "I was pleased to finally get over to the reopened Sarah Wells Café today and experience what students, faculty and staff have been discussing all week. My Acai bowl lunch was creative, fresh, tasty and healthy. As importantly, the café area was buzzing with students and employees who were visiting with one another, even on a Friday afternoon before a long holiday weekend."
Paul Martland, vice president of administration and finance, summarized, "Additional options and services may become available as the academic year progresses, and we appreciate everyone's patience as the cafés grow with our continued patronage."