Volleyball Players Earn Postseason Honors
November 9, 2023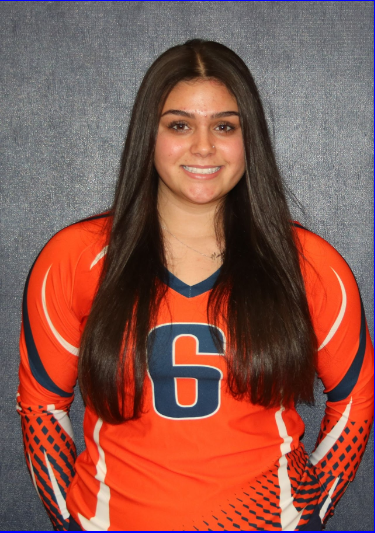 Sophomore defensive specialist/libero Maggie Goodenough (Pine Bush N.Y.), capped her final season as a SUNY Orange Colt by being named to the Mid-Hudson Conference first team while also earning a nod as second team All-Region XV.
Goodenough, who helped the Colts (11-10) to the conference championship match and the regional semifinals, was named to the MHC all-tournament team. She led the Colts in kills, receptions, digs, digs per set and total points. In 19 matches, she accumulated 120 kills (1.69 per set), 37 assists, 30 service aces, 263 receptions, 390 digs (ranking 27th in the nation among NJCAA Division III players), 5.49 digs per set (ranking 11th in nation) and 152 points.
She departs SUNY Orange as the program's all-time leader in digs with 774, and her 390 digs this past season were the most by a Colt in at least the past decade.
In the postseason, SUNY Orange was seeded second in the conference tournament. The Colts defeated Westchester 3-1 in the semifinals before losing 3-0 to top seed and nationally ranked Dutchess. The Colts entered the Region XV tournament seeded four, earning a home match in which they defeated Fashion Institute of Technology 3-1. The Colts were even at 1-1 against nationally ranked powerhouse Monroe-Bronx before ultimately falling 3-1.
Goodenough's teammates Gabriella Dandrade and Alivia Torres also earned postseason accolades. Dandrade (Middletown, N.Y.) was named the Mid-Hudson Conference second team. She played in 18 matches, leading the team with 26 blocked attacks. She also had 115 kills, 63 digs and 216 assists. Torres (Pine Bush, N.Y.) was also named to the second team and was presented with the conference Sportsmanship Award. She had 334 digs, ranking second on the team, along with 45 service aces, 26 assist, 23 kills and 68 points.
The Colts are coached by Jeannette Convery.