SUNY Orange Announces August 2023 Graduates
November 14, 2023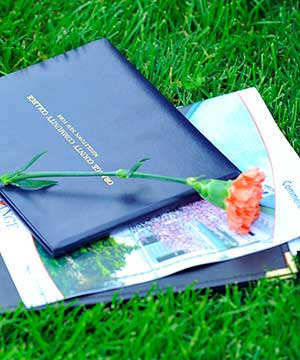 MIDDLETOWN, N.Y. -- Dr. Kristine Young, president of SUNY Orange, has announced that the College awarded associate's degrees and academic certificates to 115 students who completed their courses of study during the recently concluded Summer sessions.
If they choose, the College's newest graduates are eligible to participate in SUNY Orange's 74th Commencement ceremony that is tentatively set for May 23, 2024.
The College's August 2023 graduates hailed from six counties in New York (Orange, Bronx, Dutchess, Rockland, Sullivan, and Ulster) as well as New Jersey and Pennsylvania.
SUNY Orange Graduates List (August 2023)
NEW YORK STATE
ORANGE COUNTY
Blooming Grove: Jonathan Peter Calandra
Campbell Hall: Jocelyn Alvarez, Daniel Wayne Smith, Samantha Kaye Torres, Yuriy Yakymiv
Central Valley: Jemma Rose DeFeo
Chester: Emma Elizabeth Boardman, Erica Cadichon, Joseph Anthony Giordano, Carlos Naranjo
Cornwall: Caleigh Hall, Nicole Daria Lupi, Jack Ryan Robinson
Cornwall-on-Hudson: Audrey Kathleen Eremin
Goshen: Jean Rene Francois, Joan Pelon Napenas, Sarah M. Porco, Angelina Rose Schiaffo, Ekamjot Singh
Harriman: Sifat Shara Islam Kashfee
Highland: Christina DeNatale
Highland Falls: Yovana Amelia Reyes
Highland Mills: Emily Latrice DeJesus, Jovani Parra Gaytan
Maybrook: Jennifer M. Ardon, Erin M. Feeney, Brandon Padilla, Mackenzie Ross
Middletown: Uchechi A. Anuforoh, Joseph S. DeGennaro, Josephine V. Di Nardo, Alaija B. Hamilton, Eric Kanoff, Sebastian Langa, Michael Alexander Marte, Cedric Pierre Paul, Angela B. Pistoia, Liliana Marie Ramirez, Jessenia Marie Roberts, Devontae Robinson, Mia Lynn Sarbello, Carlos M. Sialer, Jesus N. Solis, Myya Valentine
Monroe: Jared Ross Butler, Dahlia Konate, Franky Soto Jr., William C. Torres
Montgomery: Kyle Patrick McLean, Mason J. Weed, Beverlee Ann Woolcock
New Hampton: Rachel L. Conklin, Elizabeth Aguilar Delgado
New Windsor: Stephen Davis, Izaria T.L. Dicks, Anh Duc Hoang, Minh G. Hoang, Devin A. Iturralde, Natalie R. Norris, Jonathan Nunez, Katherine Xiomara Ordonez, Mariela Elizabeth Santos-Reyes, Jani Lizbeth Sotelo, Angelina Vuong
Newburgh: Leilani N. Bacchas, Abdul Badjie, Alaina C. Bowen, Tyrone Farmer, Terri Marie Grice, Nicholas Gross, Karan Kumar, George A. Lippi III, Elisha Darnell McLymore, Iris Mejia, Alejandra P. Oliveros, Uriel O. Ubaldo, Natalia A. Rios, Justin Smalls, Ronnie O. Spearman, Jorge Tellez Jr., Kenneth David Tiffer, Braeden C. Villano, Holly Wetzel, Alexis Irene Williams, Brianna Doreen Williams
Otisville: Ryan Schofield
Pine Bush: Joseph Healion, Cheyenne Nicole Kane
Port Jervis: Rachael Anne Ryder
Rock Tavern: Karen Chavarria
Salisbury Mills: Tanya Marie O'Rourke
Slate Hill: Liam P. McElduff
Walden: Jervy Arligue Castro, Kendell H. Holman, Emma Ann Kolinsky
Wallkill: Jocelyn A. Cox-Martinez
Warwick: Gabriel T. Luceri, Farzaneh Najafipour, Brianna L. Turk
Washingtonville: Nolan J. Sheeran
BRONX COUNTY
Bronx: Jashad Allen Jackson
DUTCHESS COUNTY
Beacon: Brianna Elizabeth Virtuoso
Clinton Corners: Felicia M. Dolansky
Fishkill: Karlie Linda Diaz del Valle
Hyde Park: Elizabeth May McDonald
Hopewell Junction: Claire Iocco
Poughkeepsie: Carly Jenna Goldstein
Wappingers Falls: Britney Rosa
ROCKLAND COUNTY
Haverstraw: Julio Navarro
SULLIVAN COUNTY
Bloomingburg: Hassan N. Jones
ULSTER COUNTY
Kingston: Erick M. Stantial
New Paltz: Kienan A. Lynch
OUT OF STATE
NEW JERSEY
Marlton: Umang Bhatt
PENNSYLVANIA
West Milford: Michele L. Competello, Zachary Ryan Foster
Total Graduates: 115 (earned a total of 119 degrees and certificates)