Student Services Central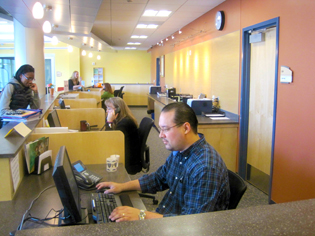 Student Services Central provides current and prospective students with centralized enrollment services. We are the customer service area representing Admissions, Financial Aid, Records and Registration, and Student Accounts. Our knowledgeable, cross-trained Enrollment Specialists are here to provide professional and accurate assistance as students enroll at SUNY Orange.
Staff Information
Likkia Moody - Director of Student Services

Dawn Lowe - Assistant Director of Student Services Central

Hours & Locations
Newburgh & Middletown:
December 19-23: 8:15 a.m. - 4:30 p.m.
December 24 - January 2: Closed
January 3 - January 17:
NOTE: College is closed Monday, January 16th
Monday-Thursday: 8:15 a.m. - 7:30 p.m.
Friday: 8:15 a.m. - 4:30 p.m.
Middletown (3rd Floor, Shepard Student Center)
Newburgh (Kaplan Hall Room 110, adjacent to Mindy Ross Gallery)
Regular hours of operation will resume Thursday, January 19th.
Services at your SSC Office
Admissions
Registration
Financing Your Education
Student Records