Wellness Center
Welcome to the Wellness Center!
We are here to promote health education and wellness for our entire campus community. Our nursing and mental health services are available to all students, staff, and faculty free of charge.
PLEASE NOTE: Due to COVID-19 our office is currently closed but we are working remotely Monday through Friday.
Please call (845) 341-4870 and leave a voicemail, or email us at wellnesscenter@sunyorange.edu. A member of our staff will return your query within 24-72 business hours.
Follow these links to submit immunization records, the meningitis response form, COVID-19 test results, and requests for medical records.
Our website is regularly updated with new information, services, and resources for the College community so please visit again.
---
Concerned about COVID-19? Take the Test!
For a helpful list of testing sites in Orange County follow this link (PDF).
---
Pooled COVID-19 Testing
TESTING MATRIX
Newburgh campus testing will be conducted during the weeks of
Oct. 19
Nov. 2
Nov. 16
Middletown campus testing will be conducted during the weeks of
Oct. 26
Nov. 9
Upon the recommendation of the State University of New York (SUNY) and to ensure the continued safety of all on-campus students and employees, SUNY Orange will implement a College-wide testing protocol as outlined below.
Using the pooled saliva testing technique developed by Upstate Medical University and the University at Albany, we can offer an effective COVID-19 test with a quick turnaround time that is both less expensive and less invasive than many of the tests currently available.
The overarching goal of the testing protocol is to identify pre-symptomatic and asymptomatic cases (through the detection of the SARS-CoV-2 virus in saliva samples) thus mitigating the risks of virus spread. Pooled testing will be conducted in conjunction with the daily screening tool (#CampusClear) already in use at SUNY Orange. Pooled testing will be mandatory for any student attending class(es) on campus. College employees, may participate in testing should they choose to do so
For more info visit our COVID -19 Pooled Testing page.
---
Stay Healthy! Avoid the Flu
Attention faculty, staff, and students who are also essential workers:
You may be at a higher risk of exposure to flu and COVID-19. Protect yourself and your community from flu by getting a flu vaccine. The more people vaccinated the more people protected. Learn more at the CDC website.
The cold and flu season will soon be upon us. In addition, the coronavirus COVID-19 has not gone away. All members of the campus community are encouraged to protect themselves and others from illness. This will help prevent widespread disease and maintain our community's resources to manage the COVID-19 pandemic.
Here are some tips:
Get a flu shot!
The Orange County Department of Health, as per the New York State Department of Health guidelines, recommends that everyone six months of age and older without contraindications receive the seasonal flu vaccine as soon as possible.
It is best to get the vaccine during the months of September and October, before the start of influenza activity.
Flu vaccine is strongly encouraged for young children, pregnant women, those with chronic health conditions, and those 65 years of age and older who may be at increased risk for flu complications.
All health professions students, and students and employees who are also health care workers, are strongly encouraged to get the flu vaccine. In some programs this is mandatory. Check with your instructor.
Vaccines are available through your healthcare provider and many local pharmacies Visit Vaccinefinder.org to find vaccination locations.
Note: The Wellness Center is unable to offer a flu clinic this year.
Most insurance plans cover the cost of the vaccine.
If you are uninsured:
The Orange County Department of Health will offer a flu clinic (date TBA) for those who are uninsured. Call 845-291-2330 for more details. Also, some pharmacies offer vouchers for free vaccines so you might want to call around to see where this is possible.
Monitor your health status with the Campus Clear app and follow the prompts.
Stay home from school or work if:
You feel sick
You have a temperature of 100 or greater
You have a fever, sore throat, cough, runny and/or stuffy nose, body aches, headache, chills, fatigue
If you are sick:
Avoid contact with others as much as possible. Wear a face mask when contact is unavoidable.
Wash your hands often with soap and water for at least 20 seconds or use a hand sanitizer.
Cover your cough or sneeze with a tissue, then throw the tissue in the trash.
Drink plenty of fluids, eat nutritious foods as tolerated, and rest as much as possible.
Clean and disinfect frequently touched objects and surfaces.
Clean and disinfect frequently touched objects and surface
Seek medical attention for:
Difficulty breathing, shortness of breath, rapid breathing
Pain or pressure in the chest or abdomen
Confusion or loss of consciousness
Severe or persistent vomiting or diarrhea
Return to school or work when you are fever-free for 24 hours (without fever-reducing medications).
Practice prevention:
Continue to practice COVID-19 prevention methods, i.e. frequent hand washing, social distancing, and wearing a face mask when encountering others. This can also prevent flu and other seasonal infections.
For further advice consult with your healthcare provider or contact the Wellness Center at (845) 341-4870 or wellnesscenter@sunyorange.edu Monday thru Friday 8:30am-4:30pm.
Please share this information with family and friends.
Attention Health Professions Students: Upload documention of your 2020-2021 flu vaccine via our online portal.
---
Mental Health Services for COVID-19
New Virtual Support Groups for Students!
The Wellness Center is offering an eight week support group for students to provide support and assistance surrounding the challenges of being a college student during the COVID-19 Pandemic. Topics of discussion will include: Isolation, grief, forming friendships and relationships while social distancing, and other challenges of being an online college student.
DATES: Weekly meetings starting Thursday, October 15, 2020
TIME: 11:00 a.m. – 11:50 a.m.
The group will be facilitated by Wellness Center Counselor, Maureen Flaherty, LMHC.For additional information or slot reservations please contact Maureen Flaherty at maureenflaherty@sunyorange.edu.
---
Personal Counseling Services Continue
Personal counseling sessions continue to be available to SUNY Orange students who may be struggling with academic or personal challenges posed by the COVID-19 pandemic in a remote capacity. Counseling sessions are conducted via HIPPA compliant Zoom meetings or by phone. To schedule an appointment contact the Wellness Center's Mental Health Counselor Maureen Flaherty, LMHC at maureenflaherty@sunyorange.edu. Our hours of operation are 8:30 am - 4:30 pm, Monday through Friday. Email messages left after hours will be returned the next business day.
---
Crisis Services
Students who are in crisis and need immediate assistance outside of our hours of operation (Monday-Friday 8:30 am - 4:30 pm) should contact the following resources:
---
MANY OF THE WELLNESS CENTER SERVICES ARE STILL AVAILABLE REMOTELY. PLEASE USE THE MENU BELOW TO FIND OUT MORE:
46 Ways to Stay Healthy During COVID-19
It is important we all do what we can to stay healthy and avoid contracting the Coronavirus Virus COVID-19. These commonsense steps can significantly increase your chances of staying healthy:
Understand how COVID-19 spreads:
1. The virus spreads mainly from person-to-person, between people who are in close contact with one another (within about 6 feet), through respiratory droplets produced when an infected person coughs or sneezes, speaks or sings.
2. These droplets can land in the eyes, mouths or noses of people who are nearby, or possibly be inhaled into the lungs.
3. Some recent studies have suggested that COVID-19 may be spread by people who are not showing symptoms (asymptomatic) and feel fine. You could spread COVID-19 to others even if you do not feel sick.
Your Best Defense: Avoid being exposed in the first place!
1. Wear a cloth face cover over your mouth and nose when in public, for example to school, the grocery store, etc.
2. The cloth face cover is meant to protect other people in case you are infected, as well as yourself.
3. Do NOT use a facemask meant for a healthcare worker.
4. Cloth face coverings should not be placed on young children under age 2, anyone who has trouble breathing, or is unconscious, incapacitated or otherwise unable to remove the mask without assistance.
5. Keep the face cover clean. Launder as needed.
6. Dispose of used face coverings properly.
7. Face Coverings in the Workplace
8. Executive Order 202.16 directs employers to provide essential workers with masks free of charge to wear when interacting with the public.
9. Businesses Can Deny Entry
10. Executive Order 202.34 authorizes businesses to deny entry to individuals who do not wear masks or face-coverings.
11. Practice social distancing: Maintain a minimum of 6 feet from others.
12. Avoid crowded areas as much as possible.
13. Wash your hands frequently and thoroughly with soap and water.
14. Wash for at least 20 seconds (sing the Happy Birthday song twice to keep time.)
15. Be sure to scrub between your fingers and under your nails.
16. Wash before and after handling food, after sneezing or coughing, or after using the bathroom.
17. Wash immediately after returning home from an outside location.
18. Wash immediately after contact with others or objects from outside, i.e. groceries, take-out, mail, etc.
19. If soap and water are not readily available, use a hand sanitizer that contains at least 60% alcohol.
20. Cover all surfaces of your hands and rub them together until they feel dry.
21. Avoid touching your eyes, nose, and mouth with unwashed hands.
22. Cover coughs and sneezes with a bended elbow or tissue.
23. Discard used tissues immediately.
24. Make sure you get enough rest.
25. Eat healthy foods.
26. Drink plenty of liquids, preferably water.
27. Take deep breaths, stretch, and meditate.
28. Exercise regularly.
29. Go outside (even if you are avoiding crowds).
30. If you feel sick, STAY HOME.
31. Avoid others, especially the elderly or immunocompromised.
32. If you experience symptoms such as fever, cough, shortness of breath, body aches, headaches, exhaustion, sudden loss of taste or smell:
33. Do not go to the emergency room, hospital, urgent care, or doctor's office.
34. Call your doctor for instructions on how to seek proper medical treatment.
35. Continue to keep about 6 feet between yourself and others. The cloth face cover is not a substitute for social distancing.
36. Clean AND disinfect frequently touched surfaces daily:
37. This includes tables, doorknobs, light switches, countertops, handles, desks, phones, keyboards, toilets, faucets, and sinks.
38. If surfaces are dirty, clean them.
39. Use detergent or soap and water prior to disinfection.
40. Get information related to COVID-19 from reliable sources:
41. The Centers for Disease Control
42. The World Health Organization
43. New York State Department of Health
44. COVID-19 Resources on SUNY Orange website
45. SUNY website
46. You may email your questions to the Wellness Center Nurses at wellnesscenter@sunyorange.edu
Managing Stress During the COVID-19 Outbreak
View our "Managing Stress During the COVID-19 Outbreak" (PDF) presentation, provided by Maureen Flaherty, M.A., LMHC
---
The outbreak of COVID-19 may be stressful for many people. Fear and anxiety about the unknown is natural, but it is important to take care of your physical and mental health during this time.
Stress during an infectious disease outbreak may include:
Changes in sleep or eating patterns.
Fear about health and financial matters.
Difficulty sleeping.
Issues adjusting to online learning or separation from classmates, friends, routine activities.
An increase in symptoms for those with pre-existing mental health or physical health issues.
Tips to Ease Anxiety
Get enough rest.
Keep exercising.
Eat well.
Limit exposure to media coverage and social media related to COVID-19.
Recognize what you have control over and what you do not.
Keep a normal schedule when taking classes online or working from home.
Practice mindfulness.
Keep the situation in perspective and stay connected to family and friends.
Get Accurate Information
Be sure to get information related to COVID-19 from reliable sources. There is plenty of misinformation and conflicting news circulating which can increase feelings of anxiety and depression. The following websites are reliable sources for current information:
Personal Counseling is Available to Students During this Outbreak
Personal counseling for stress related to COVID-19 or any other personal issues is available to our students via telecounseling or by phone.
Interested students may email SUNY Orange's Mental Health Counselor Maureen Flaherty to schedule an appointment at maureen.flaherty@sunyorange.edu.
There is no charge for this service.
Questions and concerns regarding COVID-19 that are not mental health related should be emailed to our nursing staff at wellnesscenter@sunyorange.edu. One of our nurses will respond.
Food Banks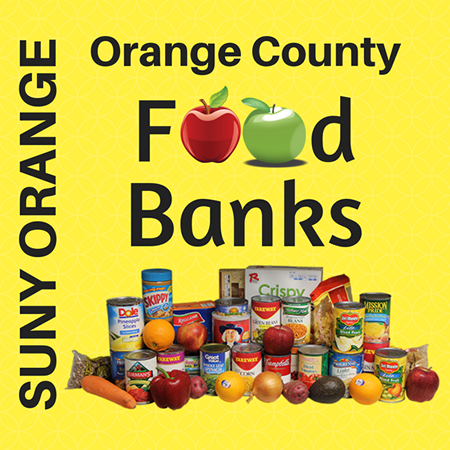 Food bank locations or food resources can be found by visiting www.auntbertha.com or by the Why Hunger hotline at 1(800) 5-HUNGRY.
Orange County has several food banks to assist those finding it difficult to obtain enough to eat. To find a food bank near you, visit regionalfoodbank.net and enter your zip code. Or visit this list of food banks and shelters in Orange County.
"It's on US," Orange County's Sexual Assault Prevention Campaign
Orange County is proud to be the first county in the United States to join the White House's 2014 It's On Us campaign, designed to raise awareness about sexual assault. It's On Us is a cultural movement aimed at fundamentally shifting the way we think and talk about sexual assault, especially on college campuses. It is a rallying cry, inviting everyone to step up and realize that the solution begins with us. The campaign seeks to reframe the conversation surrounding sexual assault in a way that empowers, educates, and engages everyone to do something, big or small, to prevent it. For more information visit the It's On US website.
SUNY Orange Is a Tobacco Free Campus
The College's smoking policy bans the use of tobacco products on the College's campuses, except in:
any College-owned and numbered parking lot (Middletown)
the plaza/patio area between the Tower and Maple buildings (Newburgh)
the First Street entrance to the campus promenade (Newburgh)
Want to quit? Stop by the Wellness Center for a free Quit Kit, visit the New York State Smoker's Quitline, or call 1-866-NY-QUITS
Notice of Non-Discrimination
Orange County Community College does not discriminate on the basis of race, color, national origin, religion, creed, age, disability, sex, gender identification,, sexual orientation, familial status, pregnancy, predisposing genetic characteristics, military status, veteran status, domestic violence victim status, criminal conviction or any other category protected by law. The College adheres to all federal and state civil rights laws prohibiting discrimination in public institutions of higher education.

Inquiries regarding this non-discrimination policy may be directed to:

Iris Martinez-Davis
Civil Rights Compliance Officer
115 South Street, Middletown NY 10940
(845) 341-4662
iris.martinezdavis@sunyorange.edu
Are you ready to write your story?