Wellness Center
Welcome to the Wellness Center! We are here to promote health education and wellness for our entire campus community, and we are open to all students, staff and faculty of SUNY Orange free of charge.
Our registered nurses are available in the office to consult with regarding common health concerns, such as cold and flu symptoms, minor injuries, headaches, etc., and more serious issues, such as eating disorders, substance abuse, and pregnancy. Our nurses also serve as first responders when illness and injury occur on campus, to provide first aid and referrals to health providers as needed.
Personal counselors are also available to assist students with mental health issues such as anxiety, depression, stress management, PTSD, and more via short-term counseling and referral to community services.
What's New at the Wellness Center?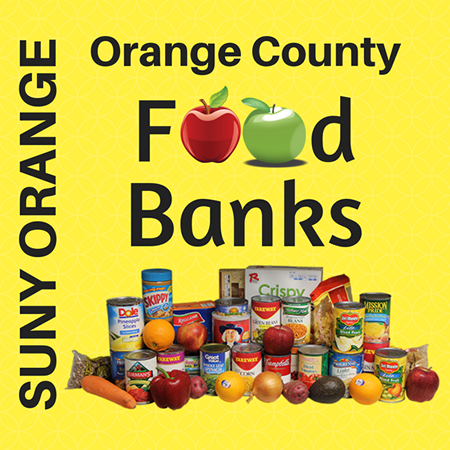 Orange County has several food banks to assist those finding it difficult to obtain enough to eat. To find a food bank near you, visit regionalfoodbank.net and enter your zip code. Or visit this list of food banks and shelters in Orange County.
"It's on US," Orange County's Sexual Assault Prevention Campaign
Orange County is proud to be the first county in the United States to join the White House's 2014 It's On Us campaign, designed to raise awareness about sexual assault. It's On Us is a cultural movement aimed at fundamentally shifting the way we think and talk about sexual assault, especially on college campuses. It is a rallying cry, inviting everyone to step up and realize that the solution begins with us. The campaign seeks to reframe the conversation surrounding sexual assault in a way that empowers, educates, and engages everyone to do something, big or small, to prevent it. For more information visit the It's On US website.
SUNY Orange Is a Tobacco Free Campus
Orange County Community College bans the use of tobacco products, including e-cigarettes and vapor devices, on the College's campuses, except in those outdoor areas designated by the College President. Pursuant to the New York State Indoor Clean Air Act (Public Health Law, Article 13-E), smoking is prohibited inside all buildings owned and/or operated by SUNY Orange. In addition, the indoor use of all tobacco products is strictly prohibited.
The Board of Trustees directs the President to develop such procedures as to fairly implement this policy.
Amended: Dec. 16, 2015
Want to quit? Stop by the Wellness Center for a free Quit Kit, visit the New York State Smoker's Quitline, or call 1-866-NY-QUITS
Notice of Non-Discrimination
Orange County Community College does not discriminate on the basis of race, color, national origin, religion, creed, age, disability, sex, gender identification,, sexual orientation, familial status, pregnancy, predisposing genetic characteristics, military status, veteran status, domestic violence victim status, criminal conviction or any other category protected by law. The College adheres to all federal and state civil rights laws prohibiting discrimination in public institutions of higher education.

Inquiries regarding this non-discrimination policy may be directed to:

Iris Martinez-Davis
Civil Rights Compliance Officer
115 South Street, Middletown NY 10940
(845) 341-4662
iris.martinezdavis@sunyorange. edu
Are you ready to write your story?