Welcome to Financial Aid
SUNY ORANGE SCHOOL CODES
Federal: 002876
New York State: 2125
The Financial Aid Office plays a major role in providing access to post-secondary education for students by assisting them in receiving grants, work study, and loans to finance their higher education. The Financial Aid Office serves as a student advocate, while also advancing institutional policy and objectives within the framework of rules and regulations governing state, federal and private funding sources of aid to whom it must account for the expenditure of funds. Any student accepted into a degree or certificate program and taking one or more classes may apply for financial aid.
Office Hours and Appointments
The Financial Aid Office is available via phone, email, walk-in or by appointment. In-Person visits are welcomed but you must first check in with Student Services Central.
Please be advised that we are not taking appointments until further notice.
Students, parents and visitors must follow all SUNY Orange Covid-19 policies and protections. To learn more, visit COVID-19
Fall/Winter/Spring Hours
9am to 5pm
Summer Hours
9am-5pm
Monday through Thursday, Closed Fridays
You must complete a Proxy Authorization with Passphrase and a FERPA Record Release Form before we speak to any individual regarding your student file. (See the next tab)

You must have a valid ID or School ID on you to verify your identity.
Proxy Authorization & FERPA (Family Educational Rights & Privacy Act)
SUNY Orange takes protection and privacy of all student data very seriously and it takes every measure to protect your personal data appropriately. SUNY Orange is committed to maintaining the privacy and confidentiality of education records as required by Family Educational Rights & Privacy Act (FERPA).
Students: In order to speak with the Financial Aid Office, via phone, in-person, or zoom, you must set up a Proxy Authorization with Passphrase (Proxy) via the mySUNYOrange Banner Self-Service.
Parents/Guardians/Others: If you wish to speak to the Financial Aid Office, the student must complete a Proxy Authorization with Passphrase (PROXY) AND a FERPA Record Release with the Registrars Office. Click here for a more information regarding Family Educational Rights & Privacy Act (FERPA).
HOW TO SET UP PROXY AUTHORIZATION VIA THE MYSUNYORANGE BANNER SELF-SERVICE

Students will only have access to their MySUNYOrange account once the Admissions process is complete. Please contact the Admissions Office at (845)341-4030 or apply@sunyorange.edu if you have not completed your application yet. Proxy Authorization is a "Passphrase" we use to verify your identity. Remember, students must complete a Proxy Authorization for both themselves and a Parent/Guardian/Other.
1. Visit any SUNY Orange webpage and select the "mySUNYOrange" icon on the top of the page to enter the mySUNYOrange Student Portal.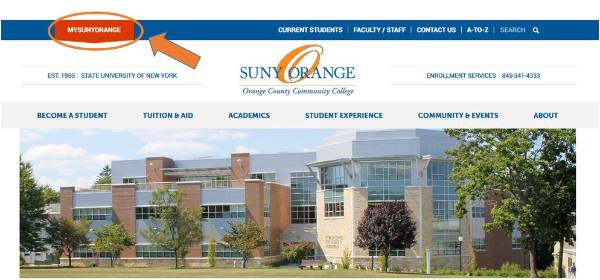 2. Sign-in using your mySUNYOrange student sign-in credentials. You must be admitted to the college to receive these credentials.



3. From the Home Screen of the mySUNYOrange Student Portal, select the "BANNER" Icon: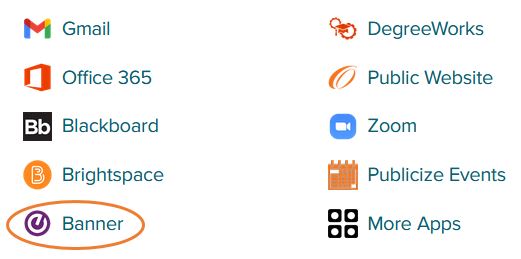 4. Once in Banner, select "Proxy Authorization"



5. Select "Proxy Management"





6. Select "Add New Proxy" to Add New Proxy.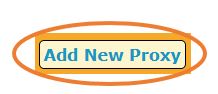 7. Enter the required data and when done select "Add Proxy." Enter the students, or parents/guardian/other, first name, last name, email address, and verify e-mail address. It is strongly encourage that you use the same email address used on the FAFSA OR your mySUNYOrange email address. Once you click Add Proxy, you are not finished!



8. Once you click Add Proxy, it will move your Proxy to the bottom of the screen. You will have to click on the Proxy you added to enter additional information. Click the name to expand the file.



9. Under the "Profile Tab" you will need to select the Relationship (Self, Parent or Legal Guardian, Other Relationship), you will need to put a description of your passphrase, enter what passphrase you would like to use (ie: a secret word) and the start/end date. The start/end date should fill in automatically for 4 years. Remember to hit "SAVE"



10. Select the "Authorization" tab and remember to check all the boxes you wish yourself, or your authorized proxy, to have access to. If items are not checked, then we will not release that information to the student or another person under any circumstance. Remember to hit "SAVE"



Remember, a Proxy Authorization must be done for the STUDENT AND a PARENT/GUARDIAN/OTHER. In addition, Students must complete a FERPA Record Release with the Registrar's Office for the Parent/Guardian/Other.
Important Updates
The Free Application for Federal Student Aid (FAFSA) is required to qualify for most federal student aid available at SUNY Orange. You must submit a FAFSA form for each academic year in which you want to be considered for federal student aid.
The 2023-2024 FAFSA and NYS TAP Application opened on October 1, 2023. This means that students and parents can start completing their applications as soon as October 1st.
Financial aid packaging for the 2023-2024 aid year will begin late April/early May. You will receive notification, via email, when your financial aid award and outstanding requirements are available via your mySUNYOrange.
Remember, the 2023-2024 FAFSA uses financial information from 2021 so you should already have the necessary tax information. We recommend using the IRS Data Retrieval Tool (DRT) on the FAFSA to automatically transfer the data.
You can file your FAFSA at https://studentaid.gov/ and your NYS TAP Application at https://www.hesc.ny.gov/. Once you have submitted your FAFSA, it will prompt you to "Start your State Application" if you entered that you are a New York State Resident.
FAFSA Application Deadline(s)
The target "priority" deadline to submit your 2023-2024 FAFSA & NYS TAP application, for SUNY Orange, is April 15th, 2023 for students who wish to utilize aid for the academic year. You can still submit your FAFSA after this date, but packaging may not be finalized prior to the bill being released.
Students who submit their applications by the priority date are given priority consideration for programs with limited funding. The earlier you send in the documentation, the better.
The federal deadline to submit your FAFSA for the 2023-2024 academic year is June 30, 2024.
For more information regarding FEDERAL deadlines, visit here: FAFSA® Deadlines
DON'T DELAY, APPLY TODAY!
Financial Aid information and requirements can seem overwhelming at first, so we have a series of videos throughout our site that will help explain the different options available to you. The How to Can I Pay For College video below is a good place to start!
If you are having trouble viewing the videos above, or have an audio or visual impairment, click here for our low bandwidth version.