A.A.S. Degree in Radiologic Technology
Radiologic Technologists, also called Radiographers, is the second largest category of allied health care professionals, surpassed in number only by nurses.  Radiographers apply ionizing radiation to demonstrate portions of the human body — on a radiograph, fluoroscopic screen, or other imaging screen — to assist physicians in diagnosis of disease and injury.  They work in hospitals, clinics, private practice, and more.
An essential member of the healthcare team, the radiographer positions body parts accurately and manipulates radiographic equipment to produce a quality diagnostic image while using the least amount of radiation necessary to get the best possible image.
Radiographers have a variety of career options open to them; most enter the profession taking x-rays and some move into specialized areas as Computed Tomography (CT), Angiography, Mammography and others.  They have the opportunity to work with a variety of technologies and connect one-on-one with patients.
The Associate in Applied Science degree program in Radiologic Technology prepares students to apply to take the ARRT Registry examination in Radiography offered by the American Registry of Radiologic Technologists (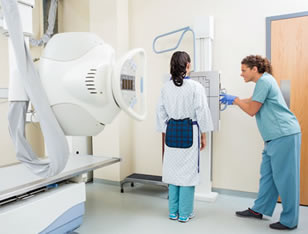 www.arrt.org ).
Graduates who pass the ARRT examination are then eligible to apply for a New York State Department of Health License to practice Radiologic Technology (https://www.health.ny.gov/professionals/doctors/radiological/).
The Radiologic Technology program is dedicated to providing each student with the educational activities necessary to develop the required critical thinking and technical and interpersonal skills of the radiographer.
TECHNICAL  STANDARDS
The Radiologic Technology Program, as well as the field of Radiologic Technology, is a rigorous one.  Program standards are not altered for disabled students.  The college will make every effort to provide reasonable accommodations to students with disabling conditions.  In order to successfully complete the Radiologic Technology Program, with speed and accuracy, the student must be able to:
place the patient in position, set the controls of the x-ray machine, and evaluate the quality of the radiographic image.
provide patient instructions and respond to questions and requests in both routine and emergency situations.
transport and assist the patient, and to move the x-ray machine and film to the desired position, including operation of equipment in the surgical suite and at the patient's bedside.
Pre-Admission Seminar
Students applying to the Radiologic Technology program are required to attend one Pre-Admission Seminar prior to the application deadline (February 1st).  This seminar is an important and informative time when a Radiologic Technology instructor will describe the Radiologic Technology Program and an Admissions specialist will describe the admissions process.  In addition, you will have an opportunity to ask questions about the Radiologic Technology Program.
Pre-Admission Seminars for the AY 2017-2018 year:
Monday, October 2, 2017 - 6:00 pm
Monday, October 30, 2017 - 6:00 pm
Monday, November 27, 2017 - 2:00 pm (note earlier time)
Monday, January 22, 2018 - 6:00 pm (snow date is Tuesday, January 23, 6pm
Sessions begin promptly, late arrivals will not be accommodated.
All Pre-Admission Seminars will be held on the Middletown Campus in Bio Tech room 311.
ADMISSIONS  INFORMATION
| Topic | Link |
| --- | --- |
| | |
| Radiologic Technology Admissions Applications | |