Welcome to SUNY Orange Community College Diversity Website.
SUNY Orange Diversity and Inclusion Plan 2016-2021
Diversity is an important strategic priority at our College. According to the College's Board of Trustees, President, administrators, faculty and students, "diversity should be embraced as a reflection of society and should enhance the educational process." Institutional equity and diversity are the guiding principles for the College's goal to provide equal access and equal opportunity to all students, employees and the residents of Orange County regardless of one's race, color, creed, ethnicity, national origin, gender, sexual orientation, age, religion, marital status, veteran status or disability.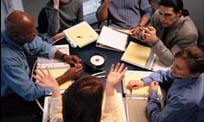 Our goal also includes mirroring the demographics of Orange County in the demographics of our students and employees. The College engages in aggressive recruitment and retention strategies to continuously address the underrepresented populations among our students and employees. In addition, the College's President and leadership team include diversity considerations in decisions affecting all students, faculty and staff at SUNY Orange.
Information on our diversity website focuses on components of the College's Diversity Plan initiative that coincide with the College's Strategic Plan. Components include College and county demographic data, diversity celebrations and programs, diversity training, and community outreach, including CAPE and the community forum.
Lorraine Lopez-Jaove is the College's Chief Diversity Officer. You can reach Lorraine at lorrainelopezjanove@sunyorange.edu or 845-235-2764
Human Resources Information:
(845) 341-4660
Located in Orange Hall,
115 South Street Middletown, NY 10940
occchr@sunyorange.edu