Steps from a Lump of Clay into a Carved and Pierced Vessel
Thursday, 3 October, 2019
2:45 PM
Do you mind getting your hands dirty? Or do you appreciate the feel of clay in your hands knowing that something beautiful will evolve? Try this: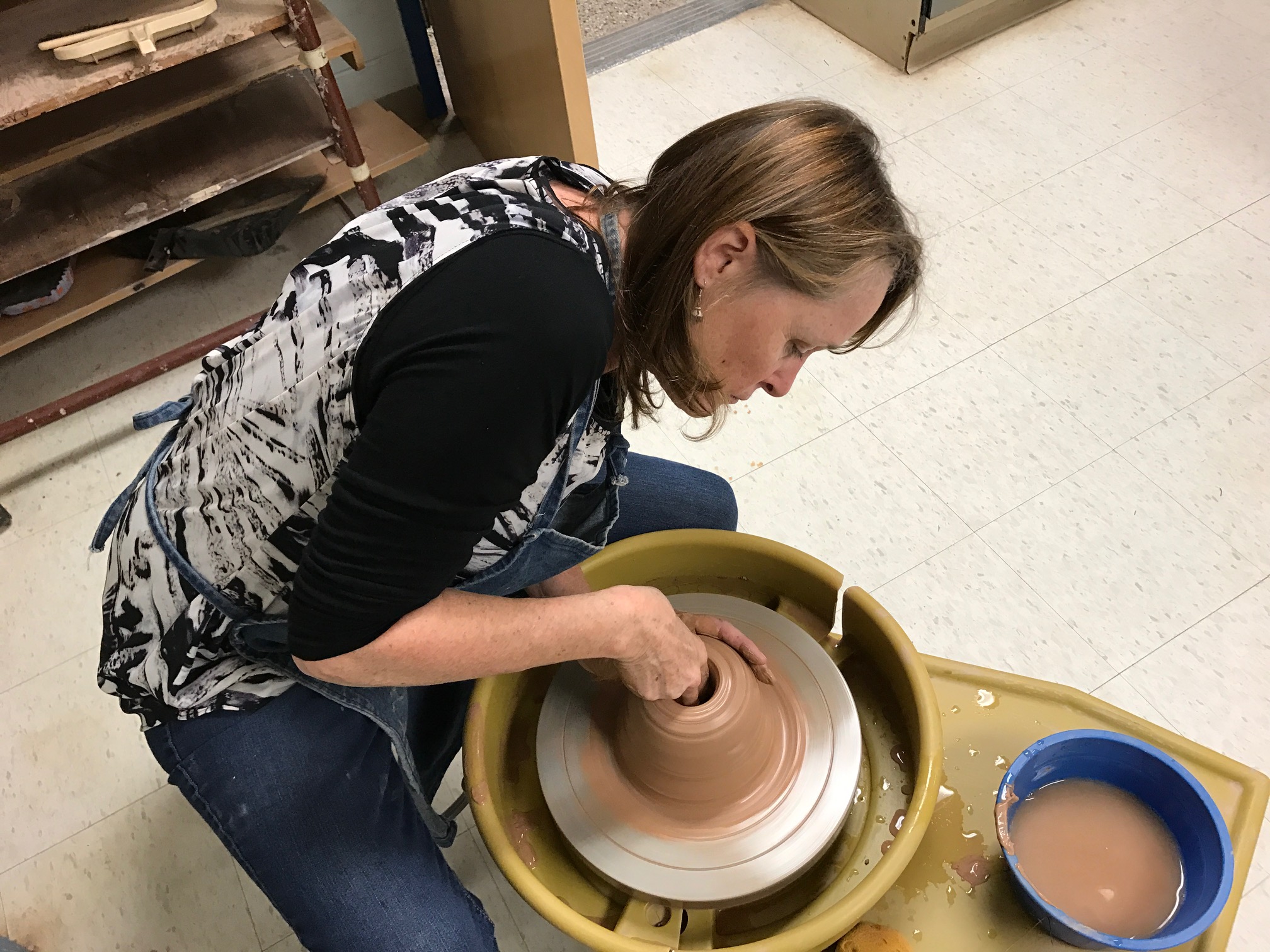 A master class presented by artist Jacqui Doyle Schneider will give a step-by-step view of throwing pottery and using the tools to create ceramic vessels, each uniquely different. Steps from a Lump of Clay into a Carved and Pierced Vessel will show attendees up-close and personal how it is done and offer the opportunity to participate and touch. Doyle Schneider is a very engaging person who will get her audience involved.
The class, which starts at 2:45pm on Thursday, October 3, 2019 in the Mindy Ross Gallery in Kaplan Hall, gives an overview of the process. Attendees will be able to view the finished products as this class complements the Into the Shining World exhibit in the Gallery.
The pottery wheel will be set up and while Doyle Schneider demonstrates throwing the vessel, she will be explaining why and how she chooses that particular shape. The artist will discuss the steps she goes through to throw and then invite attendees to try. Those choosing to take advantage of this hands-on opportunity must put on an apron because the process as she describes, "is going to get messy."
Jacqui Doyle Schneider intends on having a display whereby examples will be set up of each step, in order that attendees can more easily understand all that goes into throwing pottery. The arrangements will consist of wheel thrown vessels in various stages of work: the vessel thrown on the wheel; the vessel with the design drawn out on to the vessel with a needle tool; the vessel with parts carved and cut out design pieces; and the last vessel completed and in the bisque state. Reference pictures and sketches will give a clearer picture of the whole process.
The master class and exhibit are free and open to the public. Appropriate attire is suggested to anyone desiring to be a participant. This class is intended for those sixteen and older.
Jacqui Doyle Schneider holds a BA in Art from SUNY Oswego and an MA in Art from SUNY New Paltz. After graduating from SUNY Oswego, she received an apprenticeship at Earthworks in NYC where she produced production pottery and taught classes in throwing on the wheel. Then, after a hiatus when she moved to Orange County and had a family, she became an art teacher. Recently retired after teaching advanced ceramics at Valley Central High School, she continues her sculptural as well as utilitarian pottery work at The Newburgh Pottery.
Kaplan Hall is located at the corner of Grand and First Streets (GPS: 73 First St) on the Newburgh campus of SUNY Orange. Questions may be directed to (845)341-4891 and cultural@sunyorange.edu. Website: www.sunyorange.edu/culturalaffairs
[Photo credits: Elizabeth Schneider]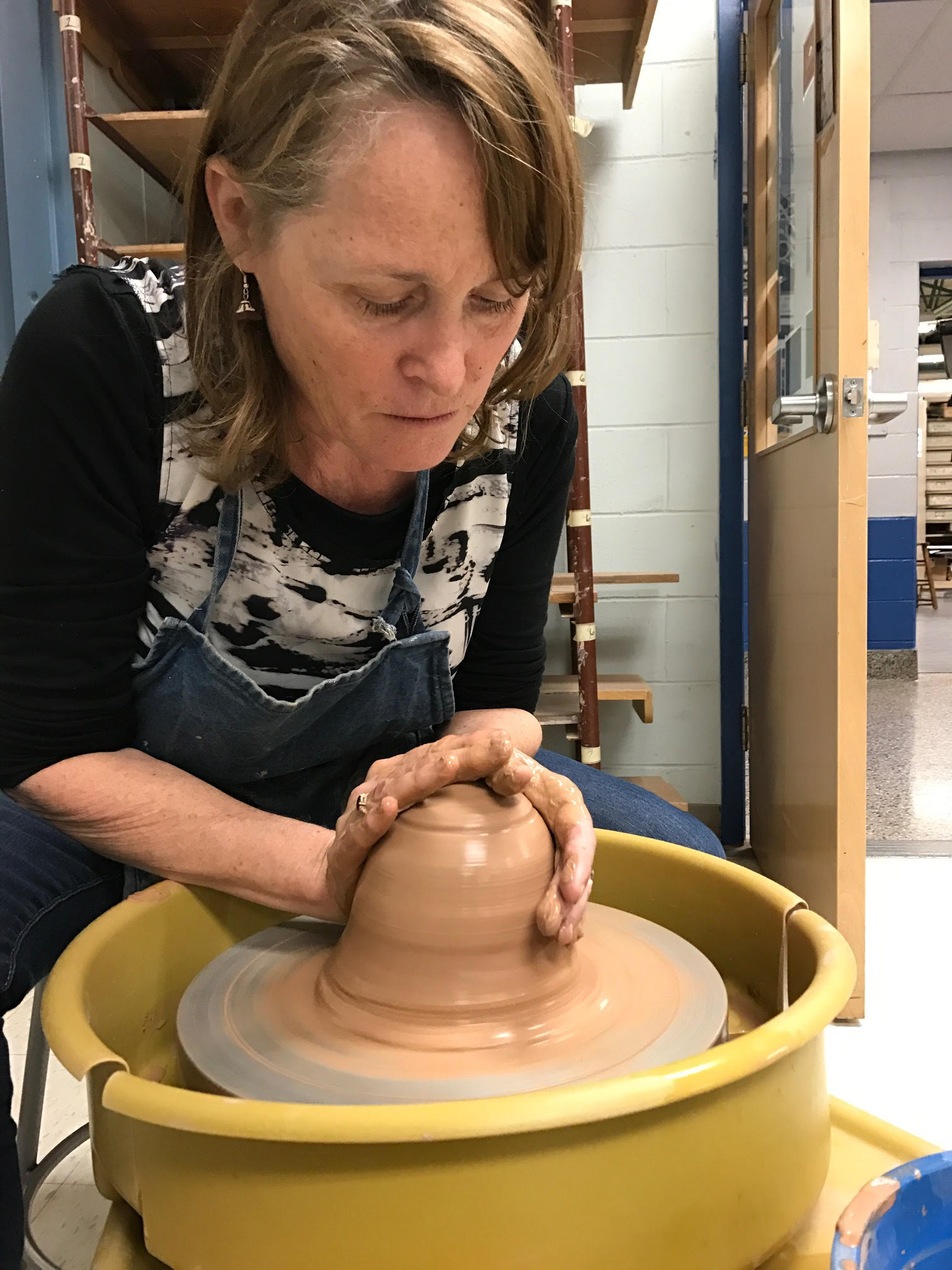 Contact:
Dorothy Szefc

Phone: 845-341-4891
Website: Click to Visit