Printmaking: Press / No Press / STEAMROLLER !~ Landscape to Abstract ~ a master class
Wednesday, 30 November, 2022
5:30 PM - 8:00 PM
Michael Piotrowski is a printmaker. He creates prints by using several methods. One of his favorite methods is steamroller printing. The steamroller process is so popular, in fact, that festivals are devoted entirely to this artistic activity and well-attended by enthusiastic artists.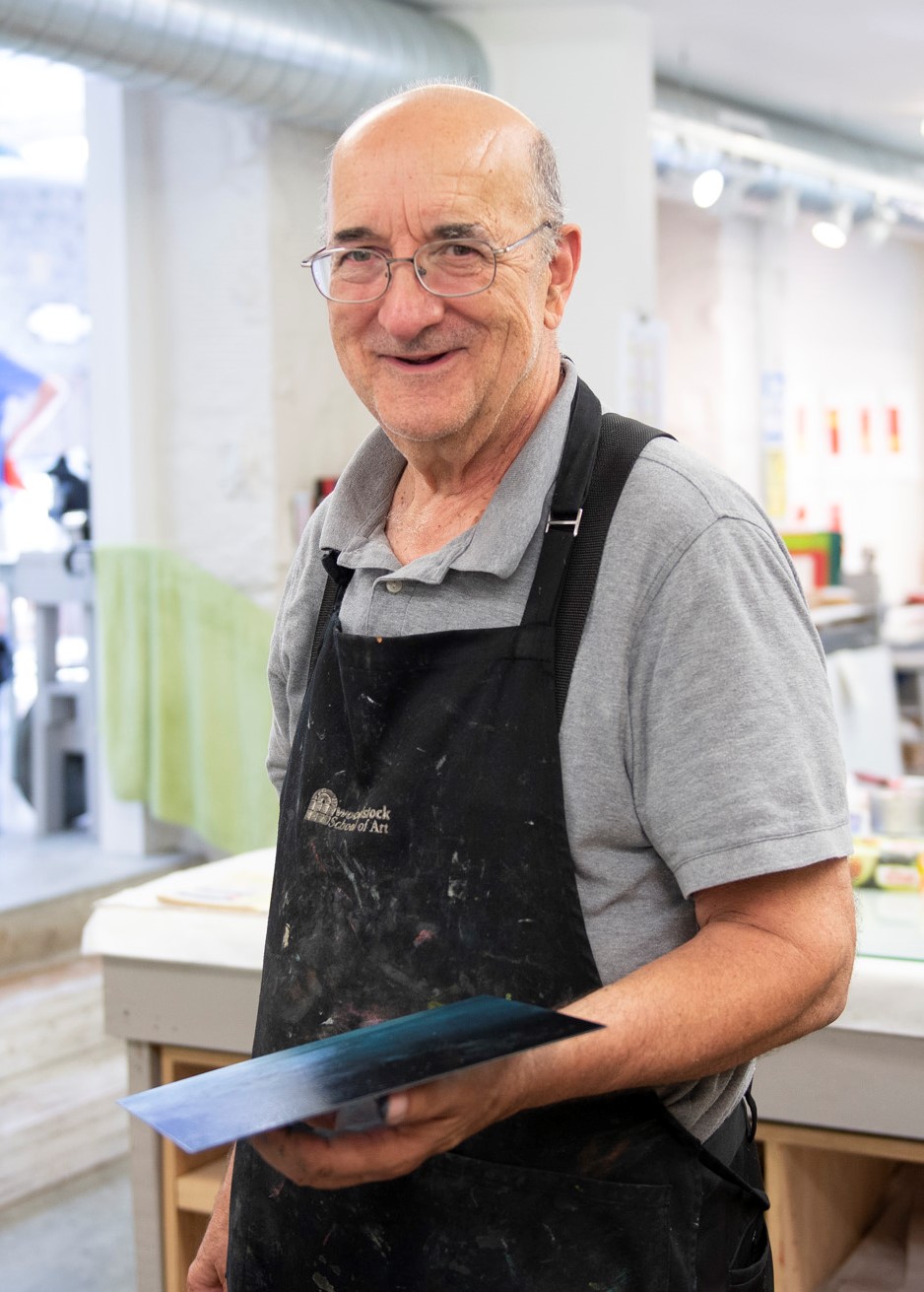 Artist Michael Piotrowski
On Wednesday, November 30, 2022, Piotrowski will offer a master class on the process. The venue is Orange Hall Gallery where presently three of his works are on display in the Art for the Sake of Us All exhibit.
Printmaking: Press / No Press / STEAMROLLER !~ Landscape to Abstract ~ a master class is scheduled from 5:30 to 8pm. This evening session will involve a very short video, an explanation of process and materials, followed by discussion, demonstration, and participation. It will be a good combination of learning and experiencing in an atmosphere of fun.
This event is free and open to the public.
Michael Piotrowski a graduate of SUNY New Paltz. He has taught there and Brooklyn College and has guest lectured at Vassar College. As a printmaker, he has participated at workshops at the Center for Contemporary Printmaking in Norwalk, CT, and by master printmakers Rob Swainston at the Garrison Art Center, and Tony Kirk, Lisa Mackie, Kathy Caraccio and Kate McGloughlin at Woodstock Monothon. In addition, he was a finalist for a National Park Residency at Chaco Canyon, NM.
His works range from 2"x2" Mini Prints and 5"x7" national print exchanges to 4-ft sq steamroller prints.
Questions may be directed to cultural@sunyorange.edu.
Orange Hall is located on the Middletown campus at the corner of Wawayanda and Grandview Avenues; GPS: 24 Grandview Avenue. Free parking is available in parking lot #1 which is adjacent to Orange Hall. Building doors leading directly to the gallery face the parking lot. Those plus the main doors will be open.
Driveway Shadows ~ steamroller woodblock print 
Photo Credit by Dion Ogust