I Am Jane Doe: A Conference on Sex Trafficking: exploitation, coercion, slavery
Tuesday, 30 April, 2019
8:30 AM - 4:45 PM
On Tuesday, April 30, 2019, an important event will take place on the Newburgh campus of SUNY Orange. From 8:30am to 4:45pm, I Am Jane Doe: A Conference on  Sex Trafficking: exploitation, coercion, slaveryis scheduled in the Orange Bank & Trust Company Great Room 101 in Kaplan Hall. This all-day program, free and open to the public, is intended for professionals, students, faculty, and the community-at-large. Participants are invited to attend any or all of the events. Registration is strongly recommended.
Online registration only: www.safehomesorangecounty.org/JaneDoe.
Orange County Human Rights Commission, Safe Homes of Orange County, and SUNY Orange Cultural Affairs are the presenters.
What do you really know about sex trafficking? Do you know it is happening right here in our cities, towns, and villages? Do you know its victims come from our very own neighborhoods? What is being done to stop it? Who is involved with doing that work, and how can you help/get more involved by understanding it, recognizing it, and learning what to do?
In addressing the current epidemic of sex trafficking in our world, this one-day conference will include a film screening with post-screening session, a panel, and a training session.
The tone of the conference will be set with the screening of the eye-opening documentary film I Am Jane Doe. Winner of the Jury Prize for Best Documentary Film at the 2017 Hollywood Film Festival, it is narrated by Academy Award nominee Jessica Chastain and directed by award-winning filmmaker Mary Mazzio. I Am Jane Doe follows the journey of several sex trafficking victims and their mothers as legal battles and activism bring them up against the internet freedom law which provides a safe haven for website publishers such as Backpage.com, the adult classifieds site that for years was part of the Village Voice and was the vehicle for advertising underage girls for sex. The film's impact has provided a remarkable opportunity for culture shift and awareness, particularly with respect to the under-reported crime of child sex-trafficking. "I Am Jane Doe helped to catalyze legislation which a year ago passed overwhelmingly in the House and Senate (97-2) and was signed by the President on April 11, 2018." [From I Am Jane Doe official website]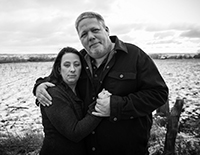 Following the film screening, special guests Nacole Svendgard and her daughter, J.S. whose family's story is one of several told in the film, will speak about their experiences.
The conference will continue in the afternoon with Policy, Education, and Advocacy: a multi-level approach to addressing sex trafficking in our communities, and will feature a panel discussion as well as a training session and a final wrap-up.
For more information call (845) 562-5365 or visit https://safehomesorangecounty.org/
Kaplan Hall is located at the corner of Grand and First Streets, Newburgh. Free and secure parking is available in the Kaplan Hall garage, accessible at 73 First Street.
Photo: Nacole and Tom - Parents of JS. (c) 2016 R. Schultz. Courtesy 50 Eggs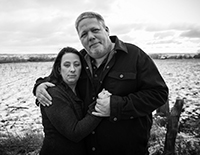 Contact:
Joanne Zipay

Phone: (845) 341-9386

Cost:
Free