Middletown Art Group 2019 Members Spring Exhibition
Friday, 14 June, 2019
9:00 AM - 8:00 PM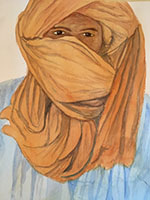 The Middletown Art Group (MAG) 2019 Members Spring Exhibition opens in Orange Hall Gallery on May 6 and continues through June 17. Ninety-one artworks created by fifty-one artists testify to the diversity of the group's members and their interests. In addition, thirteen is not unlucky for this show as that is the number of different media used in producing the works: pastel, oil, acrylic, watercolor, tempera, pencil, cold wax, collage, mixed media, photography, alabaster, clay, and non- recyclable plastic.
The reception at which artists and art appreciators come to share ideas and questions will be held from 1pm to 3:30pm on Sunday, May 19. During this timeframe, three members will be demonstrating, each in her favorite medium: Judy Byrne - pastel; Sandy Spitzer - oil; Ann Marie Morales-Ear -- ink, watercolor. Pianist Beverly Poyerd will play jazz standards, classical, and contemporary favorites throughout the afternoon.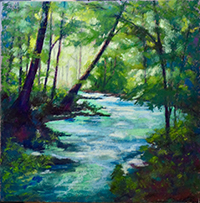 Another cause for celebration at the reception is the 73rd anniversary of MAG which was formed to "to provide an atmosphere in which to improve individual skills and respect for the efforts of others." The organization has many new members who keep the energy thriving.
The co-chairs of this members' spring exhibition and reception are artists Anne W. Kelly and Denise S. Isseks. The show is being judged by Janet Howard Fatta, well-known regional artist. Howard-Fatta received a BFA in painting at Pratt Institute. She is a board member of the Orange County Arts Council and facilitates the Warwick Life Drawing Group. She lives in Warwick.
MAG Winners 2019
BEST IN SHOW - Lana Privitera - Watercolor - "Folded Once, Folded Twice"

AWARDS OF EXCELLENCE -
Dennis Fanton  - Oil - "In the Garden of Weedin'"
Linda Barboni - Watercolor - "Ethereal Landscape"
Susan Miiller - "Radiant Forsythia"
Frank Shuback - Sculpture -"Sign of Freedom"
HONORABLE MENTION -
Annmarie Morales-Ear - Ink and Watercolor on Yupo paper - "Wildflowers I "
Kathryn Ralli - Watercolor- Summer Swan
Ray Schuettich - Oil - "Josette and Don"
Joan Mester - Watercolor - "He's Looking at Me"
 Gallery hours are Monday through Thursday - 9am to 8pm and Friday - 9am to 6pm through May, and in June, Monday through Thursday - 9am to 8pm only. The gallery is closed Memorial Day Weekend.
 Orange Hall is located at the corner of Wawayanda and Grandview Avenues (GPS: 24 Grandview Avenue), Middletown. Questions may be directed to Cultural Affairs at (845)341-4891 and cultural@sunyorange.edu
Images:Rising Forsythia - oil by Susan Miiller; Heat - watercolor by Judith Adel; Algonquin Creek - pastel by Cathy Cahill; Spiral Horn - clay by Barbara Bonham.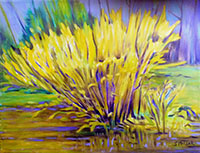 Contact:
Dorothy Szefc

Phone: (845)341-4891