Middletown Women - Photography by Ellie Stover
Monday, 1 April, 2019
8:00 AM
Sometimes when people leave their home turf, after a while, they reflect upon what they miss and they come to appreciate even more the area and community from whence they came.
Ellie Stover grew up in the Middletown area and graduated from Middletown High School. From there, she spent her college years at Rochester Institute of Technology studying photomicrography as the focus of her Biomedical Photographic Communications major and then receiving a BS degree. This course of study allowed her to pursue her passion of combining art and science. 
A very strong-willed, independent woman, she traveled throughout the west on motorcycle and with camera. She worked for a while in Seattle, Washington for Microsoft as an Image Quality Engineer and also lived in Wyoming, Colorado, and Oregon. However, the Hudson Valley, rich in natural beauty and diversity in cultures, was ever-present in her memory.
So, she returned with a project concept of using her "camera as a communication tool… to give individuals a moment's capture that showed their empowerment and elegance [and] as a thank you for motivating others to support whatever community they may find themselves in." From this, she amassed a visual collection of works on forty women now entitled
Middletown Women. Each piece in this show demonstrates "the fragile beauty of the ever changing ecosystems surrounding us and finding … people's true inner beauty." 
This exhibit of photography is on view in the Mindy Ross Gallery in Kaplan Hall from March 8 through May 7, 2019, Monday through Thursday 8am to 9pm and on Friday 8am to 6pm with extended hours on Friday, May 3 until 9pm. In addition, a reception is scheduled for 3 to 5:30pm on March 30 in conjunction with Last Saturdays [NBLS#], an arts initiative in Newburgh. The reception and exhibit are free and open to the public.
Also, free, secure parking is available in Kaplan Hall's parking garage entered at 73 First St. Kaplan Hall is located at the corner of Grand & First Streets on the Newburgh campus of SUNY Orange. Questions may be directed to Cultural Affairs at (845)341-4891/9386.
Photos, top to bottom: Ellie Stover, self-portrait; Chloe by Ellie Stover; Alexis by Ellie Stover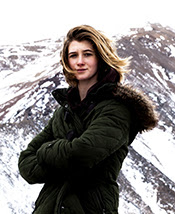 Contact:
Dorothy Szefc

Phone: 845-341-4891