Food Services
SUNY Orange offers a variety of food service options for students, faculty, and staff.
---
Campus Café
For students looking to grab a bite to eat and a place to study, our café locations area area are the perfect space.
Sarah Wells Café (Middletown)
The Sarah Wells Café is located on the ground floor of the Rowley Center for Science and Engineering on the Middletown campus outside of the Gerry Forum. It is operated by Fuel4Life and will provide a variety of hot and cold menu items from 7:30 a.m. to 6 p.m. Monday through Friday when classes are in session.
An exciting array of menu items are available including: muffins/doughnuts/bagels, sandwiches, wraps, shakes/smoothies, acai bowls, drinks, and more. There are also vegetarian and vegan options.
Cash and credit cards are accepted.
---
Hudson View Café (Newburgh)
The Hudson View Café is located on the second floor of Kaplan Hall on the Newburgh campus is available from 10:00 a.m. to 6 p.m. Monday through Friday.
Students will have their choice of a variety of grab-and-go food options not offered at micro markets on campus.
Cash and credit cards are accepted.
---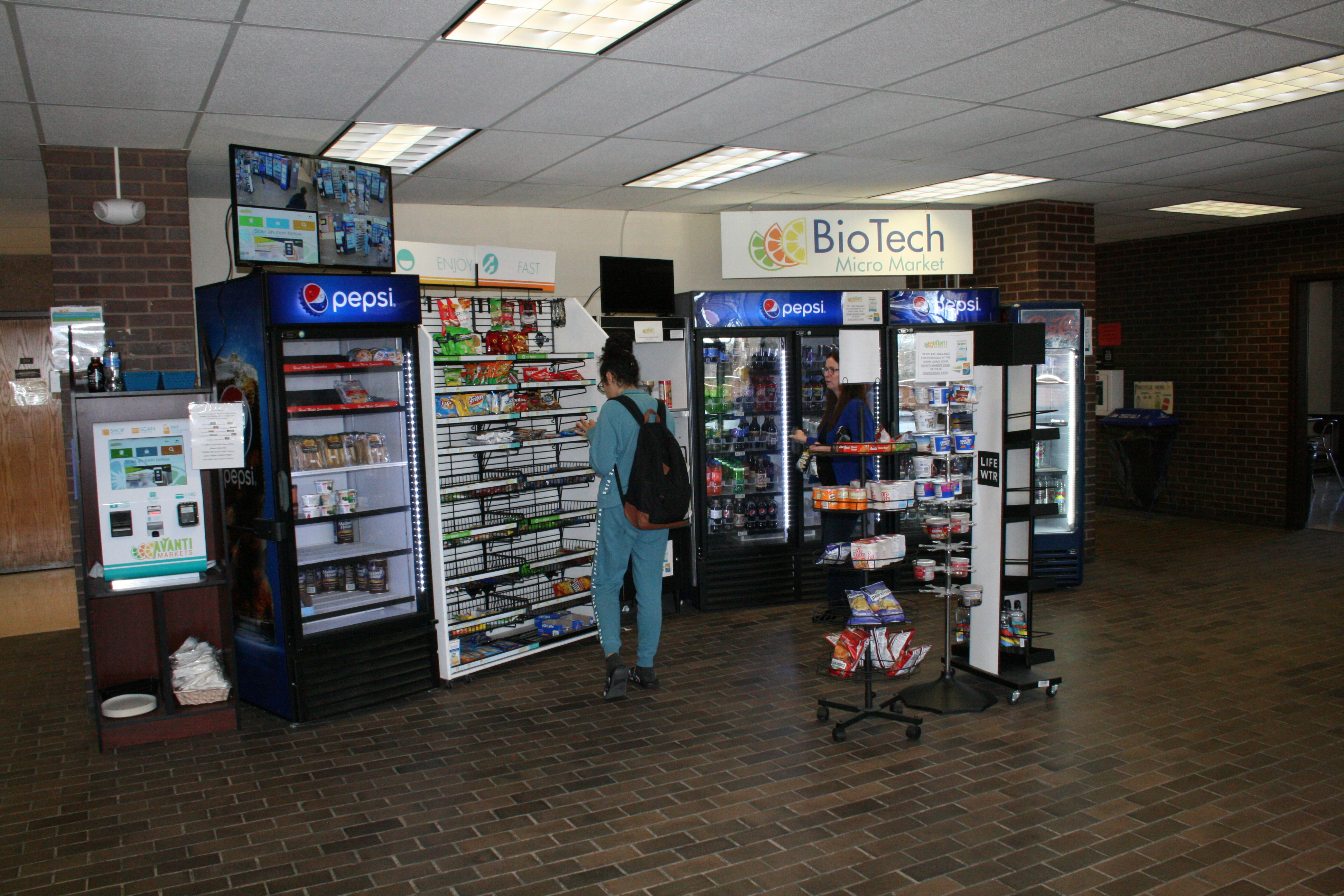 Micro markets
A micro market is an self-service food kiosk where students can choose their favorite food and beverages and pay using their credit card, phone or their market card. Micro markets offer a wide variety of items that are restocked regularly.
A keyfob market card is provided to students at the Center for Student Involvement in the Shepard Center on the Middletown Campus, and in the Tower Building Basement on the Newburgh Campus.
Market cards balances can be loaded with cash at the kiosk, or with credit/debit cards at the kiosk or online at Avanti Markets.
SUNY Orange micro markets are located on the Middletown Campus at the Shepard Student Center Student Lounge 1st floor and the Bio-Tech building near the South Street entrance. On the Newburgh Campus, there is a micro market located in the Kaplan Hall Kaplan Cafe on the 2nd floor.
Each micromarket also provides hot coffee and a microwave for heating hot food items. There is plenty of seating and tables at or near to each micro market.
The micro market hours of operation are the same hours of operation as each of these buildings. If the building is open, then the micro market is open for business.