Newburgh Campus
The SUNY Orange Newburgh Campus is located at the eastern end of Orange County offering you a high-quality, affordable education in a convenient location.
At the Newburgh Campus, you'll meet with dedicated staff to help you identify the college courses and programs that best suit your personal, academic, and employment needs. Come visit us! We're committed to doing everything we can to help you.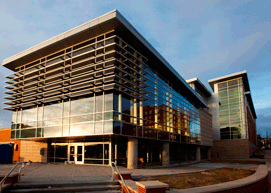 Kaplan Hall at the Newburgh Campus is a state-of-the-art, 87,000 sq. ft. environmentally friendly building with multi-level underground parking garages and a new campus green. Classes are now being held in the new Kaplan Hall; and our former location, the Tower Building, re-opened in Spring 2012 with new offices, classrooms, workout rooms, and a completely renovated Lab School.
We also offer our students a free shuttle bus that runs during the Fall and Spring semesters between the Newburgh campus and the Middletown campus.
Are you ready to write your story?