SUNY Orange to Expand Shuttle Bus Service for Spring Semester
December 1, 2018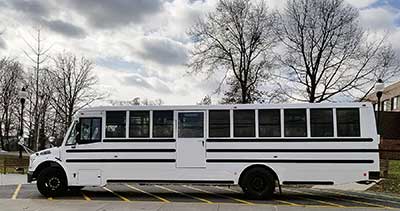 Shuttle bus
MIDDLETOWN, N.Y. – In an effort to broaden students' evening access to classes on both of its campuses, SUNY Orange will offer expanded shuttle bus service between its Middletown and Newburgh campuses for the Spring 2019 semester.
The expanded service, a pilot program for the Spring semester, will add two additional trips from each campus from Monday through Thursday to accommodate students who may wish to attend night classes or take advantage of evening events. The Friday transportation schedule will remain unchanged. The additional evening trips will depart from Newburgh at 7 and 9 p.m.; and will leave Middletown at 8 and 10 p.m.
Traditionally, the shuttle bus has departed Newburgh on each odd hour, beginning at 7 a.m. and concluding at 5 p.m., with return trips from Middletown leaving on each even hour from 8 a.m. to 6 p.m.
"The College continues to examine all potential opportunities to provide greater accessibility for students, whether that means offering a new early January online intercession, adding shuttle bus trips or opening the Sarfatti Education Center in Port Jervis," said Dr. Kristine Young, SUNY Orange president. "The shuttle bus initiative was researched and suggested by the College Governance's Sustainability Committee."
Registration for the Spring semester opened to current SUNY Orange students on Nov. 5, while new students to the College can begin registering for classes on Nov. 26. Students interested in applying for the Spring semester can contact the Admissions Office by phone at (845) 341-4030, via email at apply@sunyorange.edu or may visit www.sunyorange.edu/admissions.