College Announces December 2018 Graduates
February 28, 2019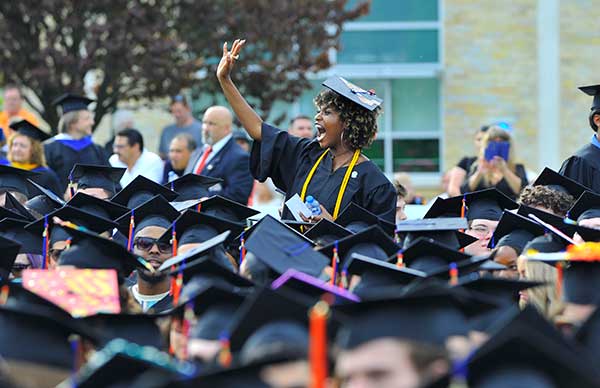 MIDDLETOWN, N.Y. -- Dr. Kristine Young, president of SUNY Orange, has announced that the College awarded associate's degrees and academic certificates to 208 students who completed their courses of study during the recently concluded Fall semester.
If they choose, the College's newest graduates are eligible to participate in SUNY Orange's 69th Commencement ceremony set for May 23.
The College's December 2018 graduates hailed from four counties in New York (Orange, Dutchess, Sullivan and Ulster) as well as Pennsylvania.
December 2018 Graduates
NEW YORK STATE
ORANGE COUNTY
Blooming Grove: Carmen Irina Mantali
Bullville: Mackenzie Logan Rutherford
Campbell Hall: Brandon Daniel Guzman-Castano, Shannon Leigh Helmke, Ashley Johnson, Emily Lourdes Perez
Chester: Malaina Shiran Alleyne, Cheryl Corine Johnson, Lena X. Lopez-Evans, Brianna Hope Mardale, Matthew S. Salotti
Circleville: Morgan Keli Masi
Cornwall: Raymond Hoffman
Cornwall-on-Hudson: Stephen C. Ring, William Joseph Radcliffe
Florida: Noel LaFratta, Joseph Anthony Raniere III
Goshen: Nigel Balgobin, Sarah Ashley Bollenbach, Samuel DeJesus Matos, Gabriel Panganiban, Nina Elizabeth Saviello, Madeline Anne Schuster, Katelyn Elizabeth Scott
Greenwood Lake: Lee Stephanie O'Donnell
Highland Mills: Fatime Cela, James Anthony Donato, Amanda Rose Kearney, Kurtis McKnight, Karl Torres
Howells: Gerald Edward Bloomfield
Maybrook: Julia Stephany Micklick
Middletown: Amber Danielle Acevedo, Fiza Asif, Dhananjay Dilipkumar Atodaria, Simone Marie Avant, Thomas Ralph Barone IV, Tiylae Bills, Ashley M. Browne, Brittany Selena Calleja, Elizabeth Rose Cashman, Abigail Jazbell Castillo, Quatasia Refine Earth Clark, Dakota Frederick Cohen, Timothy B. Conroy, Samantha N. Cruz, Lauren Taylor Daigle, Arianna Carmen Deleon, Eduardo Sadorra Dilag, Austin R. DiLeonardo, Amanda Stephanie Fortes, Tatyana Rosa Franco, Kevin Ghannie, Mariana Giraldo, Samuel Gonzalez, Desirée La'Verne Griffin, Valincia Joachim, Anthony Lorenzo Johnson, Jenna K. Lambrigger, Ryan Patrick Lynch, Brandy Marasco, Matthew J. Mark, Jasmine C. Medenard, Denise Morales, Elizabeth Murtagh, Troy Justin Needham, Adam Paul Nyhof, Melanie Louise Ocasio, Amanda Danielle Oquendo, Brian A. Otero, Nastenka Mikaila Ovalle, DeShaun T. Powell, Irene Puricz, Denis Alexis Ramirez, Shajra Rehman, Jonatan Richardson, Emily Rose Rourke, Jewel Elizabeth Sanchez, Mariluz Santiago, Kimberly Anne Sauer, Cindy L. Schweizer, Amy E. Sherwood, Brandon Singh, Sarah Rose Skelton, Kevin Alexander Soria, Dillon Chase Sparling, Lauren Elizabeth Toman, Alyssa Elaine Williams
Monroe: Andrew George Gentile, Ishmael Carrington Saladeen
Montgomery: Julie L. Maio
New Windsor: Melinda Marie Bonovitch, Mayra Cinthya Brown, Gianna Dior Chiafulio, Vincent X. DelGatto, Sean E. Delosreyes, Julianna Felicia DeMartino, Timothy James Dowd, Illene Guzman, Allahjustus A.J. Mathelier, Nicolas A. Padilla, Carissa M. Radermacher, Brenden Rosa, Courtney Scheible, Darsh Shah, Frank Jonathan Tomanelli, Michael J. Zbikowski
Newburgh: Rose A. Alvarado, Olivia Yvonne Brock, Jeremy Cabrera, Israel A. Casiano, Jan Nicole Castillo, Kevin Thomas Corvino, Seomera O. L. Douglas, Michael Fernandez, Jacqueline Flores, Jeremy L. Gilkeson, Haley Marie Grieco, Eric M. Hernandez, Ashley Marie Hickey, Anthony J. Iuzzini, Keenen Duane Johnson, Adrianna Marie Kandeel, Harrie Mulé, Taniesha Ortiz, Zozan Oner, Leslie Peña, Claudia Rios, Abigail Rodriguez, Ramon Antonio Salas, Jason A. Sanders, Nicklaus Scalzo, Martha Laura Serrano Flores, Casey Starr, Kyra Elizabeth Warren, Steven P. Weckeman, Taylor Sean Williams, Kyle J. Wormsley
Otisville: Megan C. Vivaldo, Justin Michael Warnick
Pine Bush: Sumayah Desire DeGeorge, Jacob Russell Gillespie, Julia Lynn Gros, Katherine Loeffler, Alyssa Nicole Sayles, Tara M. Stack
Port Jervis: Jazmyn S. Baeza, Jacob Byron, Michael Andrew Conklin, Kelly Lynne De Stefano, Justin M. Drew, Tayler Ally Fitzpatrick, Justin P. Morgan, Geoffrey B. Outwater, Hunter Crystal Rudy-Goral, Edward Joseph Saletto, Zoe A.Telgheder
Rock Tavern: Christopher Charles Martin, Gabriella F. Norton
Salisbury Mills: Thomas J. Bauer, Joseph Monroe
Slate Hill: Abbye Rose Atwood, Julia Grace Cantoli, Nathaniel V. Jordan, Kenneth William Struble Jr.
Sterling Forest: James Edward Klein
Sugar Loaf: Jennifer Helen Ollinger
Walden: Hugo Adrian Bencomo, Isabella Belgica Dalton-Fiallo, Karolina Herdzik, Jessica Kartis, Melissa Frances Marra, Kyle T. Weiskittel
Warwick: Benjamin J. Alair, Miranda Michelle Mable, Charity Ann McDonald, William A. Muller
Washingtonville: Jacob Anthony Ramos, Andrew Ryan Saltz, Olivia Nicolle Sirull, William H. Sutton IV, Justin Taylor Toscani, Nicolette Wechsler
Westtown: Taylor Nicole Hansen, Heather Sircable
DUTCHESS COUNTY
Beacon: Sierra Ryann Lombardi
Pleasant Valley: Julie Rose Battistoni, Margaret Joy Clayton
Poughkeepsie: Sarah Faith McGoldrick
Wappingers Falls: Emma S. Rigby
SULLIVAN COUNTY
Bloomingburg: Teresa Elaine Doner Hocker, Jason Anthony Nocera, Kyle Robbins, Colton B. Rogers, Rachael A. Salazar
Monticello: Samantha A. Decker
Rock Hill: Elizabeth Michele Koenig
South Fallsburg: Katherine Angelica Mendez
Woodridge: Sarah Ann King
ULSTER COUNTY
Highland: Paula A. Baez Toro
Modena: Angela Nkrumah
Spring Glen: Miranda Ajanovic
Wallkill: Jordan Edward Wagner Countryman, Mark David Iorlano, Connor V. Rhoades, Gabrielle M. Rubino, Robert Leslie Spaulding
OUT OF STATE
PENNSYLVANIA
Honesdale: Sierra Allegra Gaglione
Total Graduates: 208