Dental Hygiene Students Speak with RECAP Students, Parents
March 4, 2019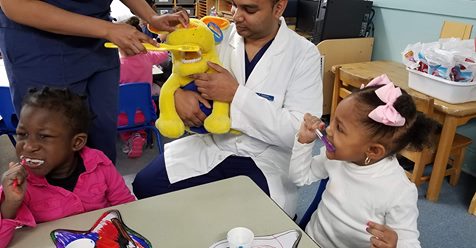 MIDDLETOWN, N.Y. – SUNY Orange dental hygiene students Nicholas Mahabir (left), Yvette Harris, Leeanna O'Rourke and Lesley Parker recently delivered a presentation to parents and preschool students at the Regional Economic Community Action Program Head Start in Middletown about the importance of brushing their teeth.
They covered brushing, flossing, fluoride, proper nutrition, when to visit a dentist, and how to ease fears of the dentist's office. They clarified parents' misconceptions and encouraged them to spread good oral care practices in their homes and communities.
Their visit was highlighted by Middletown Times-Herald Record reporter Heather Yakin in the paper's "845 Confidential" section on published on Saturday, March 2.